Recipes: Chef Nancy Waldeck's better for you breakfast ideas
Breakfast can be challenging if you're a little too sleepy to be thinking about pulling off a healthy meal that actually tastes good.
If you're tired of starting your day with the same-old, same-old, the FOX Medical Team's Beth Galvin is here to help with some "Better for You" breakfast ideas. 
Better for You Doughnuts 
These doughnuts are better for you because they are not fried, they use whole wheat flour, an egg white instead of an additional egg, light buttermilk and less sugar. They taste super sweet because they have cinnamon in them – it gives us the sensation of sweet! 
You can bake these doughnuts in a mini muffin pan, and make donut holes. These doughnuts can be made vegan by using egg substitute, almond milk and vegan butter. 
No need for the powdered sugar if you would prefer to leave it off – they are still deliciously sweet even without it.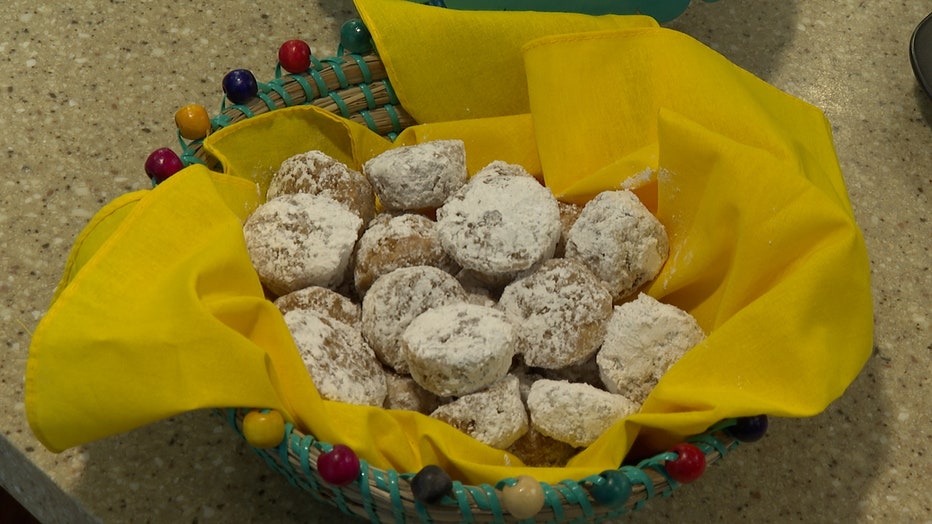 2 Cups Whole Wheat Pastry Flour OR 1 ½ Cups All Purpose Flour and ½ Cup Whole Wheat Flour
1 ½ Cups Raw Sugar
2 Tsp Baking Powder
1 Tsp Cinnamon
½ Tsp Nutmeg
½ Tsp Sea Salt
1 Large Egg and 1 Large Egg White, beaten together
1 ¼ Cups Light Buttermilk
2 TB Unsalted Butter, melted
2 Tsp Vanilla
Two Doughnut pans coated with *Bakers Joy, (or oiled and floured)
¼ Cup Powdered Sugar whisked together with 2 Tsp Cinnamon
Directions
Preheat the oven to 350F. Whisk together the flour, sugar, baking powder, cinnamon, nutmeg and salt in a large bowl. In another bowl, whisk together the eggs, milk, butter and vanilla. Stir the wet mixture into the dry mixture until just combined.
Pour the batter into the doughnut pans, filling about ¾ full. Bake for 15 – 17 minutes or until a toothpick inserted into a doughnut comes out almost clean. Let cool for about 5 minutes, then remove. Sprinkle or toss with the powdered sugar and cinnamon mixture.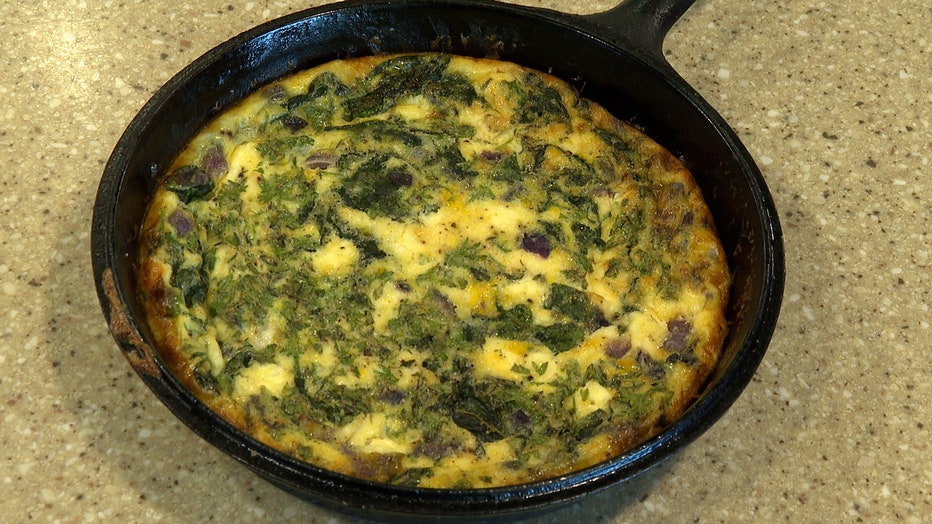 Baked Spinach and Goat Cheese Frittata 
You can shake up the ingredients in the frittata with what you have in the fridge. Add peppers instead of onions, add shredded kale instead of spinach, use cheddar instead of goat cheese. Your imagination is the only limit! 
This frittata is better for you because of the use of egg whites instead of all whole eggs, the frittata uses skim or almond milk and includes veggies – the red onion and the spinach. Also using goat cheese cuts down on the fat and calories, goat cheese is made with goat milk, which has the least fat and calories than other cheeses. 
6 Large Eggs
4 Egg Whites
½ Cup Skim Milk or Almond Milk
½ Tsp Each Sea Salt and Freshly Ground Pepper
1 TB Extra Virgin Olive Oil
1 TB Unsalted Butter
1 Cup Chopped Red Onion
Couple of Handfuls Fresh Baby Spinach
2 TB Chopped Herbs – your choice
¼ Cup Crumbled Goat Cheese
Directions
Preheat the oven to 375F. In a bowl, beat the eggs, milk, ½ Tsp Salt and ½ Tsp Pepper together. Set aside.
Heat the oil and butter together in a cast iron skillet, or a heavy oven proof skillet. Saute the onion until soft, then add in the spinach, a handful at a time in the skillet.
Stir the egg mixture into the pan. When well combined, add the herbs and crumble the goat cheese over the top.
Slide the pan into the oven, and bake until eggs are set and not jiggly, about 20 minutes. Cool for about 10 minutes before cutting into wedges.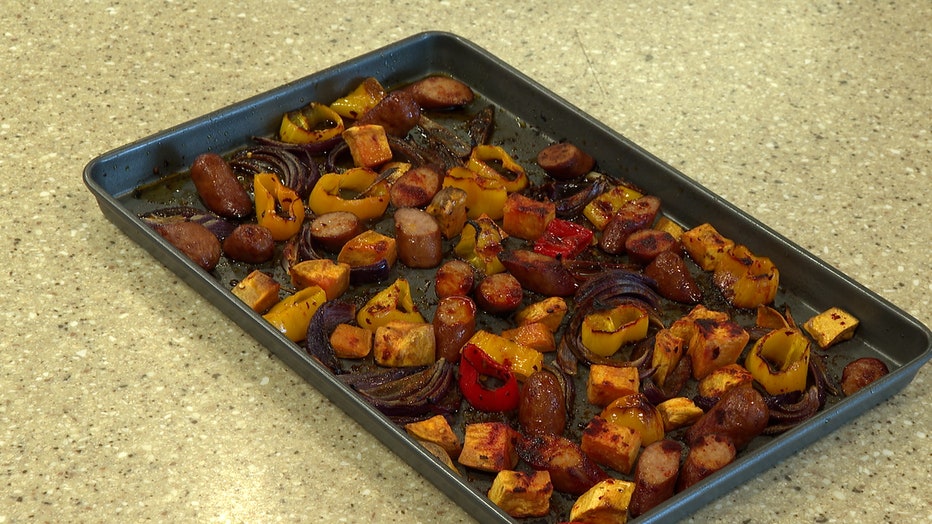 Baked Sweet Potatoes, Sausage and Sweet Peppers 
A beautiful and easy way to get your veggies, protein and fiber. Any veggie can substitute for the peppers, onions and sweet potatoes. It's a great way to use up leftovers in the fridge. No need to watch it on the stove, you'll pop it in the oven to cook, and you can get ready for work and get the kids ready for school. 
Make sure to buy smoked or pre-cooked sausage as you are not cooking the sausage by itself, or for a long time.  
Sweet potatoes are a great source of fiber and nutrients, by popping them in the microwave for a few minutes, you will have your entire sheet tray done at the same time. 
1 Large Sweet Potatoes, peeled and cubed
2 Cups Red Onion, coarsely chopped
1 Cup Sweet Peppers, in rings
3 TB Extra Virgin Olive Oil
2 Tsp Smoked Paprika
1 Tsp Sea Salt
½ Tsp Red Pepper Flakes
8 OZ Smoked or Pre-Cooked Turkey Sausage, sliced
Directions
Preheat the oven to 425F. 
Place your cubed sweet potatoes in a microwave safe bowl, cover and cook for 2 minutes. The sweet potatoes will be soft, but not fully cooked.
Add the sweet potatoes, onion, sweet peppers and sausage to a sheet tray. Drizzle with olive oil and sprinkle with paprika and salt. Slide into the oven for 20 minutes, and roast until veggies and sausage is browned around the edges.
Filipino Style Roasted Rice Beverage 
Looking for a substitute for coffee, with rich flavor but no caffeine? Try this easy recipe. All it requires is brown rice and a little patience to watch and stir the pan. 
¼ Cup Brown Rice
2 Cups Boiling Water
Plant Based Milk, Honey or Maple Syrup 
Directions 
Place the rice in a cast iron skillet or heavy skillet. Over medium low heat, roast the rice until it is deeply browned, stirring with a wooden spoon often. You want it to brown, not burn.
Remove the browned rice from the pan, and place in a teapot with an infuser, or in a tea strainer or coffee filter. Pour the boiling water over the rice and let it steep for at least 5 minutes.
Remove the rice from the water and pour into cups, adding milk and sweetener as desired.