Protesters crash signing ceremony with mayor at Atlanta fire station
ATLANTA - Protesters against the planned Atlanta Public Safety Training Center crashed a signing ceremony Thursday morning that was attended by Mayor Andre Dickens.
The signing ceremony, held at the Grant Park fire station, was to commemorate more than $1.6 million in funding being given to the Atlanta Fire Rescue Foundation to support infrastructural improvements at fire stations throughout the city.
RELATED: Firefighter: Joint training at new Atlanta Public Safety Training Center will save lives
A protester began shouting "What do we want?" during the event. Other protesters responded "Justice!"
On Wednesday, a protester was arrested outside a bank in Atlanta that has been linked to the controversial training center.
During that incident, protesters allegedly threw rotting meat at police officers. Police officers arrested 27-year-old Aidan Wood from Lancing, Michigan, on obstruction charges.
COMPLETE COVERAGE OF FUTURE ATLANTA PUBLIC SAFETY TRAINING CENTER
Protesters said on Wednesday that more protests were planned for the rest of the week.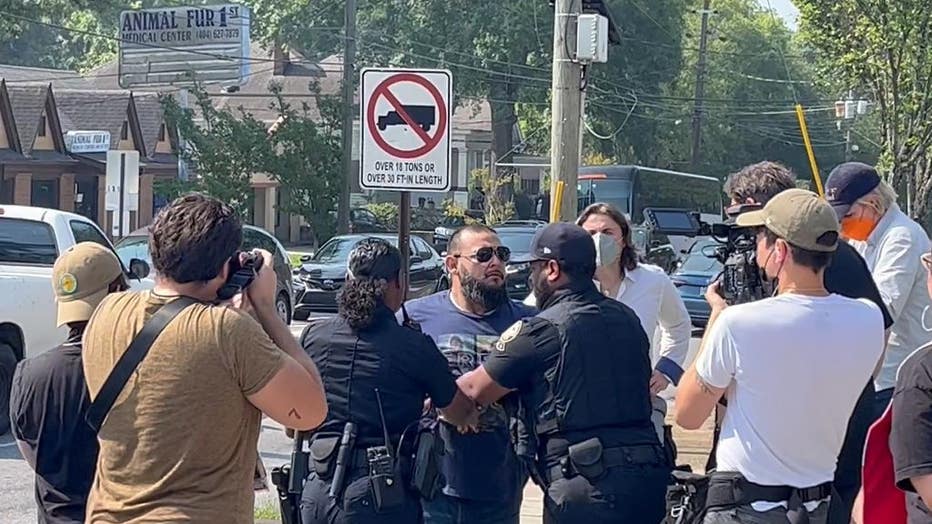 Atlanta Police Department released the following on their Facebook page:
"The Atlanta Police Department respects, supports, and upholds the First Amendment rights of all citizens and those in Atlanta to assemble, speak, and engage in peaceful protest. At the same time, we must ensure compliance with our city ordinances and a safe public environment for all residents and visitors.
"This week, various groups have launched a 'Week of Action,' consisting of seven days of events, marches, and discussions. The first event was held Saturday in Brownwood Park in East Atlanta.
"We welcome the care and concern of the organizers for our city and their efforts to open dialogue and raise community awareness about the center. We respectfully ask all who engage in 'Week of Action' events to abide by the same city regulations for a peaceful and welcoming atmosphere for all persons wishing to enjoy the city's greenspaces and public areas this week.
"As a reminder, City of Atlanta parks are open daily from 6 a.m. – 11 p.m. All gatherings over 75 people require a permit. Events or gatherings with alcohol and vending require a permit from the Mayor's Office of Special Events. We also want to note that smoking, drugs, and illegal substances are strictly prohibited in the City of Atlanta parks. For the safety of park visitors, please abide by the above-mentioned and all city ordinances and note it is illegal to deface or destroy public property."