Prince's final shows: intimate, playful with a Bowie tribute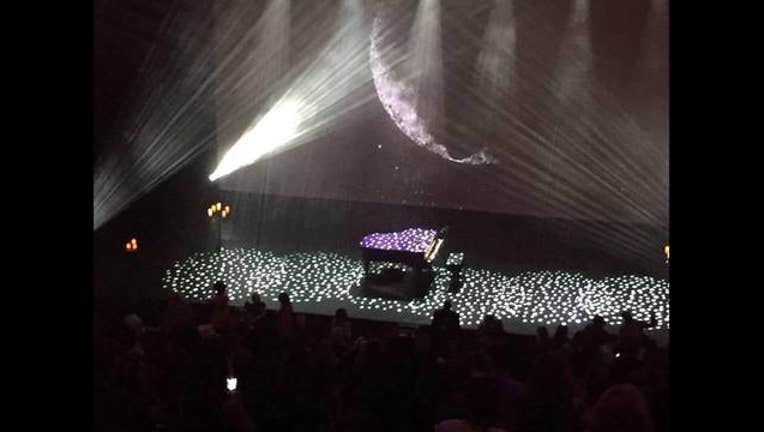 article
ATLANTA (AP) — The crowd at Atlanta's Fox Theater was on its feet screaming. Prince had already taken an encore, but he'd only played for just over an hour and he hadn't even played "Purple Rain."
This show could not be over.
He walked back onstage toward his purple grand piano and began singing:
"I, I will be king."
"And you, you will be queen."
This wasn't a Prince song, this was "Heroes." It was a low-key memorial from one icon who changed music with inventiveness and daring sexuality to another — David Bowie, who died in January.
After one more encore, about 80 minutes of total music, Prince left the stage to prepare for his second show.
This would be the last night he ever performed.
There aren't many musicians who could pull together a night of music the way Prince did this one — both spontaneous and meticulously planned. He announced his shows just eight days before he was to play. Tickets went on sale the next day, with the cheapest costing well over $100, with fees. To prevent scalping, fans could only buy two and had to pick them up in person at the theater on the day of the show.
Still, the two shows in the 4,600 seat theater sold out almost instantly.
The day he was to play, an email went out; Prince had the flu, he had to postpone. He eventually rescheduled for a week later, April 14.
An announcement in the theater explained that "The Artist" insisted no photos or video be taken, and black tie-clad enforcers were scattered throughout the theater.
The show, just Prince and a piano, was intimate and playful, with candelabras on the sides of the stage and a massive screen of ever changing kaleidoscopic projections at the back.
Prince entered with a cane that seemed all style and no function, and cut through the smoke billowing across the stage to his piano.
He began with a medley of "Little Red Corvette" and "Dirty Mind" that somehow transformed into the Peanuts theme of "Linus and Lucy."
In the middle of songs, he'd take one hand off the keys to scroll through a tablet perched on top of his piano.
He briefly mentioned begging his jazz pianist dad to teach him piano, and he apologized for having postponed the show. But he didn't speak much.
He seemed full of energy. Between songs, he'd jump up and walk circles around the stage.
At one point, maybe 20 minutes in, Prince just disappeared. Is there an intermission? People began going to the bathroom, but he quickly returned, saying that he had forgotten how emotional his songs could be.
He cycled through a few of his major hits, including "Nothing Compares 2 U," ''I Would Die 4 U," ''The Most Beautiful Girl in the World," and "Kiss." But there were many more he never got to.
His second show turned out to have a different set list, one that included "Purple Rain."
But when Prince walked off the stage of that early show after three encores, the crowd screamed for more. Even when the house lights came on, they continued to chant "Purple Rain," over and over in hopes he might have a fourth encore in him.
He never returned.
___
Follow Ravi Nessman on Twitter at https://twitter.com/ravinessman