Motorcycles set on fire at Atlanta police academy, patrol cars vandalized
FULTON COUNTY, Ga. - Several motorcycles at an Atlanta police training facility were torched overnight.
According to Atlanta Fire and Rescue, they responded to a multi-vehicle fire inside a parking deck at 180 Southside Industrial Parkway around 2:20 a.m.
After extinguishing the flames, firefighters said they discovered explosive devices.
FOX 5 Atlanta photojournalist Billy Heath captured federal agents with the Department of Homeland Security on scene.
At another APD property near the Atlanta BeltLine, the windows of three police vehicles were also found smashed in.
Gov. Brian Kemp appeared to blame protesters tied to the movement to stop the development of a new police training center they call "Cop City."
He took to Twitter Saturday afternoon to denounce the violence, calling it an "outrageous and completely inexcusable" attack on public safety resources, adding that "those are the tactics of organized criminals, not protestors."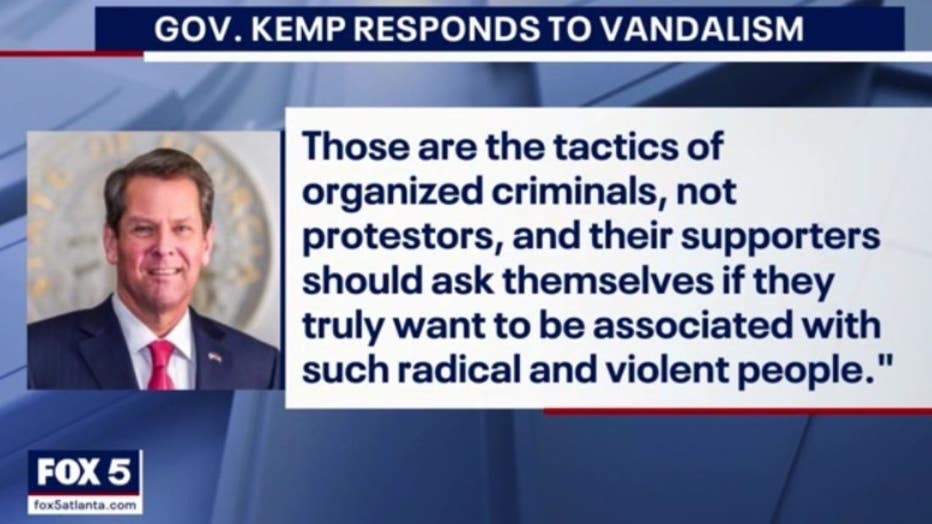 The incidents of vandalism come amid heightened tension between protesters and proponents of the training center.
Last week, a senior protester considered an elder in the movement was arrested and booked for protesting in front of a Home Depot. Others have been charged with domestic terrorism.
"Three and a half dozen of us have domestic terrorism charges, despite not injuring one person throughout all of our activism," said one Stop Cop City activist at a rally Saturday. "Yet, we press on."
Democrat State Senator Josh McLaurin, who represents parts of northern Fulton County, refused to say if he is in favor of the police training facility but said he wants to make sure peaceful protesters' rights aren't being violated.  
"You've got a very small number of people who are willing to do harm, to damage property or hurt people, and those people are using a whole bunch more legitimate protesters as a shield," McLaurin said. "I think that we have to be very careful in times like these to differentiate between people doing valid protest and exercising their first amendment nonviolently, versus people who really do intend to cause harm."
EDITOR'S NOTE: A previous version of this story stated that State Sen. McLaurin was opposed to the police training facility. He has since indicated that he is abstaining from taking a position on the issue.
Police have not announced any arrests or persons of interest in either overnight incident.
MAP OF THE AREA