LaGrange College freshmen pitchers among 3 dead in Troup County car crash
LAGRANGE, Ga. - Authorities have released the names of three men who died in a Saturday night wreck in Troup County. 
On Sunday, LaGrange College released the names of two baseball players who died in a car crash hours after the team won a conference championship. Late Monday morning, Georgia State Patrol said 24-year-old Rico Dunn was hit head-on in his 2008 GMC Sierra and died at the hospital. 
LaGrange College President Dr. Susanna Baxter said in press release on the team's website pitchers Stephen Bartolotta and Jacob Brown died on Saturday night. 
"We will walk through this together as a campus family with God as our strength," Baxter wrote. "Please support one another as the caring community that I know we are."
Both Bartolotta and Brown were listed as freshmen on the LaGrange College athletics site. 
"It's been a hard day," said LaGrange College communications director Dean Hartman. 
Brown's hometown was Duluth, and he attended Peachtree Ridge High School. Brown pitched during the USA South Tournament championship win over N.C. Wesleyan on Saturday. He was 19 years old.
Bartolatta, who was 18, was from Palm City, Florida.
"To go from the high of winning the conference championship. This is their fifth conference championship in a row and then just a few hours later (lose) two teammates it's a little hard to imagine what that feels like," Hartman said.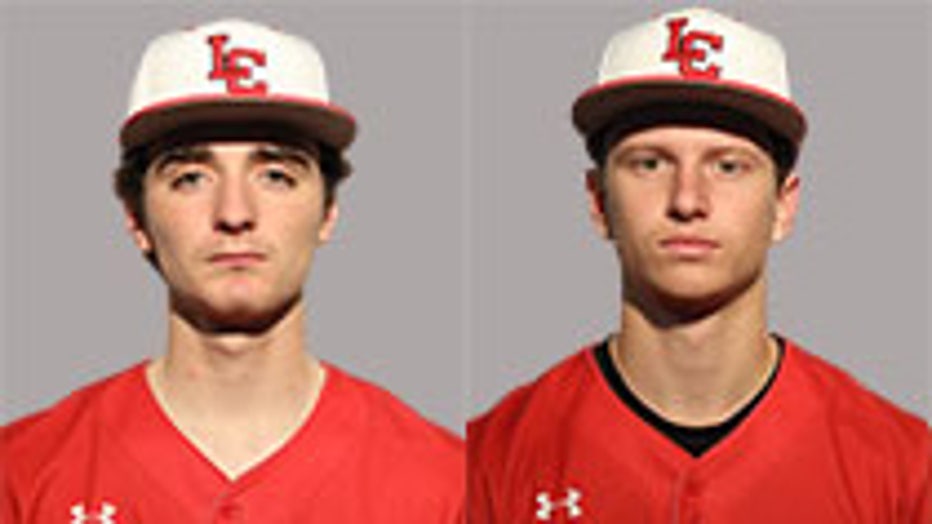 From left, Jacob Brown of Duluth and Stephen Bartolotta of Palm Springs. (Courtesy of LaGrange College)
He said, with a student population of about 800, it's a tough loss for the entire campus community.
"We're a small close-knit campus, so you know we know each other and it's hard to take this kind of blow…we all feel it," he explained. 
The school's chaplain held a gathering at the Dickson Assembly Room on Sunday afternoon to send a message to students that they are not alone.
"We're just trying to help our students work toward processing some really, really hard news…it was a chance to express emotions so that the kids can begin to get some of that out there," Hartman said.
Counselors were available right after the event and Hartman said they will continue to be available this week as school officials prepare for finals and graduation. They'll also be available virtually through the summer months. 
Hartman said the baseball team has some big decisions ahead about whether they are feeling up to participating in the national tournament and if the school is prepared to host that tournament. They'll meet tomorrow to have that discussion. 
In a statement released Sunday evening, Peachtree Ridge High School Athletic Director Ryan Lesniak wrote:
"Our Peachtree Ridge Athletics community is mourning the loss of alumni Jacob Brown. A 2021 graduate, Jacob was a pitcher for the Lions who had a great personality and an unmatched passion for the game of baseball. He will be missed dearly by all of those at Peachtree Ridge."
Crash investigators said 24-year-old West Point resident Rico Dunn, was hospitalized but died from his injuries in the car crash. 
Georgia State Patrol said the crash report is not ready to be released. 
A bystander took this photo showing the aftermath of a crash that killed two baseball pitchers from LaGrange College and a 24-year-old LaGrange man on the evening of May 14, 2022. (Viewer photo via cnaw2news.com)
CNAW News 2 shared with FOX 5 Atlanta viewer photos showing the scene shortly after the crash. Rescue workers were working to try to save one of the victims. The photos also show a pickup truck with its frontend completely smashed in which came to rest in the ditch of the median and debris from the crash scattered across the grass. 
The crash happened around 9:15 p.m. along Roanoke Road and Paddle Wheel Drive. The Georgia State Patrol said three vehicles were involved. Troopers said a silver 2015 Honda Accord passed a gray 2019 Honda Accord in a no passing zone striking a 2008 GMC Sierra head-on. The crash caused the Sierra to overturn into the median. 
Troopers said both occupants in the silver Accord were pronounced dead at the scene. The driver of the Sierra was taken by helicopter to Piedmont Columbus Regional hospital where he later died, troopers said.
No one in the gray accord was injured, but debris from the crash caused damage to the vehicle, trooper said.
The Georgia State Patrol's specialized crash reconstruction team is investigating the accident. 
The GSP has formally released the names of those involved.