Businessman sentenced to federal prison for bribing Atlanta officials, tax evasion
ATLANTA - Lohrasb "Jeff" Jafari, the former executive vice president of the engineering firm PRAD group, has been sentenced to five years in prison on charges of bribing Atlanta officials and tax evasion.
Wednesday, a U.S. District Court judge sentenced the former businessman to federal prison and ordered him to pay over $900,000 in restitution.
The sentencing comes months after Jafari pleaded guilty to charges of conspiratorial bribery, substantive bribery, and tax evasion.
In evidence presented in court, officials say Jafari's Atlanta-based business gave Atlanta Chief Procurement Officer Adam Smith and Watershed Commissioner Jo Ann Macrina thousands of cash and items of value to ensure his company would receive contracts worth millions of dollars.
"Jeff Jafari paid bribe after bribe to high-ranking government officials in the City of Atlanta and DeKalb County over several years and thereby obtained lucrative city contracts worth tens of millions of dollars," U.S. Attorney Ryan K. Buchanan said in a statement.  "The public paid a heavy price from every project unfairly awarded to Jafari's companies through corruption, and he then compounded his harm by never paying any tax on his substantial personal income.  His greed delivered a hard blow to public trust in honest and fair government, but this sentence underscores our commitment to prosecuting corruption in any form."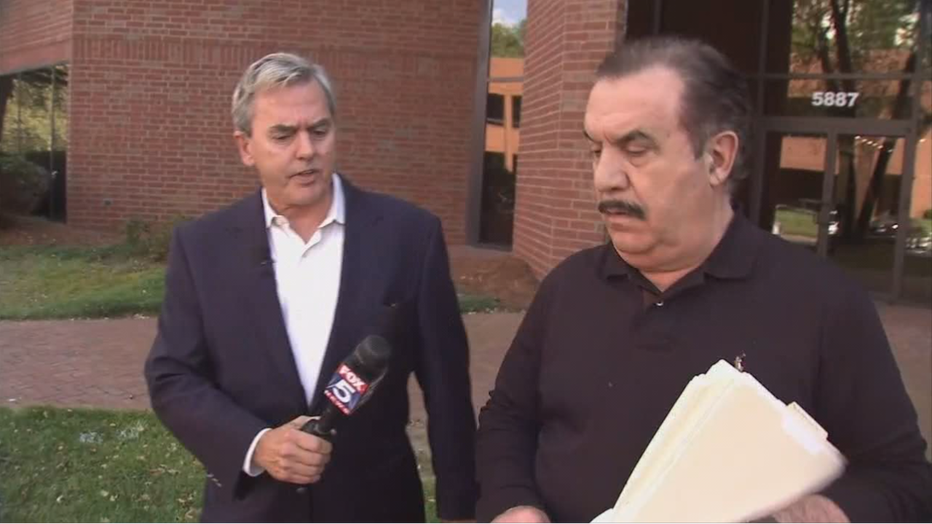 Jeff Jafari with FOX 5 I-Teams Dale Russell after a court date.
The FOX 5 I-Team broke the story that one week prior to Adam Smith's sentencing in 2018, FBI agents raided Jafari's Sandy Springs company.
Jafari frequently met privately with Smith on multiple occasions, where they discussed City of Atlanta procurement projects, bids, and solicitations. The FOX 5 I-Team's Dale Russell reported that Jafari paid Smith $1,000 in cash in the bathroom of the restaurant after most of these meetings. In return for these bribe payments, Prosecutors say Jafari paid Smith more than $40,000 in cash with the intent to influence him in his role with the city.
Jafari also promised Macrina a lucrative job with PRAD Group and gave her cash, jewelry, a room at a luxury hotel and a shopping trip in Dubai, and landscaping work at her home in exchange for obtaining city work. Shortly after being fired by the City of Atlanta, Macrina began working for Jafari and PRAD Group, and Jafari and/or PRAD Group paid Macrina $30,000 in four separate payments.
The FBI conducted two undercover operations in 2014, during which Jafari sought assistance from a confidential source (who was a high-ranking DeKalb County official at the time) to obtain work in DeKalb County. After the meetings, Jafari paid the confidential source between $1,000 and $1,500 in cash.
"Residents expect fair and open competition for city contracts," said Demetrius Hardeman, acting special agent in charge of the IRS Atlanta Field Office's Criminal Investigation Department. "City officials who accept bribes undermine the contracting process and diminish trust in the government. IRS Criminal Investigation and our partners will continue investigating and holding those accountable who take the public trust for granted to enrich themselves."
Officials say the tax evasion charges stem from evidence that the businessman didn't file personal tax returns from 2014 to 2016 and did not pay income taxes to the IRS. Investigators also accused Jafari of using money from the PRAD Group's corporate account to buy several luxury vehicles.
Jafari was scheduled to go to trial in May 2023 but pleaded guilty instead.
"Looking at the evidence, understanding risks of him being in trial, it was in his best interest to work out a plea," Jafari's attorney Steve Sadow told FOX 5.
The U.S. Attorney's office has one more city hall corruption case to prosecute, the fraud and theft case involving former Atlanta Chief Financial Officer Jim Beard, set for trial later this year.
Prosecutors wouldn't comment on whether their nine-year investigation of Atlanta city hall is over.