'How to donate to Georgia senate runoff' trends on Google
ATLANTA - All eyes will be focused on Georgia on Jan. 5 as voters will not only decide who will represent them in the U.S. Senate, but also which party will control the legislative body.
Republican Sens. Kelly Loeffler and David Perdue and Democratic challengers Rev. Raphael Warnock and Jon Ossoff have made it clear during campaign events that they are "battling for America" itself.
Such a power struggle has garnered national attention, prompting outsiders to become involved as volunteers or through financial backing. The evidence is a simple review of Google's Top Searches for 2020.
The phrase "How to donate to Georgia senate runoff" was listed as a trending "How to donate" search for 2020 in the United States, according to Google Trends.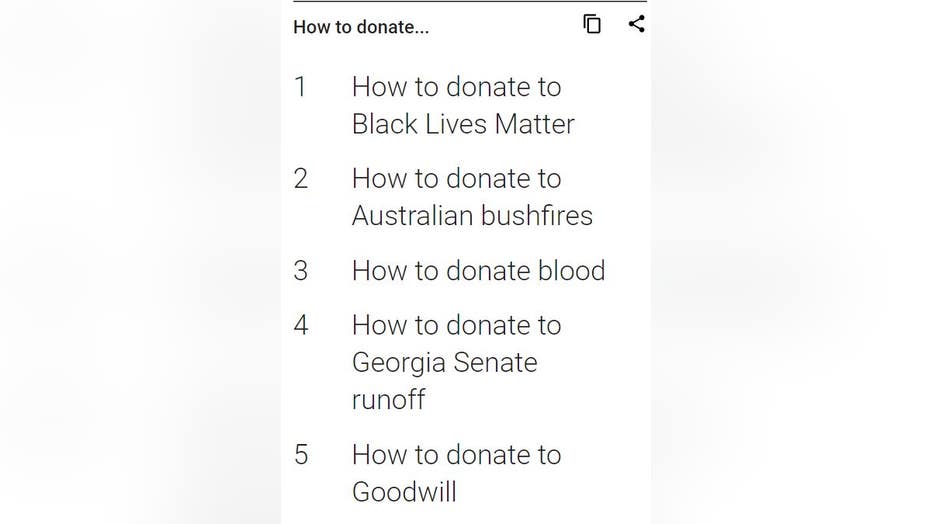 Screen grab of 'See what's trending in 2020 - United States' from Google Trends shows 'how to donate to Georgia Senate runoff' in the Top 5 for 'How to donate.'
RELATED: Loeffler, Perdue back Texas suit challenging Georgia's election results
According to Google, the subregion with the highest interest in the topic was California. The metro with the highest interest was New York.
Georgia plays a key role in deciding the balance of power. Should democrats win both seats, they will control the Senate, the House, and the Presidency. Republicans only need to keep one of the seats held by Loeffler and Perdue in order to maintain their Senate majority.
As both parties shovel resources into the state, some speculate that the cost of the abbreviated contest could approach $500 million. Already, $329 million in advertising has been spent or reserved in the state since Election Day, according to data from the ad tracking firm Kantar/CMAG.
Campaign finance disclosures made public last week suggest Republican outside groups have a fundraising advantage. The National Republican Senatorial Committee, which has formed a joint big-dollar fundraising operation with the two candidates that is led by longtime Republican operative Karl Rove, reported raising $75.5 million since Oct. 15. Its counterpart, the Democratic Senatorial Campaign Committee, raised $31.6 million during the same period.
Senate Leadership Fund, a super PAC aligned with Senate Majority Leader Mitch McConnell, reported raising $71 million since Election Day, compared with $10.2 million raised by Senate Majority PAC, its Democratic rival.
The candidates won't have to make the finances public until Dec. 24.
WATCH: FOX 5 Atlanta live news coverage
Download the FOX 5 Atlanta app for breaking news and weather alerts.
"Money isn't everything, but fundraising is an early leading indicator of enthusiasm," Steven Law, president of Senate Leadership Fund, said during an appearance on Fox News on Thursday. "Republican voters in Georgia understand that everything is at stake. The Trump legacy, the future of freedom, the future of socialism, and right now they seem very energized to vote."
Much of the money raised by the group came from Republican megadonors, including $15 million from Stephen Schwarzman, the CEO of the private equity firm Blackstone; $10 million from Kenneth Griffin, the CEO of the hedge fund Citadel; and $5 million from Steve Wynn, the former head of Wynn Resorts who stepped down after he was accused of sexual misconduct, allegations he denies.
Major Democratic committees focused on the Senate may have posted lackluster fundraising totals on Thursday, but party strategists say donors are instead routing cash to groups that are already established in the state.
RELATED: Georgia Senate GOP push for end to no-excuse absentee voting
Many of those groups are holding their strategy, tactics and bottom line close after record-setting hauls for Senate candidates in the fall ended in disappointment for candidates like Jaime Harrison of South Carolina, MJ Hegar of Texas and Steve Bullock of Montana. In some of those cases, the widely publicized fundraising success contributed to perceptions that they were funded by out-of-state interests.
While Biden's campaign ran operations in Georgia until the Nov. 3 election, Senate Democrats' campaign arm is in charge now. Their efforts include paid door-to-door canvassing — a difference from the fall when the Biden campaign discouraged Democrats from in-person canvassing.
Among the most high-profile movers on the left is the Fair Fight organization, which voting rights advocate Stacey Abrams organized after her loss in the 2018 Georgia governor's race. Abrams' group on Thursday reported raising $34.5 million between Oct. 15 and Nov. 23. That's not the same eye-popping numbers of some of the major party PACs, but it's targeted on voter turnout. As an example, Fair Fight texted 2 million voters within days of the runoffs being set with information about how to secure absentee ballots for the second round. That's about 80% of the total number of votes that Biden received in Georgia.
"People are very inspired by the Stacey Abrams magic," Michael Smith, a Los Angeles donor who has given to several groups raising money for the Georgia Democrats, told the Associated Press. "Everyone in LA is raising money for Georgia. It's a moral issue."
Another group, called Really American PAC, has raised over $593,000 and hopes to put up 50 billboards in rural counties that urge Trump supporters to sit out the election, echoing a sentiment shared by some of the president's most dejected supporters.
The group says twelve billboards have gone up so far, which state: "Perdue/Loeffler Didn't Deliver For Trump, DON'T Deliver For Them." And at first blush, they look like an ad from a right-leaning group.
In reality, however, Really American PAC was created by a progressive activist from Chicago named Justin Horwitz, who says he has a "shared interest" with the president's supporters in "defeating Washington insiders Perdue, Loeffler & McConnell, who happen to be trying to destroy Trump."
That gets to the center of a preoccupation for Republicans.
RELATED: Source of money behind GOP's new Georgia super PAC a mystery
Trump, who held a rally in the state Saturday, has refused to concede the election and has repeatedly attacked Georgia's Republican governor and secretary of state while falsely saying Biden's win there was the product of voter fraud.
That forces Loeffler and Perdue into a delicate dance of needing to fire up Trump's core supporters who may distrust the outcome of the election, while not alienating suburban moderates, as well as anti-Trump Republicans, who swung for Biden.
Both candidates attended Trump's rally.
"I think it's fraught with risk. If I'm Loeffler or Perdue, I wouldn't want him to come," said Dan Eberhart, a GOP donor who has previously given more than $190,000 to Trump's election efforts. "With the undisciplined nature of Donald Trump, there could be one, two or three sentences that completely derail and change the direction of the campaign."
The Associated Press contributed to this report.