Man shot in arm at Gwinnett County Target during 'domestic-related' dispute, police say
GWINNETT COUNTY, Ga. - Shoppers at a Target in Lawrenceville ran for cover Saturday afternoon after a man was shot inside the store.
Investigators say the suspect, who has not been identified, shot the victim in the arm. Cops say he is expected to survive.
Tara Spear told FOX 5's Rob DiRienzo that she was in the store with her young son when she heard the shots nearby.
"I kind of processed and then grabbed my son out of the cart and hightailed it," she said. "Just ran."
Gwinnett County Fire and Emergency Services said units responded at around 1:28 p.m. Saturday to 875 Lawrenceville-Suwanee Road.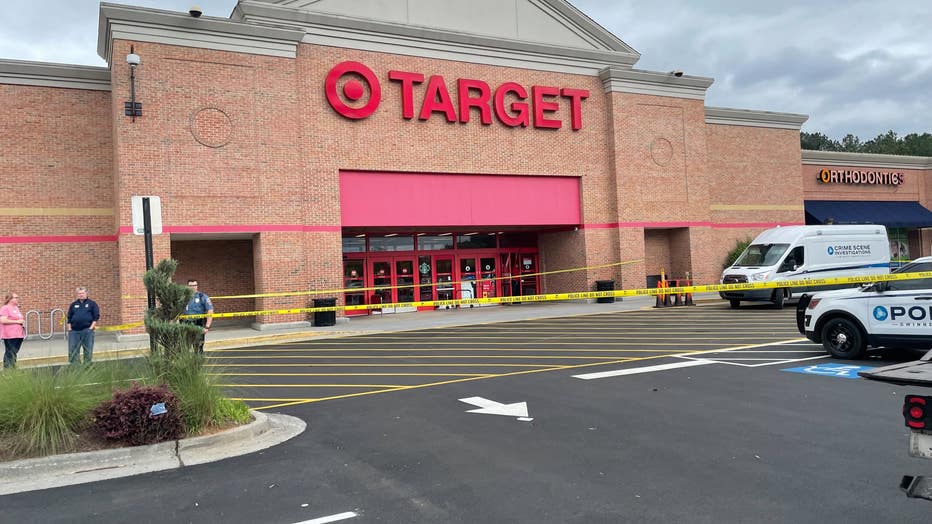 Police investigate a shooting at a Target on Lawrenceville-Suwanee Road in Gwinnett County on May 7, 2022.
Police on the scene told reporters that the suspect, who they immediately arrested, knew the victim.
"We believe that it's going to be domestic-related," said Gwinnett County police spokesperson Angela Carter. "There are no outstanding suspects at this time and everyone is safe at this time."
Spear said despite the chaos, shoppers and store employees helped one another get to cover as quickly as they could.
"You could see people doing their best to be like go, go," she said. "There's just a lot of humanity saving humanity there."
A white Nissan sedan was on a tow truck in the parking lot. 
The shopping center is near Northside Gwinnett Hospital. 
The Target is expected to open Sunday morning.