Gun found in Heritage High School student's backpack, district says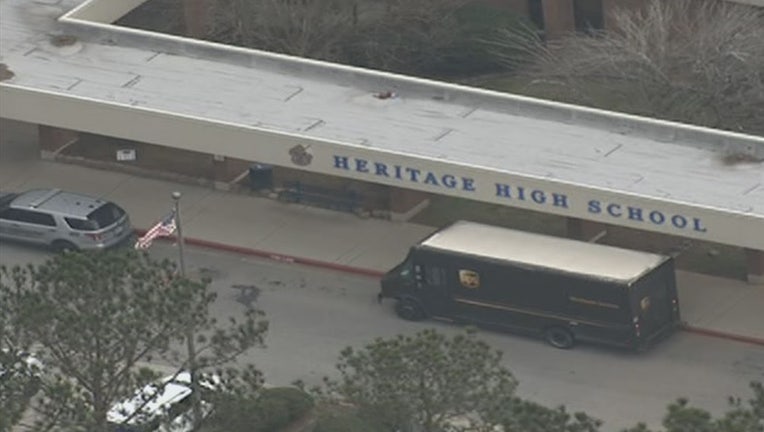 CONYERS, Ga. - A Rockdale County Public Schools spokesperson said administrators at a high school on Tuesday discovered a student in possession of a gun. 
The incident happened at Heritage High School in Conyers. 
An administrator allegedly noticed a student acting out of the ordinary and brought them to an office. The Rockdale County Sheriff's Office said the student was found in the bathroom and became combative.
School administrators found a gun in the student's backpack. 
"The student was, to my understanding, reaching inside of the bag," Rockdale County Sheriff Eric Levitt said. "We don't know what his intentions were gonna be, however, with the alertness of the assistant principal it possibly prevented something from happening."
The 17-year-old said he found the handgun in a neighborhood. Investigators said the gun was reported stolen in Newton County. 
"Gun violence is up and we have to work together as one community," Sheriff Levitt said. 
According to numbers released by the sheriff's office from the first semester of the 2021-22 school year alone, 98 students have been charged with criminal offenses. 
Of those, 75 have either been at Heritage or Salem high schools.
This is a 178% increase in arrests at the two high schools compared to 27 arrests in the first semester of 2019.
FOX 5 reached out to the school system for comment and they sent this statement:
"I am not quite sure what you mean by "weapons" but this is the first time a firearm was found on campus at Heritage High School during this school year. The safety of our students and staff is always our top priority.  Our Student Behavior Code of Conduct clearly outlines our expectations for student behavior along with the disciplinary action for any violation of the Code of Conduct. We promote "See Something, Say Something" and work closely with local law enforcement to maintain a safe learning environment for all students and staff." 
The sheriff said numbers don't lie and that's why his team is working on initiatives he said will bring gun education to the community and parents on a serious matter. 
"We just need our parents to get on board and have these conversations. Not just for Rockdale County but for the sake of our nation and have conversations with children. Search their children's room and search their bags," Levitt said. 
When it comes to drugs, fights and weapons compared to the first semester of 2019 to 2021 there has been a 72% increase.
Law enforcement took the student into custody without incident. They face charges of battery against school officials, possession of a gun on school property and obstruction.