Video of antisemitic protesters outside East Cobb synagogue sparks outrage
COBB COUNTY, Ga. - A Cobb County synagogue is the latest target of hate after a group of people carrying Nazi paraphernalia stood in protest outside Chabad of Cobb Saturday evening.
Pictures and videos of incident show a tense exchange between angry Cobb County residents and a group of protesters waving signs and flags depicting symbols of hate.
Inside the synagogue off of Lower Roswell Road, Rabbi Ephraim Silverstone told FOX 5 he and other members were inside preparing for evening services.
"I saw a large crowd gathering outside the synagogue on the front sidewalk … was able to quickly make out what the images were," Rabbi Ephraim Silverman told FOX 5.
The synagogue released a statement late Saturday night on their Facebook page, saying they are extremely appreciative and thankful for the outpouring of support and concern from all segments of the community.
"The idea that in 2023 in the United States outside a synagogue we could hear those kind of protests, see that kind of imagery…it's very disturbing," Silverman explained. "We have relatives that were unfortunately gassed in the death camps, so when you see imagery like that it's obviously going to stir something very, very deep."
The synagogue also said that it is working closely with Cobb County officials and police and there was no threat during the demonstration.
This is the latest incident of spreading antisemitic messaging FOX 5 has reported on in areas across Metro Atlanta over the last several months.
This group, which has been identified as 11 members of the Goyim Defense League, was reportedly led by Jon Minadeo, who was arrested Friday in Macon for a similar display. Hundreds of people gathered outside Temple Beth Israel in Macon on Saturday afternoon after the display on Friday, according to The Telegraph. Attendees included members of Macon's Jewish and LGBTQ+ communities, students and professors from Mercer University, Bibb County District Attorney Anita Howard and Bibb County Sheriff David Davis.
The GDL is described as a small network of "virulently antisemitic provocateurs" who goal is to cast "cast aspersions on Jews and spread antisemitic myths and conspiracy theories," according to the Anti-Defamation League.
"This is not a local group, this is a group that travels around the country, they do this everywhere, they're trying to provoke, they're trying to create reaction."
Just a few days ago, homeowners in Kennesaw woke up to antisemitic flyers in their driveways. It happened at the Overlook at Marietta Country Club.
Flyers were also distributed in Atlanta neighborhoods in April. Those flyers appeared to come from the Goyim Defense League website, which provides flyers for its followers. 
According to the Anti-Defamation League, there was a 36% rise in antisemitic incidents between 2021 and 2022.
While Silverman said he believes their hope was to spread hate, it's only shown him just how much support people of Jewish heritage have in the community.
"The outpouring just in the last 24 hours has been unbelievable from every denomination from different groups, different backgrounds, different churches," the rabbi told FOX 5.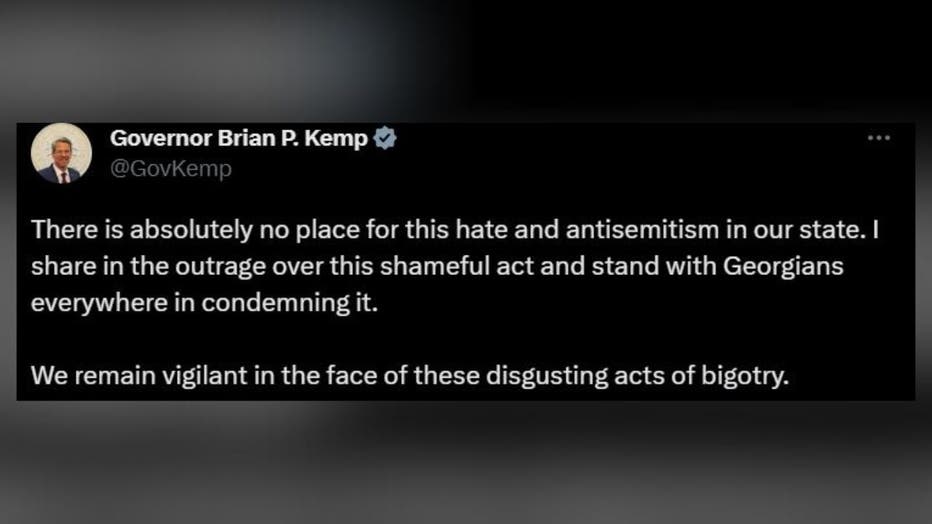 Gov. Brian Kemp, Sen. Rev. Raphael Warnock, other politicians and various groups have responded to the hateful incident.
Silverman said they're using this as motivation to continue giving back to the community. He believes educating young people about the holocaust is another answer to ending calls for Jewish hate.