Good Samaritan feeds man looking through trash for food, post goes viral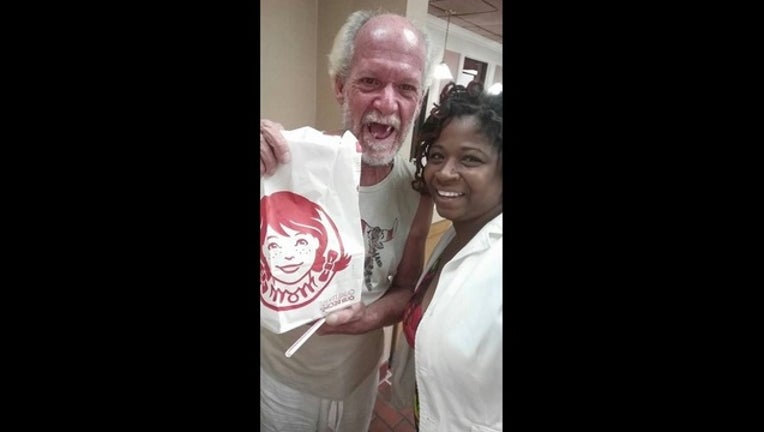 article
WASHINGTON DC (WTXF) - A Good Samaritan's Facebook post describing her experience helping a hungry man get a proper meal is going viral.
Natasha Robinson posted a photo of herself and man holding a Wendy's bag to Facebook on September 24.
Underneath the photo she described the experience leading up to that moment.
Robinson wrote that she was leaving school in Northwest Washington D.C. and saw the man eating from a trash can. She asked him if he would like to go to Wendy's to get something to eat.
The man took her up on her offer and as they walked, he said, "Thank you Lord, for sending someone."
Robinson said that the man told her he hadn't eaten since breakfast, and just needed enough food to hold him over until the morning.
According to the man, the Catholic soup kitchens were closed due to the Pope's visit.
After the man ordered, he asked to take a selfie with Robin son saying that "the world needs to see what a walking blessing looks like."
Robinson writes that the man was humble as well, at first choosing from the "dollar menu", which she rebuffed and told him to get enough to be full.
"He said I can't let you leave until I hug you. As he was hugging me he was praying... Little do [sic] he know I'm the one who received a blessing," Robinson wrote.
Robinson said in a statement to FOX 29: "As a Christian woman the word tells me to LOVE my neighbor and in loving my neighbor that means being my brother's keeper and helping when he needs it. He needed me and as he hugged and prayed for me in that moment I realized that I needed him as well."
"Since this has happened and this picture has gone viral I have gotten hundreds of inboxes from people all over the world. Just people thanking me for helping this man, some saying I have restored their faith in Humanity and others that are simply grateful that I stopped to feed him."
She also said that she received negative comments as well, but says that she cannot worry about the naysayers.
"My blessings have always come from God and not man. I saw a need, I met the need and I pray that others will take time to pay it forward. I think if more people look at the big picture, step outside and see that there are so many people without and we that have more should be willing to help."