Georgia teen back to playing saxophone after surviving acute liver failure, transplant
WOODSTOCK, Ga. - Anthony Talbot is back to practicing his saxophone in his Woodstock bedroom, and feeling, he says, "really good."
"Like, extremely good," the 15-year-old says.
It has been a long road back, just over two years, since the June 2021 day the then rising 8th grader developed severe abdominal pain.
He thought he had a stomach bug.
"And, it started just feeling really bad, really bad," Talbot remembers. "And it just kept getting worse and worse and worse."
He called his mother, then tried to lie down.
"I started feeling heavy on my chest, and I started feeling short of breath," he says. "I started telling my mom, 'Call 911, please call 911."
Talbot was airlifted from Wellstar Kennestone to Children's Healthcare of Atlanta at Egleston, and when Carolina and Dan Talbot saw their oldest son in the pediatric ICU, they were stunned.
"I felt I was going to faint," Carolina Talbot says. "You know, I just didn't understand. It was like, you know, what is going to happen. I just thought he's going to die, and that's it."
Anthony had gone into sudden acute liver failure, developing something known as acute Budd-Chiari syndrome.
Dr. Rene Romero, the system medical director for transplant at Children's Healthcare, says sudden liver failure is one of the most frightening things you will ever see in medicine.
"You go from a 100% healthy person to suddenly on death's door very rapidly, sometimes within 24 hours," Romero says.
Talbot had developed blockages in the blood vessels going into and out of his liver.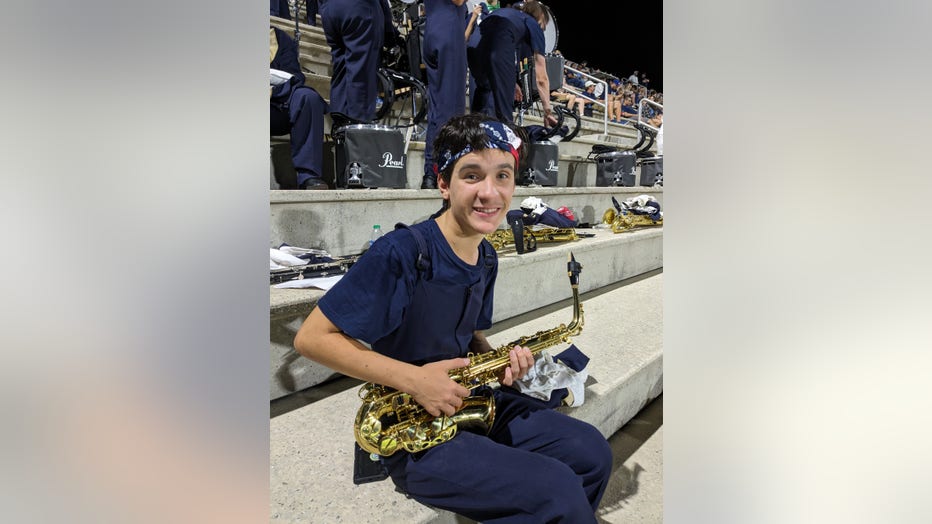 Anthony Talbot, 15, is now back playing with his school band after surviving acute liver failure and a liver transplant.
"It was like turning off the on-switch to the liver, and it immediately got into trouble," Romero says.  "And, then, multiple organs became endangered. His breathing, his lungs, his blood pressure, his renal function, all of those were impacted."
Surgeons tried bypassing the blockages, but Talbot's liver function was now in a free fall, and Romero says it was becoming clear without a new liver very soon he might not make it.
Even now, two years down the road, Romero has a hard time talking about that time.
"Every day was a very serious conversation with the family that we were doing everything possible to... you know," Romero says, his voice catching.
In the end, with Anthony Talbot so critical, he was placed at the top of the liver transplant waiting list, it took just 24 hours to find a donor liver.
But the six-hour transplant surgery, and the sedation because of complications of liver failure, left Talbot's hands and arms weak.
"He couldn't move his right hand or feel it or move his fingers, anything," Carolina Talbot says. "So, he couldn't, he didn't even look at the saxophone anymore."
Yet, after months of intense physical and occupational therapy at Children's, Anthony Talbot is playing alto sax again, not just in his room, but as a member of the River Ridge High School Marching Knights.
"He loves it," Dan Talbot says.  "It's great seeing him out there doing what he loves doing."
Anthony Talbot may have been through some hard things, but, he says, he is grateful to be back with the band.
"I just love being there with all my friends, talking with them, playing music with them, marching around with them in the field," Talbot says.  "It's a really good." experience. I love it."