Road closures outside Fulton County courthouse announced ahead of possible Trump indictment
FULTON COUNTY, Ga. - Authorities plan to close a number of roads around the Fulton County Courthouse ahead of a possible indictment of former President Donald Trump and others as part of a grand jury investigation into alleged interference in Georgia's 2020 election.
The Fulton County Sheriff says that Pryor Street will be closed between Martin Luther King Jr. Drive and Mitchell Road starting Monday, Aug. 7.
The road will still be open to pedestrians, but there will be no public parking in the area.
Those closures will remain in effect until Aug. 18.
'THIS IS A PERSECUTION': TRUMP PLEADS NOT GUILTY TO FEDERAL CHARGES IN 2020 ELECTION ARRAIGNMENT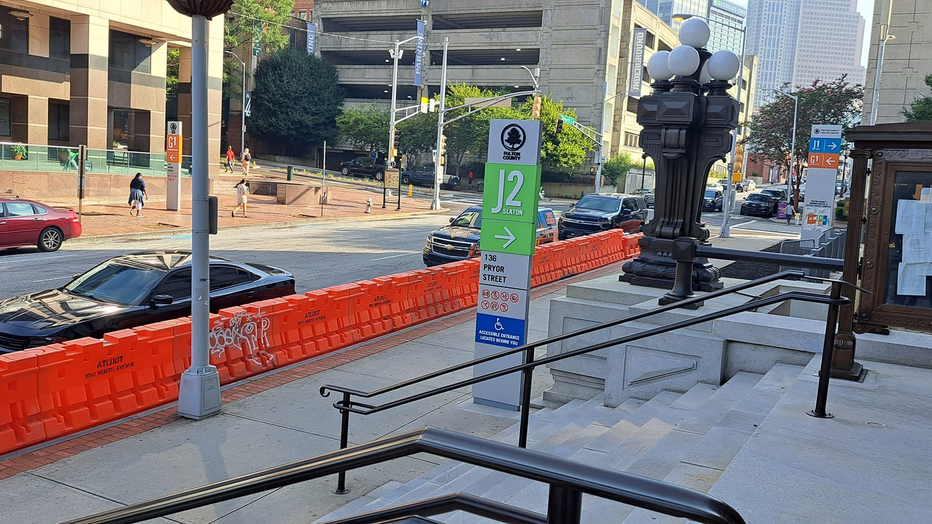 Barricades have been set up outside the Fulton County Courthouse ahead of possible indictments against Trump related to allegations that he and his allies meddled in the 2020 election in Georgia. (Credit: Magistrate Court of Fulton County)
Along with the announced closures, officials have set up barriers in front of the courthouse and say that they are planning to increase the presence of law enforcement in the area beginning on Monday.
While officials have not explicitly said the heightened security is connected to the grand jury's probe, Fulton County District Attorney Fani Willis has signaled that any indictments in the case will likely come in August.
Speaking to FOX 5 on Thursday, Willis said, "We're ready."
The Democratic district attorney's investigation began shortly after the release of a recording of a Jan. 2, 2021, phone call between Trump and Georgia Secretary of State Brad Raffensperger in which the then-president suggested that Raffensperger could "find 11,780 votes" — just enough to overtake Democrat Joe Biden and overturn Trump's narrow loss in the state.
GEORGIA ELECTION PROBE TIMELINES: FROM NOVEMBER 2020 TO NOW
But the investigation's scope broadened considerably after that, and Willis convened a special grand jury to hear testimony from witnesses including high-profile Trump allies, such as attorney Rudy Giuliani and Sen. Lindsey Graham of South Carolina, and high-ranking Georgia officials, such as Raffensperger and Gov. Brian Kemp.
Prosecutors advised Giuliani and Georgia Republicans who served as fake electors that they were at risk of being indicted. The fake electors signed a certificate asserting Trump had won the election and declaring themselves the state's rightful electors, even though Biden had won the state and Democratic electors had already been certified.
A court filing in early May indicated that Willis had reached immunity deals with at least eight fake electors, suggesting they may be cooperating with authorities.
The foreperson on the special grand jury indicated publicly that the panel had recommended multiple indictments. Willis is expected to ask a regular grand jury to return indictments in the case.
Trump has described his phone call to Raffensperger as "perfect."
The Associated Press contributed to this story.