Barricades installed in front of Fulton County Courthouse ahead of possible Trump indictment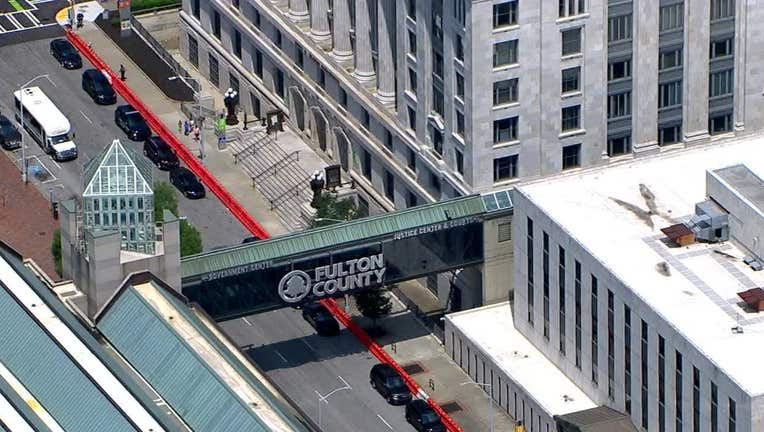 article
FULTON COUNTY - Barricades appeared in front of the Fulton County Courthouse on Thursday.
Officials have not confirmed a reason for the barricades, but a grand jury is scheduled to consider possible indictments against former President Donald Trump and others for alleged interference in the Georgia election process in 2020 soon.
Fulton County District Attorney Fani Willis began investigating Trump after his now-famous call to Georgia Secretary of State Brad Raffensperger during which he encouraged the Secretary of State to find 11,780 additional votes.
A special grand jury, which heard testimony from former Trump attorney Rudy Giuliani, Sen. Lindsey Graham of South Carolina, Gov. Brian Kemp and Raffensperger and many others, recommended indictments earlier this year but did not have the power to issue those indictments. That will be up to a regular grand jury. The grand jury, which was seated July 11, is expected to hear evidence in the upcoming weeks before their term ends Sept. 1.
FULTON COUNTY GRAND JURY TO HEAR 2020 ELECTION CASE AGAINST TRUMP, ALLIES  
Georgia law requires an indictment from a grand jury to prosecute in most felony cases. The grand jury will hear usually hear from law enforcement officers and investigators with the district attorney's office. After the case has been presented, they will deliberate and vote on whether to return a "true bill" or "no bill." If they return a "true bill," that means they think there is probably cause to believe the accused has committed th alleged crime or crimes. An indictment requires 12 members of the grand jury to vote in favor of charges.
Willis sent a letter to county leaders in May indicating that she plans to have much of her staff work remotely during the first three weeks of August. Additionally, she asked judges not to schedule trials and in-person hearings during part of that time.
Trump has repeatedly made efforts to disqualify Willis from further investigations and recently filed a lawsuit in Fulton County Superior Court saying she should be disqualified because she is allegedly using the case to raise re-election funds.
Barricades have been set up outside the Fulton County Courthouse ahead of possible indictments against Trump related to allegations that he and his allies meddled in the 2020 election in Georgia. (Credit: Magistrate Court of Fulton County)
That latest motion will be heard by Senior Superior Court Judge Stephen Schuster on Aug. 10.
HEARING SCHEDULED IN TRUMP'S ATTEMPT TO DISQUALIFY FULTON COUNTY DA, JUDGE
If Trump is indicted, it will not prevent him from running for president in 2024.
For now, anyone who was scheduled to appear in this court on July 31, Aug. 1, Aug. 7, Aug. 8, Aug. 10, Aug. 11, Aug. 14, Aug. 15, Aug. 17 or Aug. 18 is now being asked to join the judge via Zoom.
If you don't already have a link to join, you can contact officials at 404-613-5313, or by emailing the court at magistrate.jarequests@fultoncountyga.gov.