Family of teen killed by Cobb police during crime files new $150M lawsuit
COBB COUNTY, Ga. - The family of a teenager shot twice in the back has filed a $150 million dollar federal lawsuit against Cobb County officials.
 In July of 2020,  17-year-old Vincent Truitt was one of three teenagers inside a stolen car, according to the Georgia Bureau of Investigation. After a police chase, Truitt started running, and an officer shot him in the back.
Truitt's mother says her life will never be the same as she reflects on the July 2020 fatal shooting.
"My pain starts from the time I open my eyes. I visit his gravesite every day of my life. Officer Max took my gift away," Vincent's mother Venethia said with tears in her eyes. 
Attorneys Truitt's family held a news conference Thursday morning to announce a federal $150 million dollar lawsuit to get justice, after the Cobb County DA did not pursue criminal charges against the officers. 
The GBI says Truitt and two teenagers were in a stolen car when police started pursuing them back in July of 2020. According to the GBI, Truitt was holding a handgun, and then an officer shot him. He died the next day. They ultimately decided officer Max Karneol was justified when he shot the teen in the back because Truitt had a gun.
"Where in this world do you shoot a teenager in the back twice and get away with it?  My shirt says, why did you shoot me. Those were the last words of my son," father Andrae questioned. 
The teen's attorneys say he was not threatening anyone with that weapon, but rather was running away.
"When a black American, a black person, has a firearm it does not give law enforcement a blank slate to respond, to shoot and kill as they see fit," Attorney Maria O. Banjo exclaimed. She went on to say African Americans are not extended their Second Amendment rights equally in this country.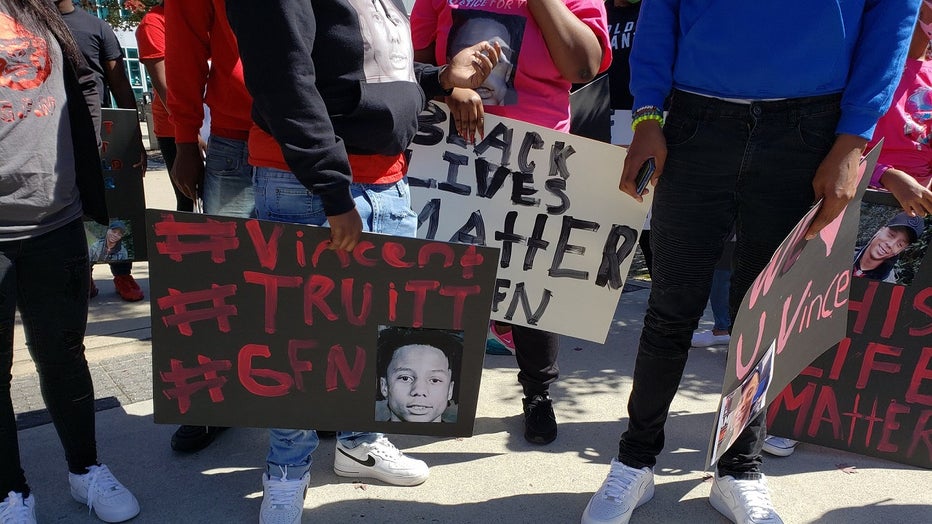 Family and friends are gathering at the EpiCenter in Cobb County demanding justice for 17-year-old Vincent Truitt on Oct. 3, 2020. (FOX 5)
The Truitt family attorneys, which includes famed attorney Jackie Patterson, criticized Cobb County DA Flynn Broady for putting the case before a civil grand jury instead of a criminal one.
"It's time to present it to a criminal grand jury. We need progressive prosecution in words and deeds, and it starts with Vincent Damaris Truitt," attorney Gerald Griggs insisted.
FOX 5 reached out to Cobb DA Broady's office by phone and email, but did not get a response. 
WATCH: FOX 5 NEWS LIVE COVERAGE