Deputy and citizen recognized for saving man from highway fire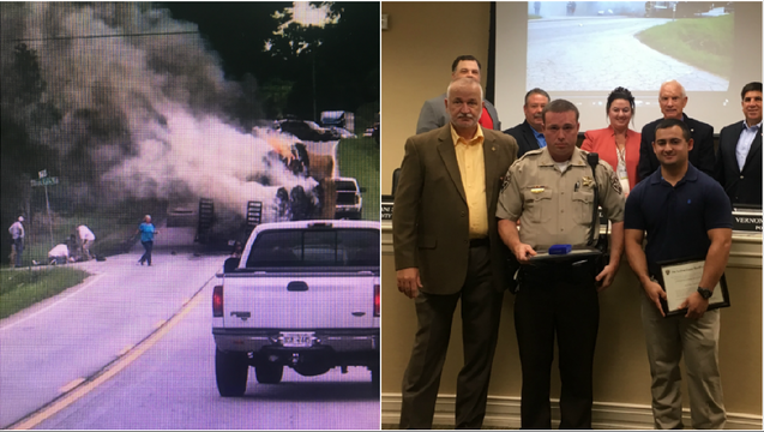 article
PAULDING COUNTY, Ga. - An off-duty Deputy and off-duty EMT rushed to the aid of a man thrown from his motorcycle in an accident, landing near large flames and exploding tires.
On Tuesday, Deputy Chris Stafford and EMT Hunter Cunningham were recognized for their heroic actions that likely saved the life of the man who was riding the motorcycle.
The accident occurred on July 28 on GA 101. The two had never met before but quickly acted once they saw that the motorcyclist had struck a trailer with hay, causing a large fire.
Stafford and Cunnigham worked together to shield the man from the flames, and could not move the motorcyclist due to concerns of a serious neck or back injury.
They were being burned by the flames but made sure to hold a shirt over the face and body of the injured man to keep him from burning and inhaling smoke.
Fire Rescue and EMT's then arrived on the scene and stabilized the patient, who was transported to an Atlanta hospital.
Medical professionals later told officials that without the actions of Deputy Stafford and EMT Cunningham, the male motorcyclist likely would have died.
Sheriff Gulledge awarded Deputy Stafford with the Medal of Merit and EMT Cunningham with the Citizens Commendation Award for their bravery and relentless will to serve.