Man killed in shooting at DeKalb County Publix parking lot
DEKALB COUNTY, Ga. - Stunned shoppers watched DeKalb Police investigators work the scene of Wednesday's deadly shooting outside a a Publix on North Decatur Road and Clairmont Road.
The shocking crime was committed in the store parking lot near the grocery store's front entrance.
"Lunchtime, come down to do some grocery shopping at Publix and here we are, homicide, police everywhere and broken hearts everywhere," shopper Anne Kirsliss said.
The shooting happened at around 1 p.m. in the busy shopping complex, home to multiple businesses.
DeKalb police say a gunman opened fire on a man, shooting him multiple times as he sat in his vehicle, killing him.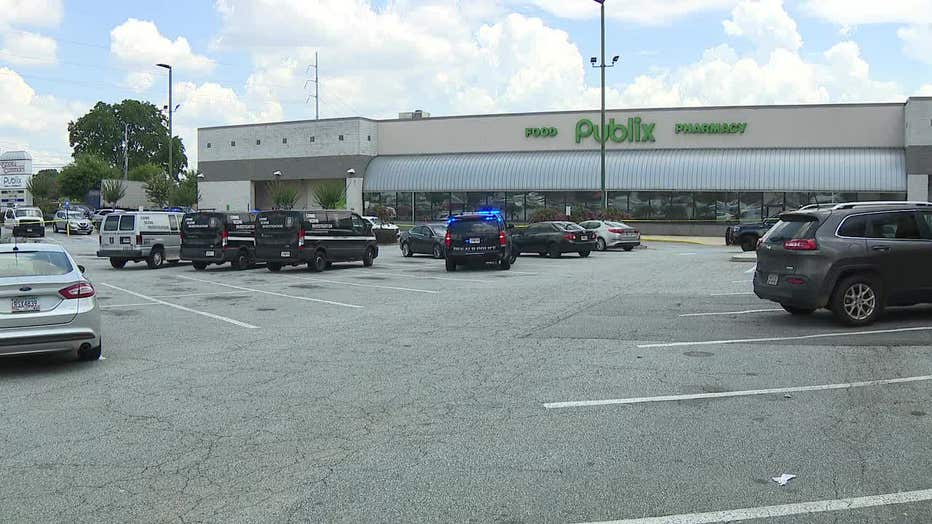 The shooter then fled the scene.
Retired police officer Geraldine Champion is alarmed by the rise in violent crime, here at home and nationwide.
"I policed in Atlanta for 27 years, homicide, I've never seen anything like this before in my life," said Champion.
Detectives and crime scene techs combed the victim's grey Chevy Colorado truck for evidence as shoppers looked on in disbelief.
Shopper Tomorrow Valentine told FOX 5, "It's shocking but it also makes you reflect about the sign of the times when we get so bold, we do this in the daylight, public.  He is parked in the front so this person didn't care at all if somebody saw him or not."
DeKalb police have not released a possible motive. Anyone with information in the case is asked to contact the DeKalb Police Department.
Police believe the shooting stemmed from road rage and the shooting followed the victim into the parking lot. The shooter allegedly opened fire on the man while he was inside his car.
Shoppers were disgusted by the deadly violence in their own neighborhood.
"It's shocking, but it also makes you reflect on the sign of the times when we get so bold that we do this in the daylight, in public," shopper Tomorrow Valentino said
Police have not released the victim's name or the events that led up to the shooting.
If you have any information that could help with the investigation, please call the DeKalb County Police Department.