DeKalb County Police Chief Mirtha Ramos addresses recent gun violence
DeKalb County Police Chief Mirtha Ramos is reassuring residents the county isn't experiencing a spike in crime despite an unusually high number of reported shootings this week.
"We do understand that one person being injured, one homicide, is one to many," Chief Ramos told FOX 5's Deidra Dukes.
"It does seem like we had a busy week, but I would like the citizens to know that we are lower in homicides this time this year than we were last year," Ramos said, "and we are slightly up in aggravated assaults. We continue to work very diligently with the community."
Police were dispatched to a person shot at a home on Walnut Ridge Court in Stone Mountain overnight. The victim, just 12-years old, was transported to Children's Egleston Hospital.
The shooting marked the sixth incident of gun violence in DeKalb County this week.
"The one we had just this morning with the 12-year-old," the Chief explained, "that was a family member who shot him. We are talking about a 12-year-old child who was shot by a family member simply for doing something maybe he didn't agree with. How do you manage that?"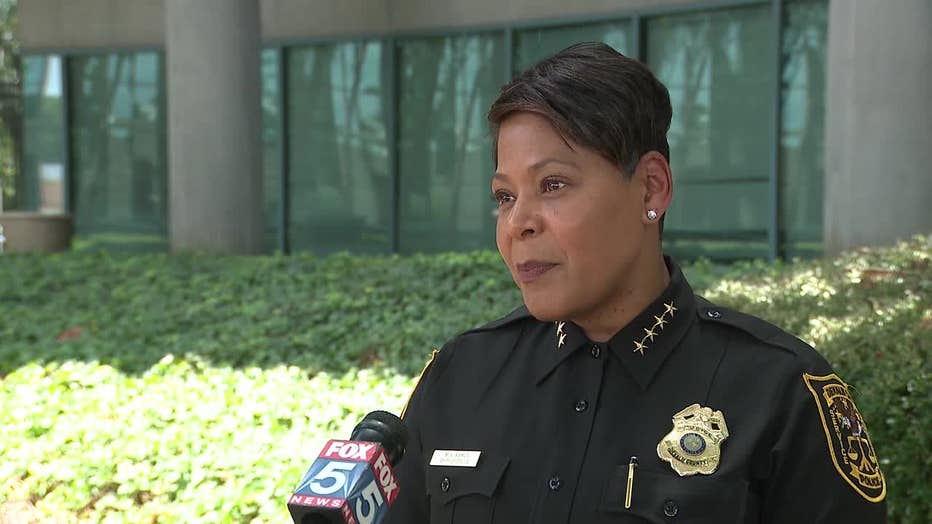 DeKalb County Police Chief Mirtha Ramos  (FOX 5)
Ramos said law enforcement officials in metro Atlanta and nationwide continue to see an alarming number of cases where people are resorting to gun violence instead of trying to de-escalate the situation. At the same time she said the department is working with the community, using surveillance cameras, tag readers and other technology to try to combat criminals like the suspects wanted in Wednesday's deadly armed robbery at a BP gas station on Flat Shoals Road.
"We're trying to do the best we can to work with the community especially the business owners to try to do our best," Chief Ramos said, "but you will have those where crime is going to be crime in the sense that you are going to have people out there who are going to want to take something for nothing, and that's unfortunately what happened at the BP."