Code Orange Alert issued for metro Atlanta area for Friday
ATLANTA - A Code Orange Alert has been issued by the Georgia Department of Natural Resources for the greater metro Atlanta area because of ozone.
A Code Orange Alert is issued when the air quality index (AQI) is between 101 and 150 based on five major air pollutants. This means that the air pollution concentrates may be unhealthy for the elderly, children and people who have lung or heart conditions. 
KEEP UP WITH THE LATEST BY DOWNLOADING THE FREE FOX 5 STORM TEAM APP AND FOLLOWING @FOX5STORMTEAM ON TWITTER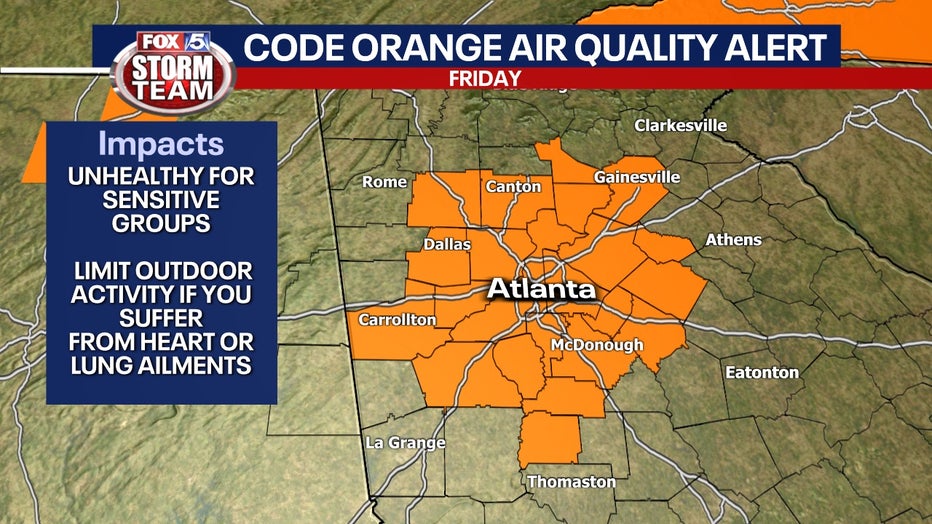 These groups of people are generally advised to avoid outdoor exercise or strenuous activity during the alert. However, there may be times during the day when the air is OK for outdoor activities such as the early morning. 
As of 6 a.m. Friday, the Georgia Air Protection Branch shows parts of Atlanta reaching levels of around 77 on the AQI index. That number could get much higher later in the day.
A Code Orange Alert is typically associated with high temperatures but can also be a result of other factors. 
The air quality alerts aren't just affecting Georgia, over 100 millions Americans are under a warning with the main contributing factor the potentially harmful smoke drifting from the Canadian wildfires.
The conditions sent asthma sufferers to hospitals, delayed flights, postponed ballgames and even pushed back a White House Pride Month celebration. The fires sent plumes of fine particulate matter as far away as North Carolina and northern Europe and parked clumps of air rated unhealthy or worse over the heavily populated Eastern Seaboard.
At points this week, air quality in places including New York, the nation's most populous city, nearly hit the top of the U.S. Environmental Protection Agency's air-pollution scale. Local officials urged people to stay indoors as much as possible and wear face masks when they venture out.
Scientists say the shocking photos of New York covered in yellow haze were a reminder of conditions routinely troubling the country's West — and a wake-up call about the future.
"This is kind of an astounding event" but likely to become more common amid global warming, said Justin Mankin, a Dartmouth College geography professor and climate scientist. "This is something that we, as the eastern side of the country, need to take quite seriously."
Fueled by an unusually dry and warm period in spring, the Canadian fire season that is just getting started could well become the worst on record. More than 400 blazes burned Thursday. Over a third are in Quebec, where Public Safety Minister François Bonnardel said no rain is expected until next week and temperatures are predicted to rise.
U.S. President Joe Biden said Thursday that hundreds of American firefighters and support personnel have been in Canada since May, and that he'd offered Canadian Prime Minister Justin Trudeau "any additional help Canada needs to rapidly accelerate the effort to put out these fires." The two spoke Wednesday.
The Associated Press contributed to this report.