Canadian Wildfires: How Georgia air quality could be affected
ATLANTA - North Georgia could soon be seeing and feeling the effects of the hazardous haze caused by drifting smoke from the Canadian wildfires.
Many residents in the northeast looked out their windows Wednesday to find a thick smoke that caused everything to be tinged with a yellow hue. The smoke was so thick that airport pilots couldn't see, leading to hundreds of flight cancelations.
Much of the air was in the "unhealthy or worse categories in areas from the mid-Atlantic through the Northeast and parts of the Upper Great Lakes," according to an advisory issued by the Environmental Protection Agency Wednesday night. U.S. authorities issued air quality alerts in multiple regions and smoke is expected to persist for days.
"Conditions are likely to remain unhealthy, at least until the wind direction changes or the fires get put out," U.S. National Weather Service meteorologist Bryan Ramsey said. "Since the fires are raging — they're really large — they're probably going to continue for weeks. But it's really just going be all about the wind shift."
PHOTOS: WILDFIRE SMOKE TURNS SUN TO REDDISH ORB
Conditions were especially bad in parts of central New York, where the airborne soot was at hazardous levels. In New York City, officials on Wednesday said everyone should stay indoors. The conditions arrived late Tuesday afternoon, obscuring views of New Jersey across the Hudson River.
"You don't need to go out and take a walk. You don't need to push the baby in the stroller," New York Gov. Kathy Hochul said Wednesday night. "This is not a safe time to do that."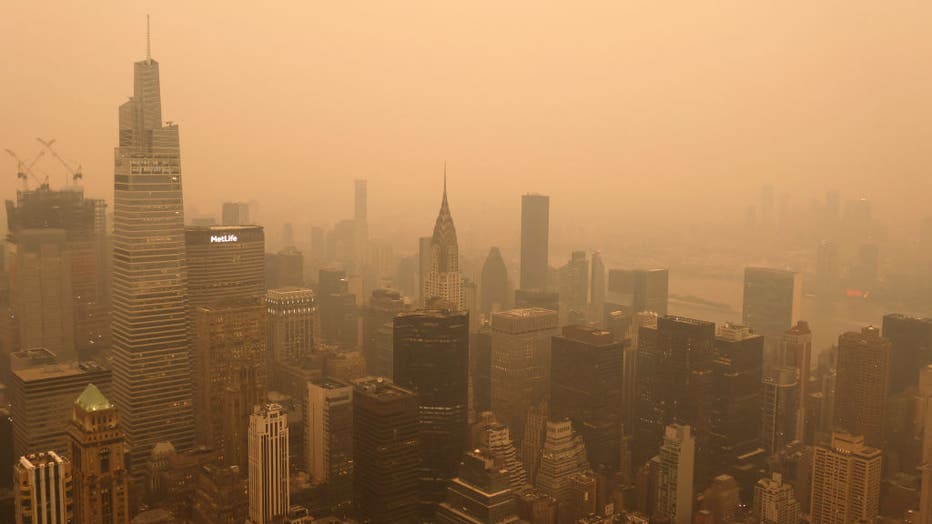 Heavy smoke shrouds the Chrysler Building and One Vanderbilt in a view looking northeast from the Empire State Building as the sun sets on June 6, 2023, in New York City. (Photo by Gary Hershorn/Getty Images)
The Atlanta-based Centers for Disease Control and Prevention are encouraging anyone who has children, is elderly, or has conditions such as asthma to take extra precautions. 
RELATED: Code Orange Alert issued for metro Atlanta area
Parts of north Georgia have already seen some of the haze in their area. The National Oceanic and Atmospheric Administration predicts that metro Atlanta, north Georgia and central Georgia to receive light to moderate smoke over the course of Thursday and into the weekend.
As of 6 a.m., weather officials say Atlanta's air quality to be 76 on the US Air Quality Index - moderate but nowhere near the 300+ levels seen iN places like New York City.
CANADA WILDFIRES LEAD TO AIR-QUALITY ALERTS IN US - HERE'S HOW TO STAY SAFE
The haze will continue until a storm system and rain clear it away this weekend.
Officials are encouraging any travelers in metro Atlanta and across Georgia to check their flight status before heading to the airport - especially if the flight is going to the northeast.
Why is the smoke reaching so far away?
Strong winds high up in the atmosphere can transport smoke long distances and it's common for large, violent fires to create unhealthy conditions hundreds of miles away from where forests are burning.
But the right mix of circumstances had to align for the smoke to blanket major U.S. cities: A dry, hot spring set the stage. Then weather did the rest, said Bob Henson, a meteorologist with Yale Climate Change Connections.
In Canada, air is circulating counterclockwise around a low-pressure system near Nova Scotia. That sends air south over the fires in Quebec. There the air picks up smoke, and then turns east over New York state, carrying smoke to the eastern seaboard.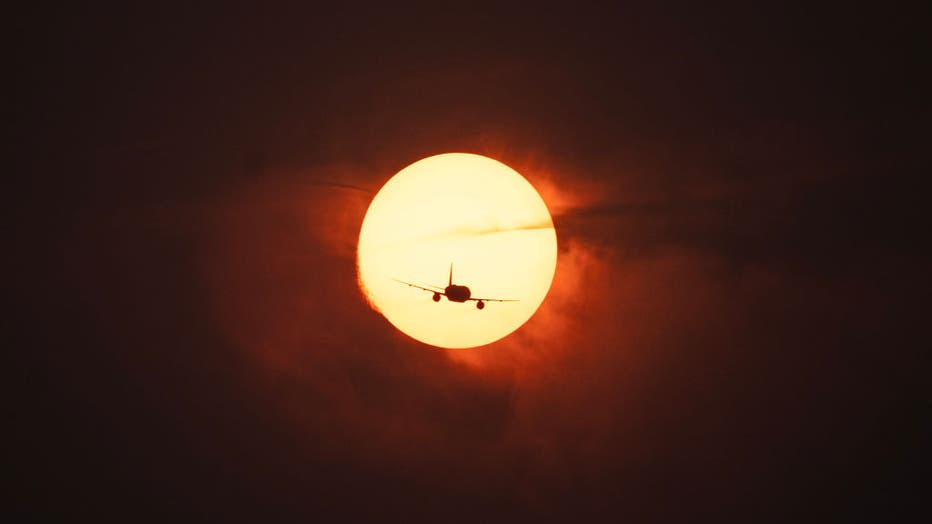 A plane passes in front of the sun on a hazy evening as smoke from wildfires in Canada cause hazy conditions in Washington, DC, on June 7, 2023. (Photo by ANDREW CABALLERO-REYNOLDS/AFP via Getty Images)
What's inside the smoke affecting the eastern United States?
Although smoke seems familiar, it is actually made up of a complex mix of shapes, from round to corkscrew-shaped under the microscope.
"It's not just one sort of chemical," said Rima Habre, an expert in air quality and exposure science at the University of Southern California. "It could have gases and carbons and toxic metals." As it travels, Habre said, it also changes and can contain ozone.
Much of what we see in the air and measure is small particles, or PM 2.5. These are so small they can get deep into the lungs, where oxygen enters your circulation.
"Mostly we worry about inflammation in the lungs," Habre said, from these high levels of pollution. But with climate change amping up fires, increasingly, she said, she is worried about broader numbers of people being exposed to less extreme smoke for weeks or months.
"Most healthy adults and children will recover quickly from smoke exposure and will not have long-lasting health effects," according to the EPA advisory. But that is less true for a large category of people, including children whose lungs are still developing, older adults, and people with lung diseases, such as asthma and chronic obstructive pulmonary disease.
Stay inside, keeping your doors, windows and fireplaces shut, is the advice. Air conditioning on the recirculation setting can help filter out some particles, and air filters can remove many more.
The Associated Press contributed to this report.