Cobb County teacher on leave over book faces termination hearing
COBB COUNTY, Ga. - A Cobb County teacher who has been on leave for more than a month over a controversial book could find out Thursday if she'll be able to keep her job.
Due West Elementary fifth-grade teacher Katie Rinderle picked up the book "My Shadow is Purple" from the school's book fair. She said out of several options, her students chose to read it back in March. 
The book, which features a nonbinary character, centers around challenging gender norms.
"That's what our conversation was really focusing on … the power of not only embracing your unique differences and abilities, but then valuing those in others and learning from those," Rinderle said in a video from the Southern Poverty Law Center.
Less than a month after giving her students an assignment focused on the book's themes, the Cobb County School District said that her choice of book violated Georgia's new Divisive Concepts Law. The law, which was passed in 2022, gave parents more control over what's taught in the classroom.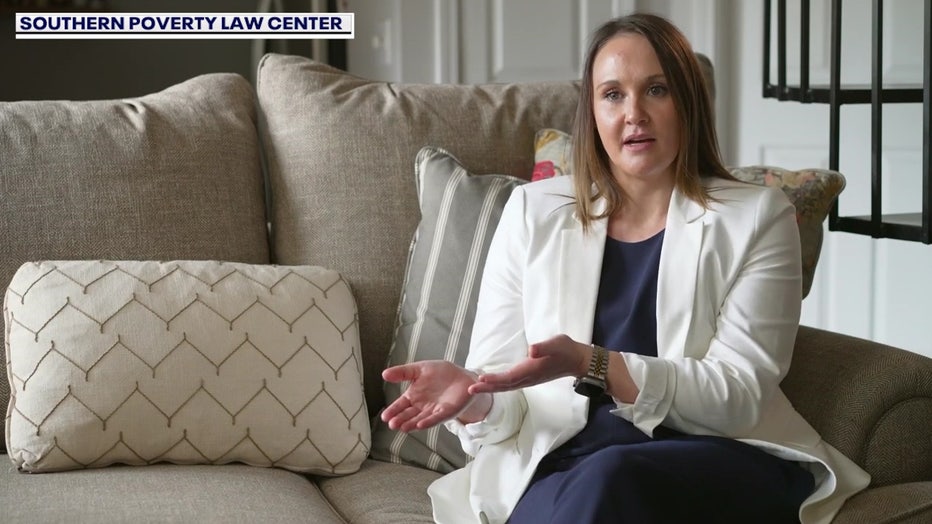 Katie Rinderle (Credit: Southern Poverty Law Center)
In the new law, school districts must respond to complaints from parents or other concerned citizens, and people who don't like the outcome can appeal to the state Board of Education. If the board finds the school district in the wrong, it could suspend some or all of its waivers from state regulation.
After a complaint by parents, Rinderle's attorney said she was put on administrative leave and is facing termination. 
Thursday, the district held a hearing regarding Rinderle's employment and conduct.
"The superintendent of the Cobb County School District has recommended that with Katherine Rinderle's employment contract be terminated," said the school district's attorney, Sherri Culves. "The district has lost confidence in her ability to continue as a teacher in this school district."
If she's fired, she'll be the first public school teacher to be terminated under the new law.
"The recommendation to terminate Katie Rinderlie was purely political," said the teacher's attorney, Craig Goodmark.
Towards the end of the hearing Thursday, a parent testified saying she was given no notice the book would be read to her son in class.
However, not all Cobb County parents are against the book being shared with students.
"One of my four children at Due West at 9 years old, knew that he didn't fit in these boxes that they want people to fit in," said Beverly Wynne, who raised four children who all went to Due West Elementary School. "I'm personally invested in this. I think had he been in that class he would've been very validated by that book, he would have felt he belonged."
Catherine Jones says her child is just 2 years old, but will someday attend Cobb County Schools. FOX 5 asked whether or not she believed the book should be read in class. 
"No, absolutely not. Cause when I was younger, that would have really confused me."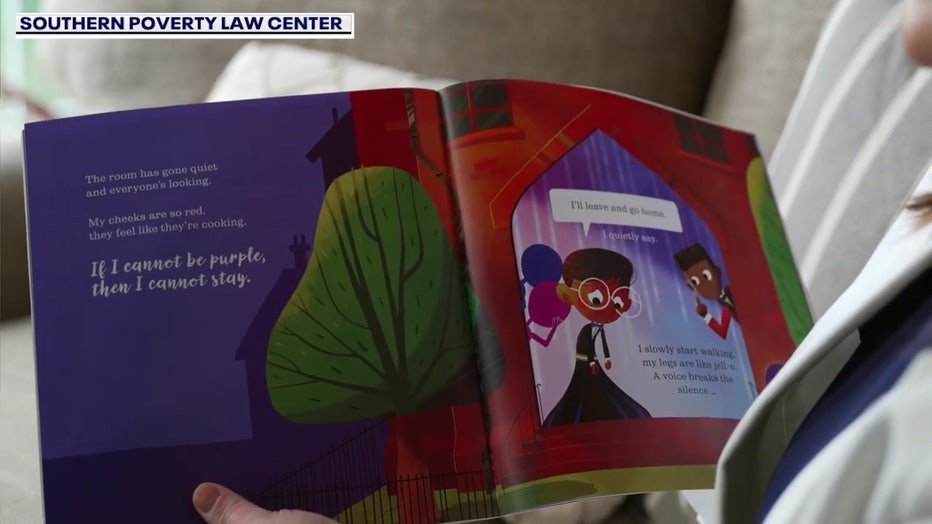 Katie Rinderle shows a copy of "My Shadow is Purple" (Credit: Southern Poverty Law Center)
In a statement to FOX 5, the Cobb County School District said they believed their actions were "appropriate":
"Without getting into specifics of the personnel investigation, the District is confident that this action is appropriate considering the entirety of the teacher's behavior and history. However, as this matter is ongoing, further comment is unavailable.The District remains committed to strictly enforcing all Board policy, and the law."
The hearing will continue Friday. A school spokesperson says the tribunal has five days to issue their findings and recommendations. 
The Associated Press contributed to this report.