Anti-Jewish rally at synagogue adds fuel to fight for Georgia hate crime law add-on
COBB COUNTY, Ga. - The Chabad of Cobb is supposed to be a safe place to worship, but over the weekend protesters with Nazi imagery tried to change that.
The small group's presence Saturday brought out counter-protestors who were upset by their hateful message.
"It's not just concerning to me, it's concerning to the entire Jewish community," said Rep. Esther Panitch. "It's concerning to the non-Jewish community as well. We have hate in our midst."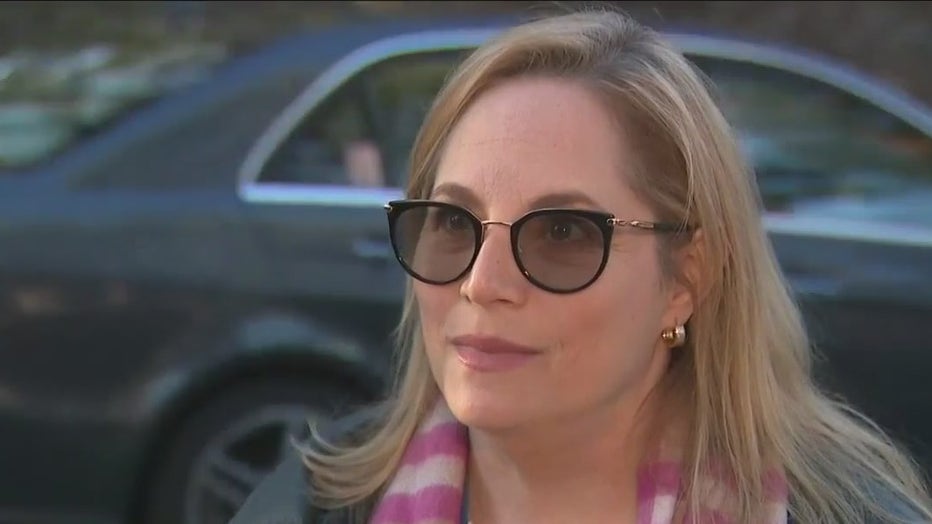 State Rep. Esther Panitch (D-Dist. 51) (FOX 5 Atlanta)
Representative Panitch is a Georgia lawmaker. She's also the only current Jewish member of the Georgia General Assembly and this weekend's antisemitic display has left her angry.
"They may start with the Jew, but it doesn't end so really protecting any minority is protecting all minorities," she said.
The group, which has been identified as 11 members of the Goyim Defense League, reportedly had a similar display Friday in Macon.
A group wearing Nazi paraphernalia rallied outside the Chabad of Cobb over the weekend. (Credit: Tammy Kadish-Harper)
"This is a small group of pot-stirring bigots who seek attention," said Eytan Davidson, Southeast Director of the Anti-Defamation League.
The Anti-Defamation League says antisemitism is on the rise and increased 36% between 2021 and 2022.
"Incidents of hate and hate crimes are at all-time highs across the board," Davidson said. "Antisemitic incidents are at all-time highs."
It's becoming more apparent than ever that we need to unite on this issue because it's getting serious," said Adar Rubin, Director of Mobilization for the End Jew Hatred Movement.
Currently, there is no law in Georgia that defines antisemitism. A bi-partisan group of lawmakers want to change that and add it to the state's hate crimes law.
It failed this session, but lawmakers plan to try again next year.