Suspect arrested in killing of Boston-area couple celebrating their 50th anniversary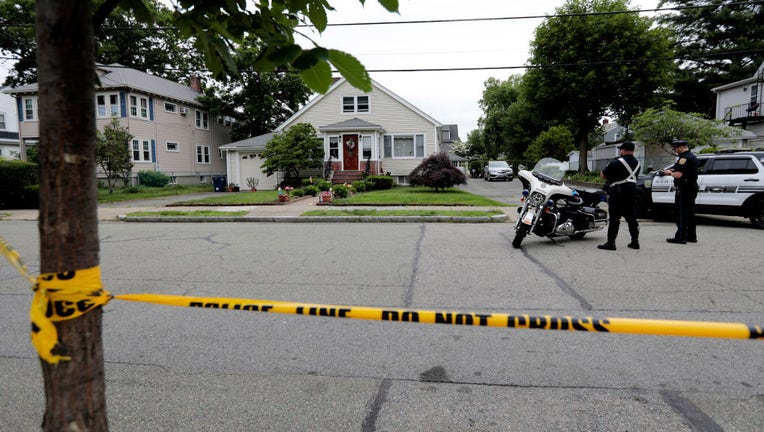 article
BOSTON - A suspect was arrested Monday in the weekend killings of a Boston-area husband and wife celebrating their 50th wedding anniversary and the woman's 97-year-old mother, authorities said.
Middlesex District Attorney Marian Ryan said police took Christopher Ferguson into custody and charged him with killing 73-year-old Gilda "Jill" D'Amore after an autopsy revealed her death was a homicide. Ferguson also was charged with two counts of assault and battery with a dangerous weapon causing serious bodily injury, and burglary.
Additional charges were expected in the death of 74-year-old Bruno D'Amore and his mother-in-law, Lucia Arpino, after those autopsies are completed. Ferguson was expected to appear in court Tuesday or Wednesday. It wasn't immediately clear if he had an attorney who could comment on his behalf.
The victims and suspect all live in the Boston suburb of Newton but Ryan said it appeared there was no connection between them.
The bodies were found in the victims' home after the D'Amores failed to arrive at church Sunday morning, police said. Investigators found signs of forced entry into the basement and Ryan described a chaotic scene in which there were "obvious signs of struggle." A crystal paper weight was covered in blood and furniture was broken.
The big break in the case came when authorities were able to match a bloody footprint to that of Ferguson, who lived in the neighborhood, she said. They also collected blood stains near the footprints and bloody fingerprints on the screens and windows from the house, Ryan said.
The killings rattled Newton and the Our Lady Help of Christians Church, where the victims worshipped. A message to parishioners said the three "lost their lives in a senseless act of violence."
"It is with a heavy heart that we share that the terrible tragedy that happened yesterday in Newton hit very close to home … impacting our faith community and our own family," wrote Paul and Ginny Arpino, who said the victims were their cousin and aunt.
The preliminary investigation indicated the victims died from stab wounds and blunt force trauma, Ryan said.
"Two of the individuals were celebrating a golden wedding anniversary," Ryan said. "As you can imagine, this would be tragic on any day. To have family gathered for this kind of a celebration makes it particularly tragic."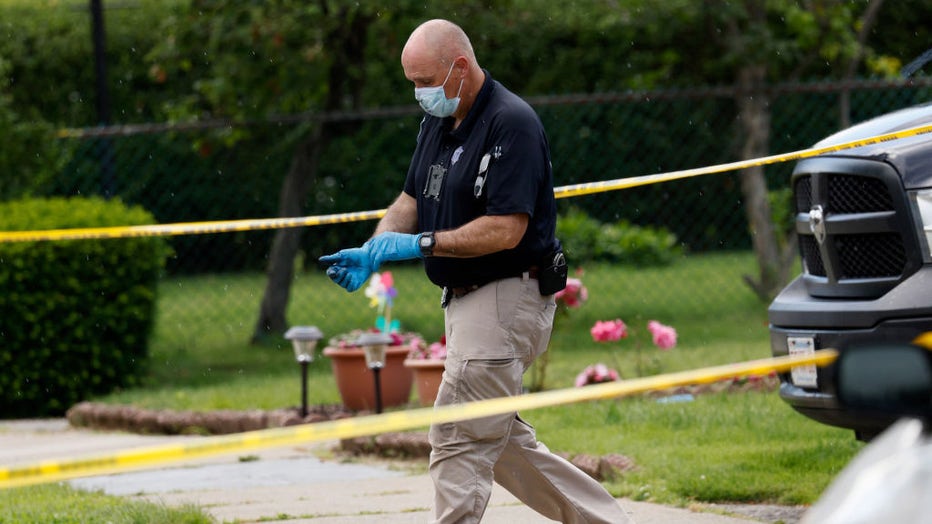 Newton, MA - June 25: An investigator walks out of a home on Broadway Street, where three bodies were discovered. (Photo by Jessica Rinaldi/The Boston Globe via Getty Images)
There was an attempted break-in about a half-mile (800 meters) from the victims' home early Sunday, but it's unclear if the two crimes were related, Ryan said. Residents were also asked to check their doorbell cameras or home security systems for any video that could help with the investigation.
In their letter to the church community, Paul and Ginny Arpino said "Bruno was known for his big voice and his exuberant personality and as 'head chef', he proudly flipped the burgers at the parish picnic."
They said his wife had taken on the ministry of beautifying the church's environment.
"Without a single day of liturgical training she simply followed her heart, caring for the flowers and decorating for the liturgical seasons," they wrote.
They said until the pandemic Lucia Arpino never missed morning mass.
"Lucia will be especially missed on the upcoming Our Lady of Mt. Carmel Festa weekend as she faithfully walked in that procession through the streets of Nonantum well into her 90's," they wrote.
The news has rattled neighbors like Jack Porter.
"This is a safe neighborhood. You don't have murders in Newton or Nonantum," the heavily Italian-American neighborhood where they lived, he said.
The Rev. Dan Riley of Our Lady Help of Christians said they were "wonderful people, church-going, kind, hospitable, salt of the earth."