Celebrate Hispanic Heritage Month in metro Atlanta | 2023
article
ATLANTA - Hispanic Heritage Month is celebrated nationally from Sept. 15 to Oct. 15 in the United States. The purpose of the celebration is to recognize the contributions and influence of Hispanic Americans to the history, culture and achievements for the United States.
Here are some of the celebrations and festivities happening in the metro Atlanta area:
The Georgia Aquarium is hosting the 10th annual Caminar Latino Celebration at 7 p.m. Sept. 15. Tickets includes dinner by Wolfgang Puck catering and access to all the event activities. Cocktail attire required. 
Aurora Theatre in Lawrenceville will present Nuestras Voces: Feria A La Comunidad at 6 p.m. Sept. 15. Family and friends can celebrate Hispanic Heritage Month at this event that combines culture, community and creativity. Featuring a diverse range of activities including a Blood Drive, First Option's home-buying orientation, resources from the Latin American Association, Spanish theatre workshops, vendor support and an engaging open mic session, there is something for the whole family to enjoy. Admission is free.  
AMC Theatres is launching $5 Fan Faves shotimes of BLUE BEETLE at more than 500 locations in the U.S. to commemorate Hispanic Heritage Month through Oct. 15. Tickets to this popular film are just $5 plus tax for every public showtime at all participating locations. BLUE BEETLE, the latest DC Super Hero action adventure film from Warner Bros. Pictures, tells the fun and fun-filled family-driven story of the fan-favorite Latino character and reluctant hero Jaime Reyes, played by Xolo Maridueña. It will also be available with Spanish subtitles in 130 select AMC Theatres, including 25 locations that will feature the Spanish-language dubbed version. 
The City of Roswell is celebrating Hispanic Heritage Month with a celebration at 5 p.m. Sept. 15 at the Roswell Cultural Arts Center. La Candela Flamenco's mission is to bring people of diverse backgrounds together, inspiring them through traditional and reimagined flamenco performances. World-class flamenco dancer and entertainer, and owner of La Candela Flamenco, Ania La Candela's work reflects the spark to unite musicians from various cultural backgrounds. In collaboration to share their profound love of flamenco, they can interpret it through their own cultural lenses and experiences. Musical accompaniment will include flutist Teodora Stoyanova, flamenco guitarist José Alirio Chirinos, and pianist José Manuel García. Drummer and percussionist Dave Holland and cajón player Juan Solas Machado will bring the rhythm to tie it all together. Tickets are $24.50. Senior, student, military, and group discounts available. 
The Luxardo String Quartet will perform for Hispanic Heritage Month at the Millennium Gate Museum near Atlantic Station at 5 p.m. Sept. 16. 
Head to Decatur Square on Sept. 16 for an evening of salsa dancing at Placita Latina Decatur. There will be a live salsa band and dance instructors. Dancing begins at 4 p.m. 
Atlanta United's Latin Heritage Night is happening Sept. 16. They will face Miami at 5 p.m. at Mercedes-Benz Stadium. 
Plaza Fiesta on Buford Highway will host a massive Fiestas Patrias celebration on Sept. 17. Plaza Fiesta has been the official site for the Mexican Consulate's "El Grito - Mexican Independence Celebration" for the past 19 years. 
Spanish-Latin restaurant Fogón and Lions in Alpharetta is hosting its first-ever Rum-Ba Festival Sept. 17, complete with food, drinks, live music, and dancing. It will be a block-style party with multiple tasting tents and $5 rum cocktails. 
The OYE Fest is happening Sept. 17 at Underground Atlanta from 3 to 11 p.m. It will feature live music, visual arts, interactive installations, a vendor market, and panel discussions that represent the diversity within the Latinx culture. The festival will include emerging musicians from Latin America such as Fuego and Girl Ultra, with a special focus on locally-based talent. Additionally, there will be art gallery installations by Atlanta visual artists curated by Kuali Art Gallery and Nuestra Creacion, interactive experiences by Atlanta United and GA Latino International Film Festival, and a food and vendor market featuring Atlanta-based businesses like Vice Taco Truck and Calaveritas. 
The City of Fairburn's Art in the Alley and Dashboard are presenting "Family Portrait [Between Walls]" – a temporary public installation by artist Yehimi Cambrón featuring monumental portraits of her mixed-status immigrant family on poly silk panels suspended in the downtown Fairburn alleyway in honor of Hispanic Heritage Month. In the evening hours, the piece will be illuminated with bright light, providing safe passage through the city center. The installation on West Campbellton Street  will open in conjunction with the first day of Hispanic Heritage Month and the last Third Friday celebration in Fairburn, as well as run through the Fall Festival on Oct. 7. 
The Reeves House Visual Arts Center in Woodstock is hosting an exhibit titled "LatinX Voices" during Hispanic Heritage Month. The exhibit features artwork created by artists of Latin American descent living in the U.S. It showcases a a range of styles and media  in artworks that highlight the diversity and cultural richness of the LatinX community and explore issues related to identity, immigration, history, politics, and social justice. 
The New Georgia Project is celebrating Hispanic Heritage Month with a Si Se Puede Festival on Sept. 21. In the spirit of Dolores Huerta, iconic activist and labor leader who coined the slogan "si, se puede"—"yes we can"—during the labor movements of the '70s, this event will serve as an opportunity to remind community members of their growing power. Attendees will be provided with resources, information, and opportunities to take action—like registering to vote!   The festival will feature Hispanic art, food, music and culture. It will take place in the IBEW Auditorium at 153 Richardson St. SW in Atlanta. 
"You Belong Here: Place, People, and Purpose in Latinx Photography" exhibit at Emory's Michael C. Carlos Museum celebrates the rich and dynamic photography of Latinx artists from across the United States. Bringing together established and emerging Latinx artists whose works span the 1960s to the present, the exhibition explores themes ranging from political resistance to family and community dynamics, fashion, culture, and the complexities of identity in American life. The exhibition, organized by Aperture and curated by Pilar Tomkins Rivas, is on view from September 9 through December 3, 2023. You Belong Here features works by Laura Aguilar, Genesis Báez, William Camargo, Sofía Córdova, Perla de Leon, Tarrah Krajnak, Hiram Maristany, Joiri Minaya, Steven Molina Contreras, Star Montana, Eddie Quiñones, Reynaldo Rivera, Guadalupe Rosales, Gabriela Ruiz and Bibs Moreno, and John M. Valadez.  
Emory's Michael C. Carlos Museum is hosting ¡Vamos to the Carlos! on Sept. 17. They have partnered with Georgia Public Broadcasting to present a fun-filled bilingual family day! Participants can create their own 3-D character from the ¡Vamos! series with Raúl himself, discover a treasure trove of bilingual books in reading nooks throughout the galleries, and savor the flavors of Helados Mexican ice cream. Families can connect with the exhibition You Belong Here: Place, People, and Purpose in Latinx Photography with museum docents, and embark on a bilingual scavenger hunt in the Art of the Americas galleries. In the Tate Room, guests can join in on a community mural presented in collaboration with Georgia Public Broadcasting. Snacks and supplies are available on a first come, first served basis. This event is a free drop-in program for all families and includes admission to the galleries. Parking is free on Emory's campus on Saturday and Sunday. 
Art Agave, a unique celebration of fine agave spirits, art and entertainment, is happening from 6 to 10 p.m. Sept. 22 at the Kimpton Sylvan Hotel on East Paces Ferry Road NE. General admission tickets are $75, VIP tickets are $90. 
National Mofongo Day is being celebrated at El Super Pan at The Battery on Sept. 24. Mofongo is a traditional Puerto Rican dish made of plantain and was founded by none other than the renowned Chef Jose Mendin and is the ultimate homage to the vibrant culture and people of Puerto Rico. Tickets are $85 per person. 
Acworth is celebrating Hispanic Heritage Month with a concert at Logan Farm Park on Sept. 30. There will be great food and fantastic music from 5 to 10 p.m. 
Smyrna is hosting a Hispanic Heritage Celebration in downtown Smyrna on Sept. 23. There will be a live DJ and live performers, local Hispanic and Latino vendors, a movie screening, and beer and wine vendors. Admission is free to the family-friendly event.  
A Hispanic Heritage Festival is happening from noon to 6 p.m. Sept. 24 at Reyes Event Hall in Marietta. There will be live entertainment, variety of vendors offering crafts and essential services, cultural foods and more. 
Los Bravos Night is happening Sept. 28 at Truist Park. Experience the impact of the Hispanic and Latino community in Braves country and beyond. There will be an on-field presentation recognizing Latin Braves players and coaches and more.  
The City of Powder Springs is hosting a Hispanic Heritage Fiesta at 3 p.m. Oct. 7 at the Thurman Springs Park. There will be speakers, and music, and dancing.
The Gwinnett County Public Library in Duluth is inviting the public to explore the significance of Hispanic Heritage Month from 2 to 3 p.m. Oct. 7. 
HelloFresh is celebrating Hispanic Heritage Month with its new Hispanic Flavors menu offerings. Throughout the month, HelloFresh will highlight eight new meals and market items created in partnership with HelloFresh's Hispanic employees, showcasing flavors from Mexico, Columbia, Ecuador and more! The first meal in the list of delicious menu offerings is available starting Sept. 16. 
UPS is celebrating Hispanic Heritage Month by featuring the artwork of Ecuadorian illustrator, Mar Gallardo, on its UPS Express boxes through October. Join the Atlanta-based company celebrating the growth of Latin & Hispanic-owned businesses by ordering the limited edition boxes every time you ship. UPS is also championing women entrepreneurs as part of their Proudly Unstoppable, a recurrent campaign that celebrates diverse-owned small businesses and the futures they're building.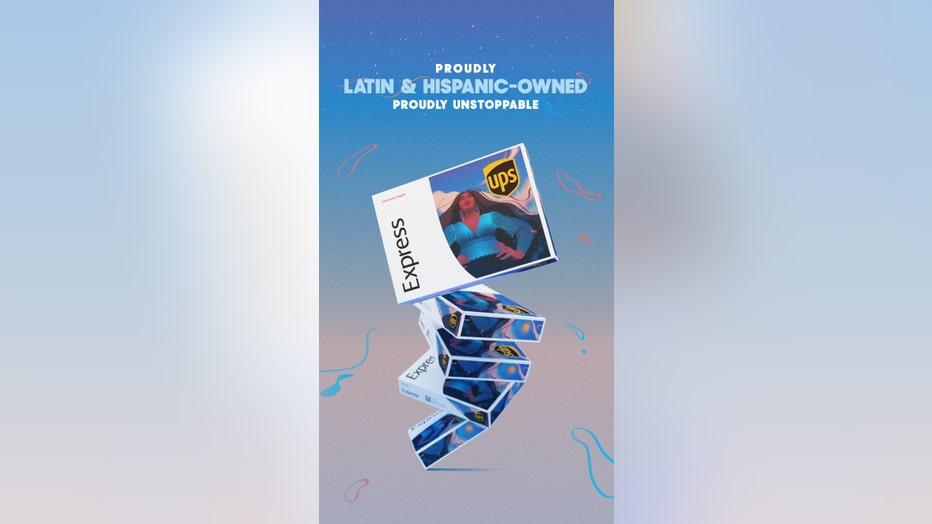 If you would like to submit information to add to this list, please send an email to joyce.lupiani@fox.com.