Justice Department should investigate beatings of Black inmates at Georgia jail, attorney says
CAMDEN COUNTY, Ga. - An attorney for two men whose beatings by guards were recorded by security cameras at a county jail in Georgia called Wednesday for the U.S. Justice Department to investigate what he called a systemic pattern of sheriff's officers abusing detainees.
"They are beating people indiscriminately inside this jail," civil rights attorney Harry Daniels told reporters at a news conference outside the Camden County Sheriff's Office, about 95 miles south of Savannah.
Daniels represents Jarrett Hobbs, a 41-year-old Black man booked into the Camden County jail for a traffic violation and drug possession charges on Sept. 3. Security cameras recorded jailers rushing to Hobbs' cell and repeatedly punching him before hurling him against a wall.
GRAND JURY INDICTS 3 EX-OFFICERS IN BEATING OF BLACK GEORGIA JAIL DETAINEE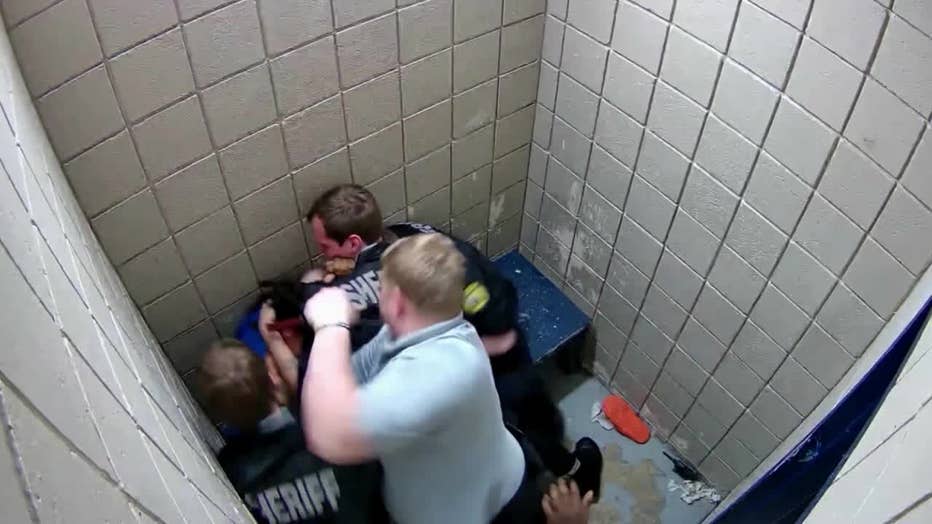 In the footage, as jailers try to hold Hobbs by his wrists, one of them starts punching him. The video shows at least two other guards throwing punches. A second video from a camera outside the cell shows jailers dragging Hobbs through the open door and hurling him against a wall. A deputy rapidly raises his right knee and foot a few times, though it's unclear if he was striking Hobbs. The struggle continues until Hobbs, who is out of the camera frame, appears to be pinned on the ground. The entire confrontation lasts about a minute.
Additional footage shows a deputy appearing to strap Hobbs into a restraint chair after the beating and not providing medical aid.
After the attack, Hobbs was placed in solitary confinement.
On March 24, video from a camera in the jail's lunchroom showed 23-year-old Zyaire Ratliff, a Black man detained for violating his probation and failing to appear in court, being shoved to the floor by a deputy who then crouched over him and landed several punches before being pulled off by another guard.
"It's a place where they make their own rules and whatever they say goes," said Ratliff, who is also represented by Daniels and appeared with him at the livestreamed news conference. "If you don't do what they want, this is the type of thing that will happen."
Ex-deputy Ryan Biegel and former jail officers Braxton Massey and Mason Garrick were arrested and fired last fall. On May 18, a grand jury indicted them on misdemeanor charges of battery and felony charges of violating their oaths of office. The Black deputy recorded punching Ratliff was also fired and arrested on the same charges.
Daniels and Timothy Bessent, president of the Camden County NAACP, said more needs to be done because those two cases weren't isolated.
"We're asking again that the Department of Justice come in and look into this department," Bessent said, adding: "It's time to hold someone accountable."
A Justice Department spokeswoman, Aryele Bradford, said the department had no comment.
The Associated Press contributed to this report.