Bishops urge prosecutor to drop death in priest's killing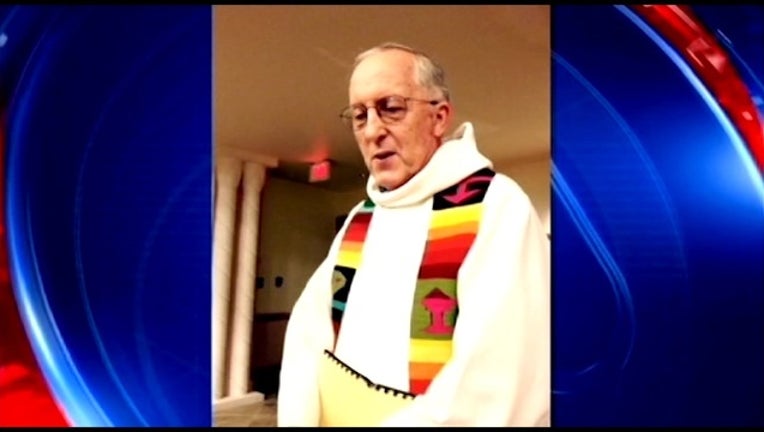 article
AUGUSTA, Ga. (AP) - Catholic church officials went to a Georgia courthouse on Tuesday to serve as the voice for a slain Florida priest as they urged a prosecutor not to seek the death penalty for the man accused of killing their colleague.
Steven James Murray faces charges including murder in the April slaying of the Rev. Rene Robert, a priest in St. Augustine, Florida, whose body was found in the Georgia woods. Prosecutors have indicated they intend to seek Murray's execution if he's convicted.
Bishop Felipe Estevez of the Diocese of St. Augustine, Bishop Gregory Hartmayer of the Diocese of Savannah and Archbishop Wilton Gregory of the Archdiocese of Atlanta stood in front of the courthouse in Augusta, along with about a dozen other priests, and asked that Robert's opposition to capital punishment, memorialized in a "Declaration of Life" he signed, be taken into consideration.
"I request that the person found guilty of homicide for my killing not be subject to or put in jeopardy of the death penalty under any circumstances, no matter how heinous their crime or how much I may have suffered," states the document Robert signed in 1995, notarized and witnessed by an attorney, that he insisted be kept in his personnel file.
Robert devoted himself to society's most troubled people, those with mental and emotional problems and those who had been convicted of crimes, Gregory said. "He was well aware for the potential violence that might involve his ministry, but he cared for those people nonetheless."
Following their news conference, the bishops met with Hank Sims, the acting district attorney for the Augusta Judicial Circuit, and delivered a petition signed by more than 7,400 people from Robert's diocese asking that his wishes be honored.
"We want to keep the intention and the 'Declaration of Life' of Father Rene Robert alive, and we want to be the voice that he no longer has to make that 'Declaration of Life' a part of the understanding of this particular case," Hartmayer said.
Estevez, who serves in Robert's diocese, said Murray clearly deserves to be punished if convicted, but said "imposing a sentence of death as a consequence of killing only perpetrates the cycle of violence in our community." Sentencing him to life without parole would be fair, punishing Murray while keeping the community safe, Estevez said.
While a prosecutor is never required to seek the death penalty, part of the job is reviewing cases to determine the appropriate punishment, former Augusta Judicial Circuit District Attorney Ashley Wright previously said. She was sworn in Monday as a superior court judge.
Wright told The Associated Press that there were four aggravating factors prompting her to seek the death penalty, including a determination that the slaying was outrageously or wantonly vile, horrible or inhuman.
Murray, a repeat offender Robert had been trying to help for months, had asked the 71-year-old priest for a ride in Jacksonville, Florida. Once in the car, Murray kidnapped and later killed him, authorities said.
Murray was found driving Robert's Toyota Corolla in South Carolina a day after Robert was reported missing. Murray later led police to Robert's body, which had several gunshot wounds, in a wooded area in Georgia.
Sims, who was sworn in as district attorney Tuesday morning, described his conversation with the bishops as "very cordial" in a brief statement that did not address whether he was persuaded.
Gregory said afterward that he found Sims to be "open, candid and most gracious."
Even if the prosecutor doesn't reverse the decision to seek the death penalty, the letter could come into play if the judge admits it as evidence during sentencing, University of Georgia law school professor emeritus Ron Carlson said.
"I think it's inevitable that there will be a strong effort by the defense attorneys at that point in the process to introduce what the priest wanted to try to convince the jury that they should not vote for a death sentence," Carlson said.
___
Follow Kate Brumback on Twitter: http://twitter.com/katebrumback