Astroworld tragedy: Grand jury declines criminal charges for Travis Scott
HOUSTON - After nearly two years, a decision has been made on criminal charges against Travis Scott in the deadly Astroworld tragedy.
The District Attorney's office reportedly told Scott's lawyers he has been no billed, which means no criminal charges will be filed against him.
The Harris County grand jury met on Thursday to decide whether Scott will be prosecuted for the deaths caused at his 2021 Astroworld Festival in Houston.
DOWNLOAD THE FOX 26 HOUSTON APP BY CLICKING HERE
On Thursday, the grand jury no billed Brent Silverstein, John Junell, Shawna Boardman, Seth Boardman, Emily Ockenden, and Jacques Webster II also known as Travis Scott on all criminal charges related to the deaths of the 10 spectators who died.
The victims of Astroworld Fest are Ezra Blount, 9, from Houston; John Hilgert, 14, from Houston; Brianna Rodriguez, 16, from Houston; Jacob "Jake" Jurinek, 20, from Illinois; Franco Patiño, 21, from Illinois; Axel Acosta, 21, from Washington State; Bharti Shahani, 22, from Houston; Madison Dubiski, 23, from Cypress; Rodolfo "Rudy" Angel Peña, 23, from Laredo; and Danish Baig, 27, from Euless.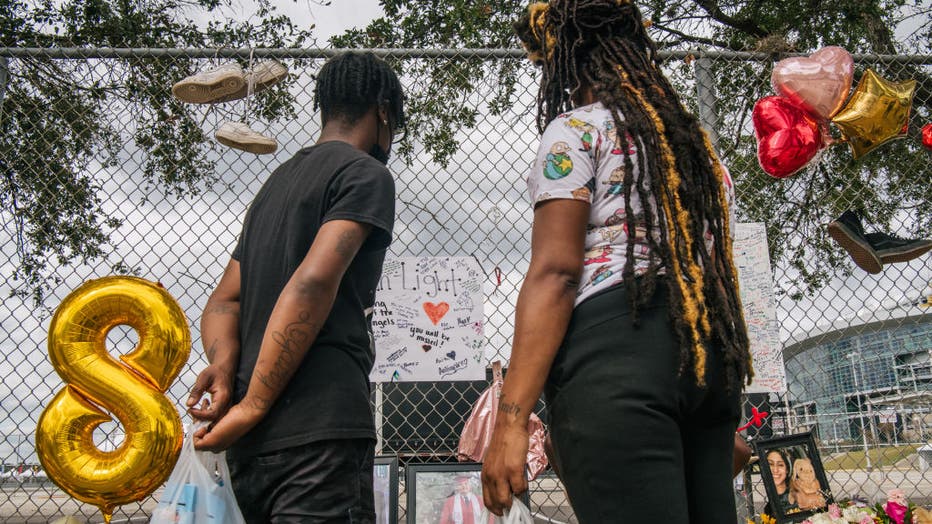 HOUSTON, TEXAS - NOVEMBER 09: A couple views a memorial dedicated to those who died at the Astroworld festival outside of NRG Park on November 09, 2021 in Houston, Texas. Eight people were killed and dozens injured last Friday in a crowd surge during
According to Scott's attorney Kent Schaffer, "I just got off the phone with Travis. He's in Europe, and he's preparing to go on stage. He's ecstatic and very appreciative of what the grand jury did."
"Our job is narrow. It's to determine if this tragedy, this absolutely disastrous horrific event, involved criminal activity by anyone," said Harris County District Attorney Kim Ogg.
Scott's Astroworld Festival was held on Nov. 5, 2021, and was a lawful concert and entertainment event, says Ogg.
"In this instance, the grand jury in the 228th District Court of Harris County found that no crime did occur. That no single individual was criminally responsible," says Ogg.
During the press conference, investigators showed a presentation with evidence they considered during their extensive investigation. One piece they showed was a map outlining the layout of the festival concert and stages.
Lead investigator and HPD Detective Mike Barrow says, "One of the key contributing factors to the deaths was the overpopulation. This was not a crowd stampede, this was not a stage rush. This was not a crowd surge. This was a slow compaction or constriction into this quadrant, resulting in collapses within the crowd."
Barrow's distinction of a "slow compaction" differs from previous reports calling the incident a "crowd surge."
The victims died from 'compression asphyxia' after collapses in the crowd that also injured hundreds of other people.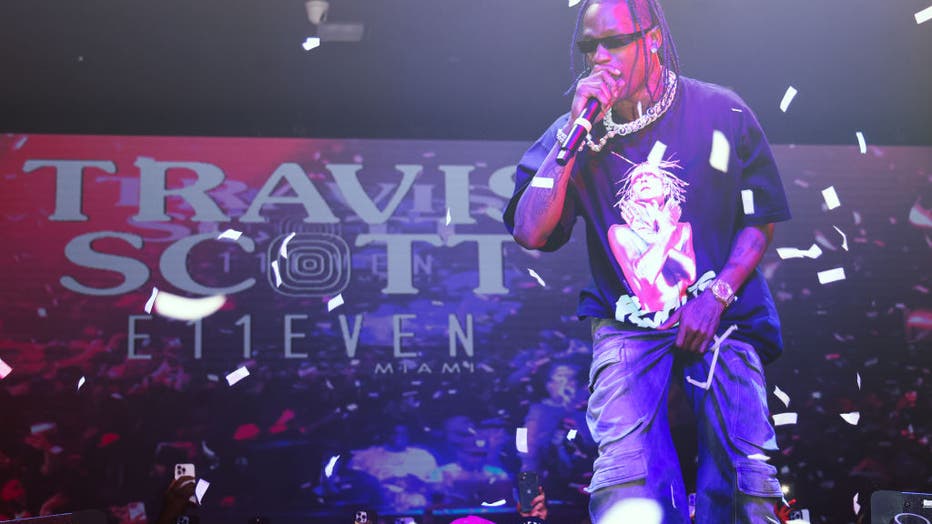 MIAMI, FLORIDA - MAY 6: Travis Scott performs at E11EVEN Miami during 2023 Miami Race Week on May 6, 2023 in Miami, Florida. (Photo by Alexander Tamargo/Getty Images for E11EVEN)
"It is tragic that 10 innocent people were killed while trying to enjoy an evening of music and entertainment, something many of us do routinely and without a second thought to our safety. But a tragedy isn't always a crime, and not every death is a homicide," Ogg said. "This grand jury's determination has no impact on the many civil lawsuits pending."
In an interview, with radio and TV personality Charlamagne tha God, Scott said he didn't know about the tragedy unfolding in the crowd while he performed on stage.
SUGGESTED: Houston City Council approves ordinance requiring permits for outdoor music events with 500 people or more
"It wasn't really until minutes until the press conference, until I figured out exactly what happened. Even after the show, you're just kind of hearing things," Scott said in the interview. "I didn't know the exact details until minutes before the press conference. And even at that moment, you're kind of just like, 'Wait, what?'"
In October 2022, the Buzbee Law Firm announced settlement has been reached for the family of Acosta. Houston attorney Tony Buzbee filed a $750 million lawsuit against Travis Scott, Live Nation, and others who were involved on behalf of Acosta and at least 125 other victims.
Law firm Kherkher Garcia, LLP, represents hundreds of people who were injured at the event in civil cases. In a statement, partner Kevin Haynes said, "While we are incredibly disappointed that Mr. Travis Scott will not be indicted on charges stemming from the senseless tragedies and chaos that occurred at Astroworld, we are undeterred and will continue fighting every day on behalf of the hundreds of injury victims – who simply intended to attend a concert for a night of fun – to ensure responsible parties are held accountable in the ongoing pursuit of justice."
Houston City Council approved an ordinance for stricter requirements for large outdoor music events on private property in December 2022. The ordinance aims to improve safety regulations and hold organizers accountable if the event gets out of hand.
The ordinance requires organizers of outdoor music events with more than 500 people to submit the details of their safety, security, staffing, traffic plans and emergency contact information to the city at least 60 days prior. The permit application will cost a fee and those who don't comply could be fined up to $2,000.
"I want to commend the dedication of each investigator and prosecutor who worked on this case for doing the kind of work any of us would want if the victims in this disaster were our loved ones," Ogg said.