Andrea Sneiderman remains behind bars despite bond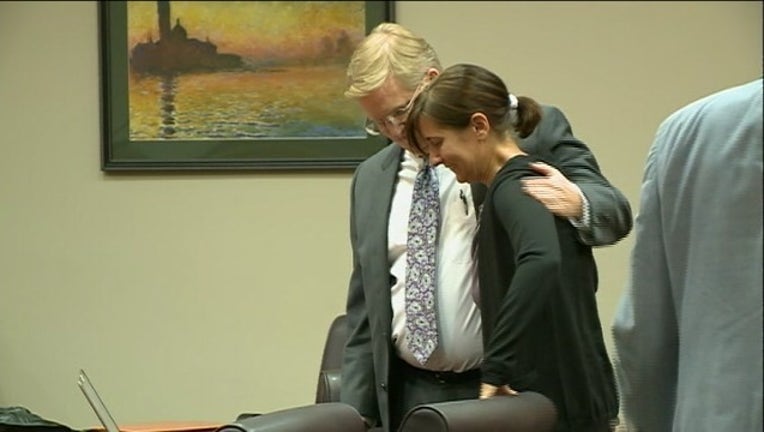 article
Andrea Sneiderman remained at DeKalb County Jail on Thursday after being granted a $500,000 bond on Tuesday.  Jail officials confirmed to FOX 5 that while they had received a bond order, they had not gotten the cash and surety bond to set her free.

The mother of two is accused of plotting to kill her husband, Rusty Sneiderman. She was arrested and charged earlier this month. On Tuesday, a judge granted the 36-year-old murder suspect a $500,000 bond.

Jail officials confirmed to FOX 5 that they received the bond order for Sneiderman at around 11 a.m.

Sneiderman's parents were seen leaving the DeKalb County Jail late Wednesday morning. They had no comment.

A jail official bondsman not related to the case says it could take a few hours for the family to secure the bond because $250,000 of the bond must be in the cash, plus they must get a surety bond on some property.

The bondsman also says once bond is secured, it takes some time to be released from the DeKalb County Jail, because a person must wait their turn behind others waiting to be released on bond.

Andrea Sneiderman's former boss, Hemy Neuman, is serving a life sentence after being convicted of murdering Rusty. DeKalb prosecutors contend that Andrea was having an affair with Neuman and together they planned the 2010 murder. Andrea Sneiderman denies the affair and any involvement with her husband's death. If Sneiderman is found guilty, she could face life in prison.

As a condition of her bond, Sneiderman must remain under house arrest at her parents' home, surrender her and her children's passports and wear an ankle monitor.  

Mike McNeal of All County Monitoring Service in Lawrenceville – which is not associated with the case – said the monitors work with GPS technology to set up zones where defendants are allowed. They have safeguards to alert the monitoring company if the person lives those zones.

"Should we violate that condition then the monitoring company has the responsibility of reporting that to her case manager or the judge who actually issued those conditions," said McNeal.

The monitor will be placed on Sneiderman after bond is posted.

It was not clear when Andrea Sneiderman would be released.