New info: 1 teen survives fatal crash that killed 5 in Gwinnett County; driver of 2nd car injured in fall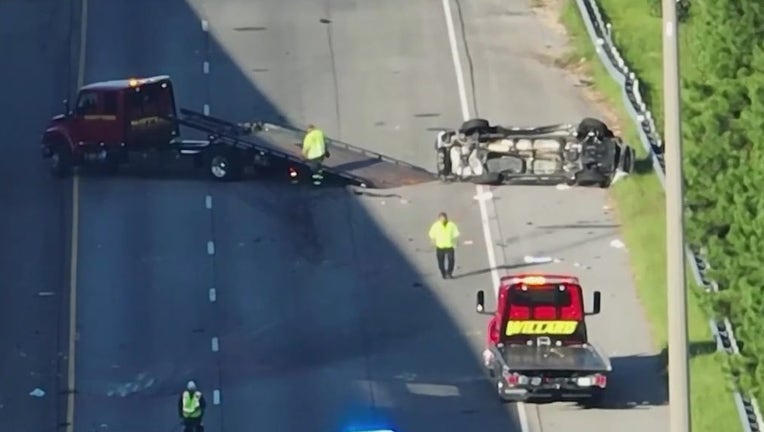 article
GWINNETT COUNTY, Ga. - More information is being released about the multi-vehicle crash that resulted in the death of five teenagers earlier this week. The report reveals that another person was in the vehicle with the teens that were killed and details injuries sustained by the driver of the second vehicle.
According to the accident report, vehicle 1 and vehicle 2 were both traveling west on State Route 316 and attempting to merge on Interstate 85 southbound. As the drivers were negotiating the curve, one or both drivers lost control and the vehicles collided.
Vehicle 1 (Toyota Tacoma), which was being driven by 18-year-old Hung Nguyen of Lawrenceville, then rolled over the concrete wall and fell onto the connector-distributor lane for Interstate 85 and Pleasant Hill Road. On impact, two of the occupants were ejected, and the third vehicle involved hit one of the occupants.
The driver of vehicle 2, identified as 20-year-old Emanuel Esfahani of Hiram, was initially uninjured but then jumped over a wall in an attempt to get to a safe location and fell 25 feet into a creek, breaking multiple bones.
There was one survivor from the Toyota Tacoma (vehicle 1) -- an 18-year-old from Lawrenceville. His current condition is unknown. 
The driver of vehicle 3 was a 33-year-old person from Lithonia.
The teens who were killed in the incident are:
Katy Gaitan, 17, of Atlanta (Katy and Ashley's GoFundMe)
Ashley Gaitan, 16, of Atlanta
Coral Lorenzo, 17, of Atlanta (Coral's GoFundMe)
Hung Nguyen, 18, of Lawrenceville (Hung's GoFundMe)
Abner Santana, 19, of Suwanee (Abner's GoFundMe)
Three of the students – Ashley Gaitan, Katy Gaitan and Coral Lorenzo – attended Lakeside High School. 
It is not known if the drivers of vehicle 2 and 3 will face any charges related to the incident.