A 20th defendant? Decision pending on who to appoint to investigate Lt. Gov. in Trump scandal case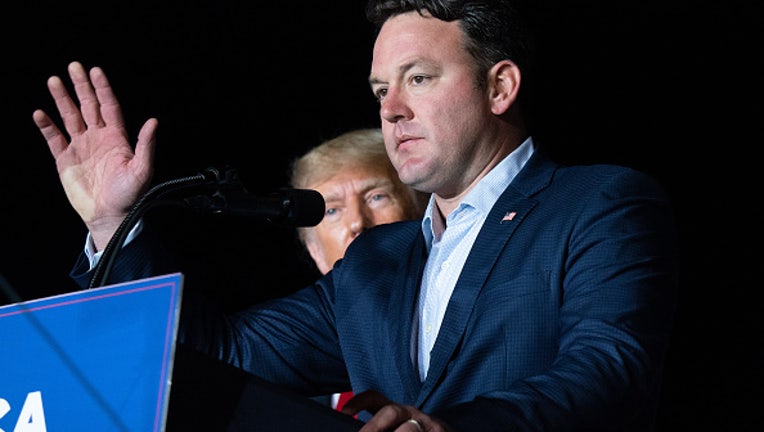 article
ATLANTA - Nineteen people face conspiracy and other charges in this week's sweeping indictment of alleged election interference, including former President Donald Trump.
But there's one powerful state official Fulton County District Attorney Fani Willis originally had her eye on who she was ordered not to investigate.
Now someone else will soon decide whether Georgia Lt. Gov. Burt Jones should also be part of this scandal.
Jones was one of the so-called fake electors who tried to meet secretly at the Georgia Capitol Dec. 14, 2020. Three of those electors are now part of the Fulton County indictment, accused of forgery, false statements and impersonating a public officer among other crimes.
But there was never a chance Jones would be indicted by this grand jury.
In July 2022, Fulton County Superior Court Judge Robert McBurney ordered Willis to drop Jones from her investigation. Why? She had hosted a fundraiser for a fellow Democrat, one who would eventually face Jones in the November 2022 General Election.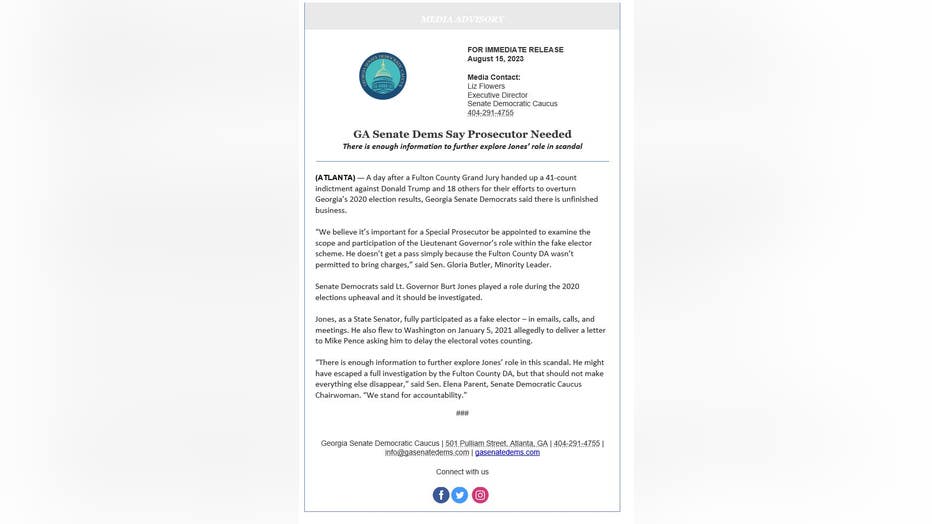 Georgia Democrats asking for special prosecutor to be appointed for Lt. Gov Burt Jones.
"This scenario creates a plain and actual and untenable conflict," McBurney wrote in his order. "Any decision the District Attorney makes about Senator Jones in connection with the grand jury investigation is necessarily infected by it."
It's up to the Georgia Prosecuting Attorneys Council to sort through conflicts like this. Executive Director Pete Skandalakis decided to wait until an indictment before deciding whether to appoint a special prosecutor for the Lt. Governor.
That indictment has finally arrived. And at 98 pages, it's a doozy.
READ: TRUMP INDICTMENT IN GEORGIA ELECTION PROBE
"We're pouring through that right now," said Skandalakis.
He told the FOX 5 I-Team he will appoint a special prosecutor. He's just not sure who yet.
"That's going to be extremely difficult to find somebody," he admitted. "Not only because of the resources that you need to handle a case like this, but the limitations I have in paying somebody."
He said the choice could come from a retired prosecutor either on the state or federal level, or anyone in good standing with the Georgia bar.
"This is just unprecedented," Skandalakis said. "A former president who's been indicted. You have state officials who are going to be called as witnesses. There's really no way to compare it anything I've done in my nearly 40 years of prosecuting cases."
Burt Jones tweeted a statement about the Fulton County case.
"While the Fulton County District Attorney continues to pursue the political vendettas of the past- I have and will continue to look forward, solving the most pressing issues facing our city and our state."