12 MLB teams score in double digits for 1st time since 1894
NEW YORK - Major League Baseball had a night of offense not seen in 129 years, with 12 teams scoring double-digit runs.
Three games ended 11-10 on the same day for the first time.
Twelve teams tied May 30, 1884, for the second-most with double-digit runs in one day, trailing only 13 on July 4, 1894, according to the Elias Sports Bureau. Three teams did it twice on July 4, 1894 as part of doubleheaders.
The Chicago Cubs topped the scoring Tuesday night by routing Washington 17-3 and Arizona outlasted Atlanta 16-13.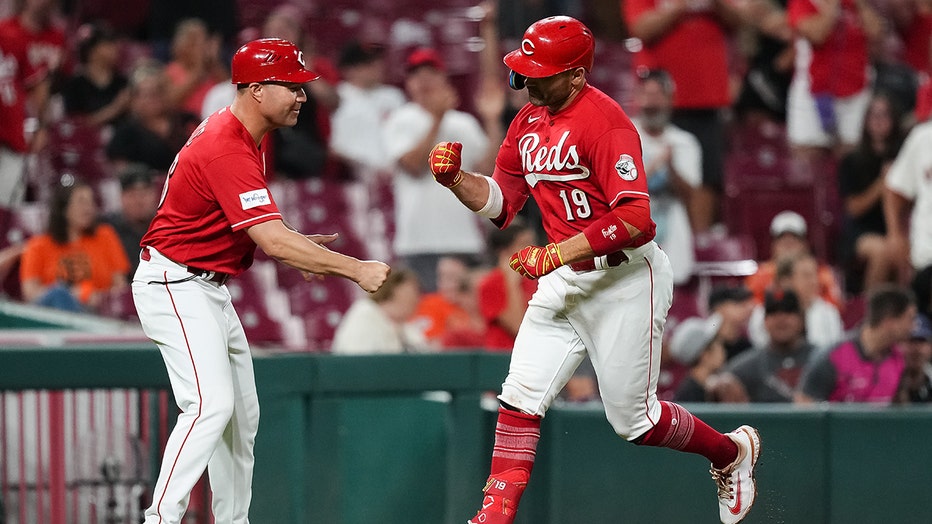 Third base coach J.R. House and Joey Votto #19 of the Cincinnati Reds celebrate after Votto hit a home run in the seventh innings against the San Francisco Giants at Great American Ball Park on July 18, 2023 in Cincinnati, Ohio. (Photo by Dylan Buell
San Francisco beat Cincinnati, the New York Mets topped the Chicago White Sox and Kansas City edged Detroit, all by 11-10. Elias said that score had never before occurred three times on the same day.
Four games in which both teams scored double-digit runs matched the record of July 4, 1894, and July 9, 1898, MLB said.
In more mundane 10-3 routs, the Los Angeles Dodgers beat Baltimore and Minnesota defeated Seattle.
Cleveland topped Pittsburgh 10-1 .
RELATED: USWNT player-by-player guide: Get to know all 23 players going to World Cup
San Diego fell just short, stranding a runner at second in the ninth inning of a 9-1 victory at Toronto.
There were 15 games Tuesday — the completion of the suspended Giants-Reds game counts as Monday in the records.
There were 24 games on May 30, 1884, a year there were three major leagues: the National League, the American Association and the Union Association. Ned Williamson of the Chicago White Sox had the first three-homer game in big league history.
While there was just the 12-team NL on July 4, 1894, every team played a Fourth of July doubleheader.