Worker injured in small gas explosion at construction build
WOODSTOCK, Ga. - At least one person was injured in a possible natural gas explosion at a retirement facility that was under construction in Woodstock Thursday morning, officials said.
Woodstock Fire Department say they received a call around 11:30 a.m. about a possible explosion at Holbrook of Woodstock along GA Highway 92 and people inside.
Fire officials said that one construction worker inside the building was injured and taken to Kennestone Hospital.  
Others were evacuated from the building.
"My wife and I heard the windows rattle. We heard the big boom. She asked what was that and I told her that it was  definitely an explosion," said nearby resident Steve Smith.
"Our fire station is right up the road near the lifetime fitness and they heard the explosion," Woodstock Fire Chief David Soumas said.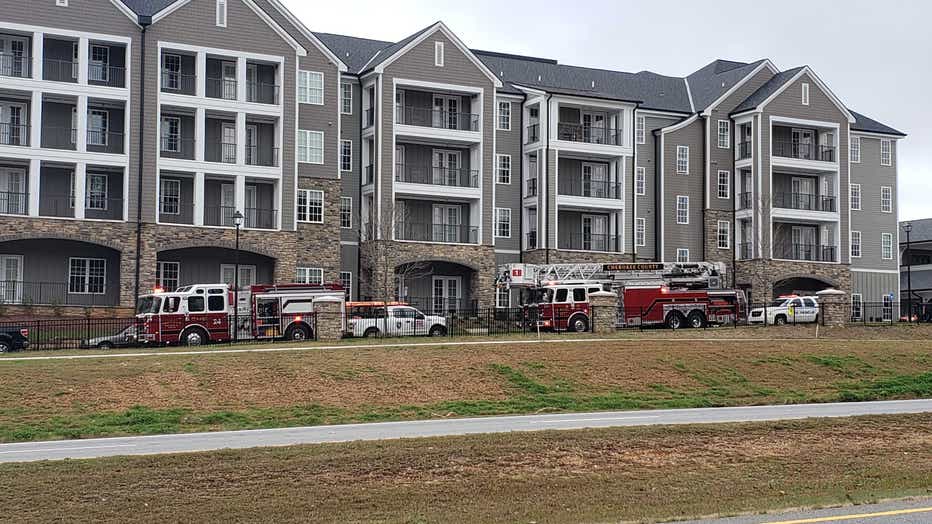 The blast was heard throughout the Woodstock community.
"We believe we've narrowed it down to a natural gas explosion," Soumas said.
Woodstock Fire Chief David Soumas confirms there was a small fire started but was put out by the sprinkler system.
"The explosion was big enough to move a dumpster and hit a car. It blew out walls, doors and windows. It was a pretty unique explosion," Soumas said.
Officials with the community said no residents lived in the building but there were several construction workers inside.
"The explosion was near an elevator shaft. I believe the pressure from the explosion went up the elevator shaft and affected construction workers on upper floors," Soumas said
Medics rushed the one injured worker to a hospital with chest and abdomen pain.
"You can imagine the basement is made of block. The things that blew out was sheetrock and doors," Soumas said
"We went to the corner down there and looked and saw about 24 emergency vehicles," Nearby Neighbor Steve Smith said.
Those who live nearby didn't just hear the boom but felt their homes shake.
"Loud noises are not a surprise to me but in the middle of the day like this you don't think anything like this is going to happen," Smith said.
"Once I saw the basement I realized that it could have been worse and I'm grateful nobody was killed," Soumas said.
Atlanta Gas sent crews to the scene along with the fire marshal and a structure engineer.