Max visits Alcova Elementary School in Dacula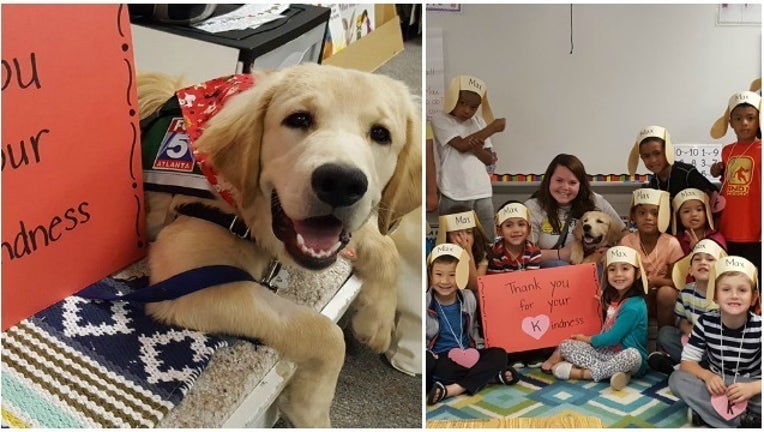 DACULA, Ga. - Max the Golden Retriever is one hardworking boy - with a very busy schedule! 
Wednesday morning, Max and his Canine Assistants instructor Kristen LaFevers traveled to Dacula, where they visited kindergarten students at Alcova Elementary School. 
Watch video from Max's visit to the school
Mrs. Stacey Willis' class gave Max a very warm welcome, and even presented him with a huge card signed by all of the students. The kids also wore hand-crafted dog hats with "Max" written across the top. 
Ahead of Max's visit, Mrs. Willis prepped the students by reading three different books about service dogs, so the class had a long list of questions ready for Kristen to answer. 
PHOTOS: Max visits Alcova Elementary School
FOX 5 Executive Producer Amy Oates Ranel, whose twin boys are in Mrs. Willis' class, said the children loved spending time with Max and learning about service dogs. 
"The kids asked the most amazing questions and were so prepared," Ranel said. "I was shocked at how educated they were about service dogs. They had the best time." 
The students were also excited about taking pictures of Max before the Golden Retriever headed home. 
Max's visit wrapped up with Kristen showing what Max is capable of doing after explaining some of the skills he's working on, such as mimicking behavior. As he left the classroom, Max was able to show the kids how he can mimic what his person does and when Kristen said "like me" near the door, he jumped up and put his paws near the knob and tugged a bandana to open it. One day, Max will use this skill to help his veteran open doors.
As the school year comes to a close, Mrs. Willis is going over an alphabet letter every day, and Wednesday's letter was "K," which she decided would stand for "kindness." 
"Mrs. Willis thought 'kindness' was good for the day of Max's visit, because what he'll go on to do for a veteran is incredibly kind," Ranel said. 
"We're very excited about the job you're about to do," Mrs. Willis told Max during the visit. 
Stay up to date with Max: