North Georgia hit by snow flurries, heavy winds
ATLANTA - After days of high temperatures, north Georgia saw drastic changes Monday morning as winter abruptly returned to the Peach State.
The National Weather Service has issued a Winter Storm Warning from 12 a.m. to 9 a.m. Monday for parts of north-central, northeast and northwest Georgia. 
Snow showers could produce up to 3 inches of snow in the higher elevations and up to 1 inch elsewhere, causing concern for slick roads if moisture is leftover from all the rain
EF-1 TORNADOES DECLARED IN CARROLL, NEWTON COUNTIES ON NYE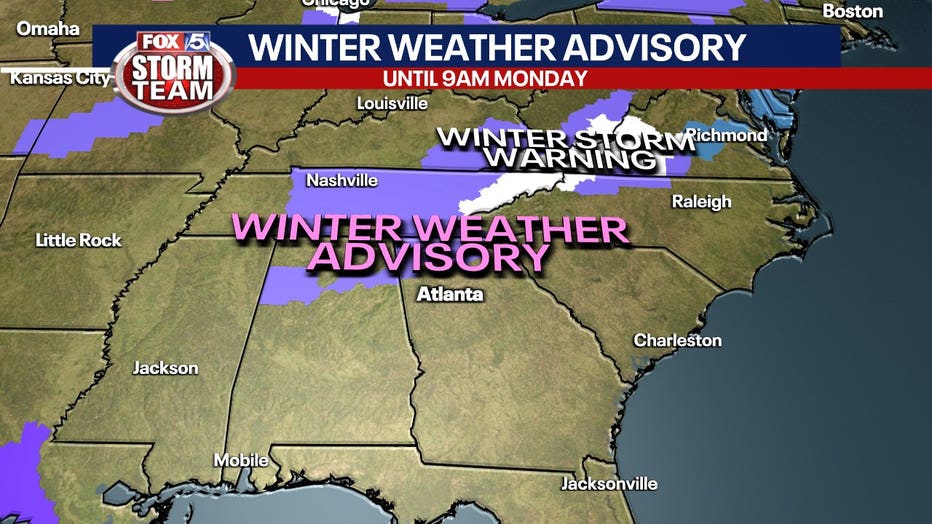 After the showers and thunderstorms end in your area the focus will quickly switch to an approaching arctic blast. We will go from record warmth to wind chills well below freezing in just an hour. 
DOWNLOAD THE FOX 5 STORM TEAM APP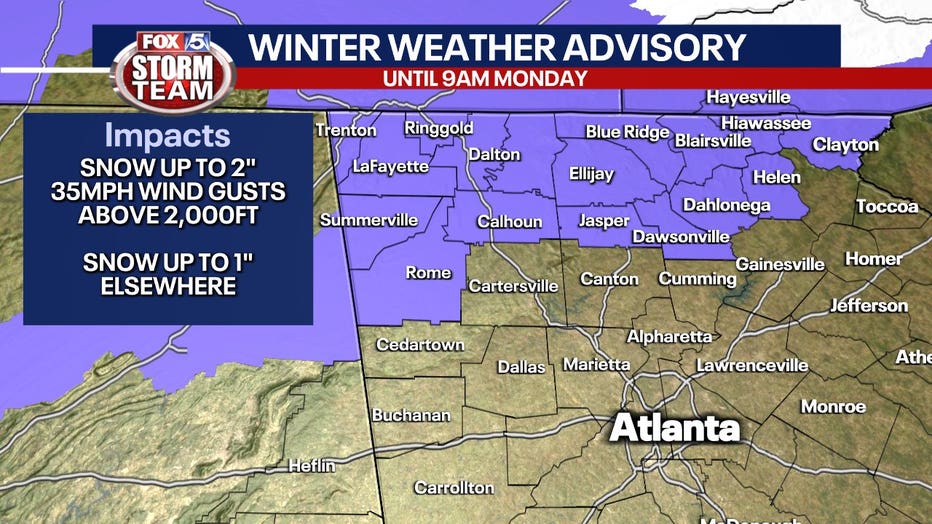 There is still a Winter Weather Advisory in effect in Rabun County until noon on Monday. 
A Winter Storm Warning expired at 9 a.m. Monday for Murray, Fannin, Gilmer, Union, Towns, Lumpkin and White counties and a Winter Weather Advisory expired for for Dade, Walker, Catoosa, Whitfield, Chattooga, Gordon, Pickens, Dawson, Floyd, Bartow, Cherokee, Polk, Paulding, Cobb, Haralson, Carroll, and Douglas counties.
Confidence is growing that Georgia will see snow showers capable of producing up to 2 inches with wind gusts over 30 mph above 2,000 feet. Below 2,000 feet, some neighborhoods could get up to 1 inch of snow, but several areas will be affected by slick roads Monday morning. 
Most temperatures were above freezing by about 9:30 a.m. on Monday
In Union County, FOX 5's Marc Teichner saw the snow flurries decrease as the rain ends, but warned of slick roads and dangerous winds.
A Wind Advisory is in effect for most of north Georgia until noon. Some counties in the northeast corner of the state — Habersham County, Stephens County, Franklin County, Hart County and Elbert County — will be under that advisory until 2 p.m. Officials say drivers should remain cautious with winds gusting up to 45 miles per hour through the mid-morning hour. That, combined with the combination of snow and ice, could make driving difficult. 
Winds will drop to a "breezy" 10 to 20 miles per hour. 
Blustery conditions will stick around Monday afternoon. 
This front will have lingering impacts as North Georgia isn't expecting record warmth for a long time. Temperatures will rise this week into the 50s. 
WATCH: FOX 5 NEWS LIVE COVERAGE