Heavy rain moving through Atlanta, severe weather risk low
ATLANTA - The FOX 5 Storm Team is monitoring severe storms in north Georgia on Sunday morning.
The National Weather Service canceled a Tornado Watch in northwest Georgia and parts of metro Atlanta at 5:30 a.m.
Attention turns toward downpours and strong winds in the Atlanta area.
ISOLATED TORNADOES LEAVE BEHIND DAMAGE ACROSS NORTH GEORGIA ON NYE
Jan. 2 6 p.m. | Troup County could see the strongest part of the storm. Rain hit downtown Sunday morning cause slick road conditions. 
Jan. 2, 5:30 a.m. | The Tornado Watch ended but now damaging winds and torrential rain are the focus as storms move though Atlanta.
Jan. 2, 4:40 a.m. | Strong winds and heavy rain hit north Fulton, Forsyth and Hall counties, heading east at 40 miles per hour. 
Jan. 2, 4 a.m. | The FOX 5 LIVE VIPIR showed few lightning strikes, a sign the line will not reach severe limits, including tornadoes. Slower storm motion indicated potential flooding concerns.
Jan. 2, 3:30 a.m. | A Tornado Watch continues for portions of north Georgia, but moderate to heavy rain prompted National Weather Service to advise of a risk of flash flooding as storms began to roll through northwest Georgia. 
Jan. 2, 2 a.m. | A line of strong thunderstorms stretches from near Blue Ridge to Summerville moving east at 45 miles per hour. They're bringing gusty winds and heavy rainfall. 
The watch area covers northwest Georgia and parts of metro Atlanta.
Gusty winds and heavy rain are expected southeast of that line in Forsyth County, Fulton County and beyond.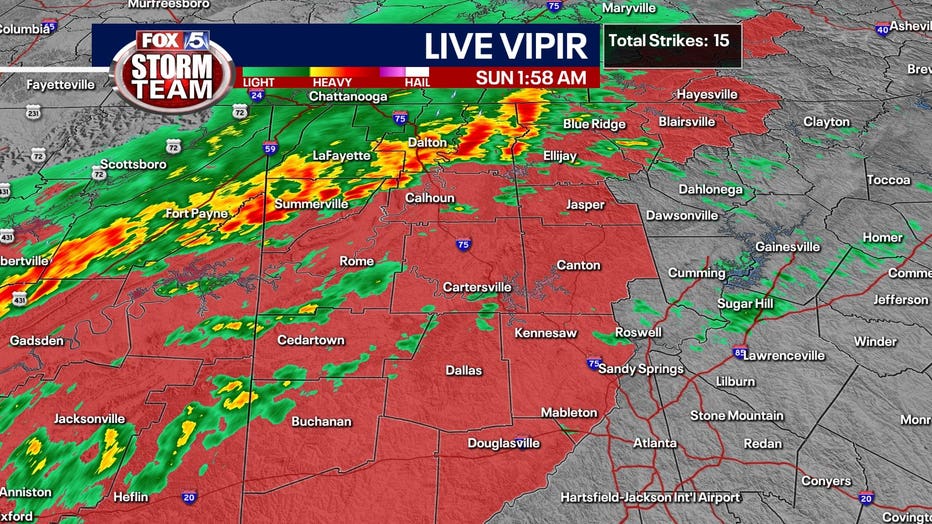 Tornado Watch update at 2 a.m. Are covers parts of northwest Georgia and parts of metro Atlanta (FOX 5 Atlanta)
Jan. 2, 12:48 a.m. | A greater threat overnight for the metro area will be torrential rain and the possibility of flooding. The ground is saturated, and additional rainfall will pool up rapidly especially in urban areas.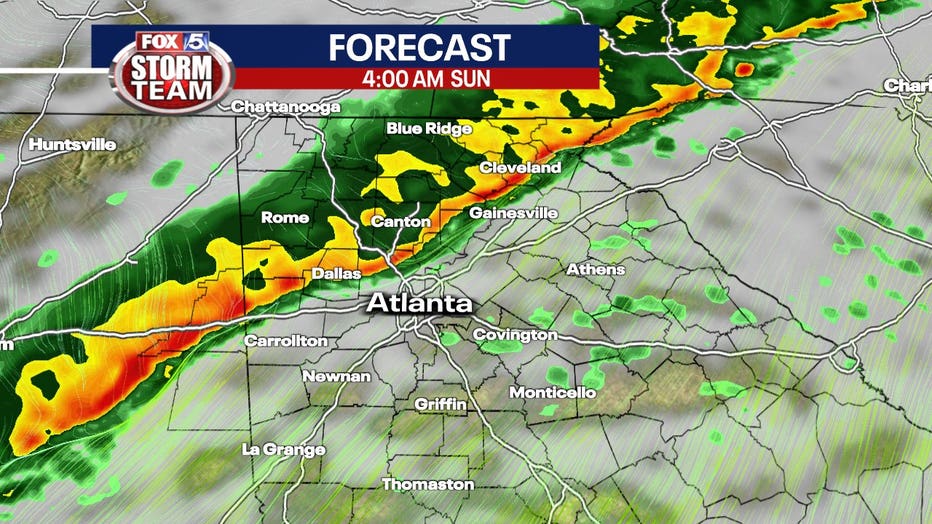 Heavy rains could produce possible flooding on Sunday.
11:58 p.m. | Storms increase in strength as they moved just NW of Birmingham, Alabama. The line heading to Georgia is expected to impact our area between 2 a.m. and 5 a.m.
Storms move just NW of Birmingham, Alabama.
11:15 p.m. | The National Weather Service issued a tornado watch for 11 north and west Georgia counties including: Cherokee, Cobb, Bartow, Carroll, Floyd, Haralson, Paulding, Polk, and Troup counties until 6 a.m. Sunday.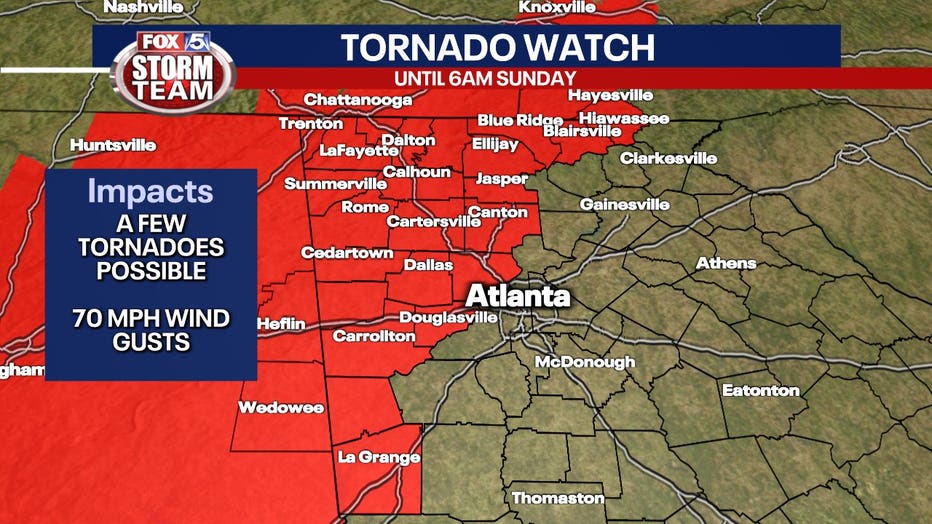 Tornado Watch issued Saturday night covers more areas west and north of Atlanta. 
10 p.m. | A Tornado Warning for parts of Dade and Walker counties expired at 10 p.m. on Saturday.
9:45 p.m. | Severe Thunderstorm Warning issued for Fort Oglethorpe, Georgia, Fairview, Georgia, and Lakeview, Georgia until 10:30 p.m.
Unlike the storms which prompted multiple tornado warnings on Friday, these will be associated with a powerful cold front.
The main window for damaging wind gusts, brief tornadoes and hail is overnight, according to the National Weather Service. 
Cells forming ahead of Saturday's cold front could also carry the potential for threatening weather. 
Saturday started with record warmth with highs into the 70s. 
The threat of severe storms increased as the day progressed. The threat continues through the early morning hours on Sunday.
The National Weather Services predicts the front to slow down in central Georgia on Sunday morning. 
There may be flash flooding in areas that received heavy rainfall earlier this week.
Cold air will move in overnight Monday. The high will be in the mid-40s and the low just below freezing.
Keep up with the latest by downloading the FREE FOX 5 Storm Team app and following @FOX5StormTeam on Twitter.
WATCH: FOX 5 NEWS LIVE COVERAGE