Florida recovers, rests, reflects in wake of Hurricane Irma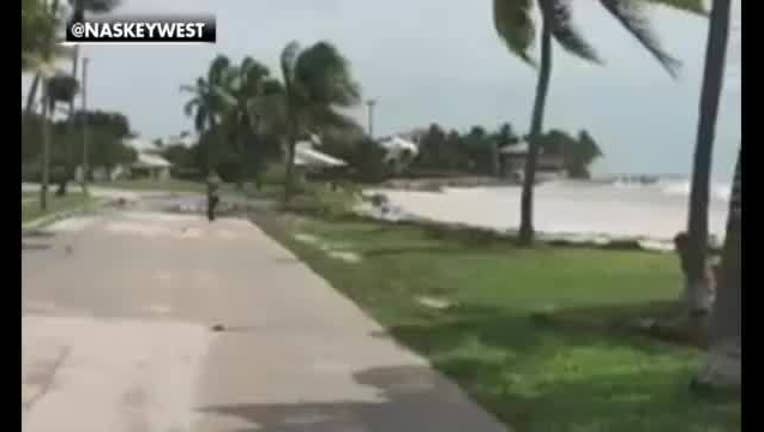 article
MIAMI (AP) - Across Florida, people spent Sunday trying to get back to normal after one of the worst storms to hit the state since Hurricane Andrew.
Keys residents were allowed to visit Monroe County for the first time since Hurricane Irma struck a week ago. Elsewhere, residents are waiting for electricity, cleaning up from floods or just trying to take a breath and remember what normal is like.
Officials are still tallying the damage, which includes everything from homes to grapefruit groves to mom-and-pop attractions like Pirate's Town in Orlando, which was a replica of an 18th-century sailing vessel that offered dinner theater to tourists. In Miami, schools are expected to open Monday, even though some don't have air conditioning. Also Monday, U.S. Agriculture Secretary Sonny Purdue is expected to take a helicopter tour of Florida's hard hit crops in the central core of the state and Federal Communications Commission Chairman Ajit Pai will visit communication facilities affected by the storm in Miami.
Nowhere, save for the Panhandle, was untouched.
Julie Botteri and her husband had been anxiously waiting to return to their home and rental property in Marathon. They arrived Saturday morning to find minimal damage other than outdoor repairs including a fence that needs to be replaced. They know they're among the lucky ones. Friends whose home was red tagged and have no power are staying with them. The small island chain is a close-knit community, especially during storm clean-up.
Her husband, who manages a local dive shop, was out Sunday assessing the roof there and whether the boat still runs.
The attitude throughout the island is work, work, work.
"It's a busy scene, there's utility crews everywhere, everyone is working tirelessly to get everyone back with power, back with running water, clean water," Botteri said during a phone interview Sunday.
"Everybody is just pitching in ... It will be a beautiful island chain again."
Federal Emergency Management Agency Administrator Brock Long says the government response to Hurricane Irma has shifted from saving lives to recovery. There were more than 40 storm-related deaths.
Long has said that good progress is being made in getting people back into their homes or into temporary housing such as apartments or hotels. About 4,000 people remain in emergency shelters, and 675,000 accounts - both residential and commercial - are still without power.
Federal officials are focused on restoring electrical power and getting gasoline into areas suffering fuel shortages. Long said the lack of electricity has affected supplies because many gas stations have not been retrofitted to run their pumps on generator power.
Energy Secretary Rick Perry said the severe damage from Irma's winds will require that parts of the power grid to effectively be rebuilt.
Perry said 60,000 utility workers from the U.S. and Canada are working to get power back on. But electricity wasn't the only concern.
In Jacksonville, officials worried about pollution in runoff mingling with floodwaters. In Naples, in the southwest corner of the state, residents of one mobile home park are living in condemned homes because they have nowhere else to go. And in Pasco County, north of Tampa, thousands were urged to evacuate a week after Irma's rains overflowed the Withlacoochee River.
In the Florida Keys, probably the state's hardest-hit area, Monroe County Mayor George Neugent said they'd already done some difficult work but had more to do to help residents "get back to work, so we can get our businesses running, so we can get our economy going."
Officials warned residents who weren't prepared to take care of themselves for at least several weeks stay away so they don't deplete already limited resources. That means providing their own food, water and shelter.
Twenty-one checkpoints were set up in the hardest hit neighborhoods to ensure only residents, contractors and relief workers were allowed in. There is a heavy police and military presence, along with strict curfews, because of looting.
State Rep. Holly Raschein said the Keys are a resilient community.
"You're not going to come home to the same neighborhood..., but we will rebuild," she said.
Lush reported from St. Petersburg, Florida.