Riley, Wright lead Stripers past Indians, 5-2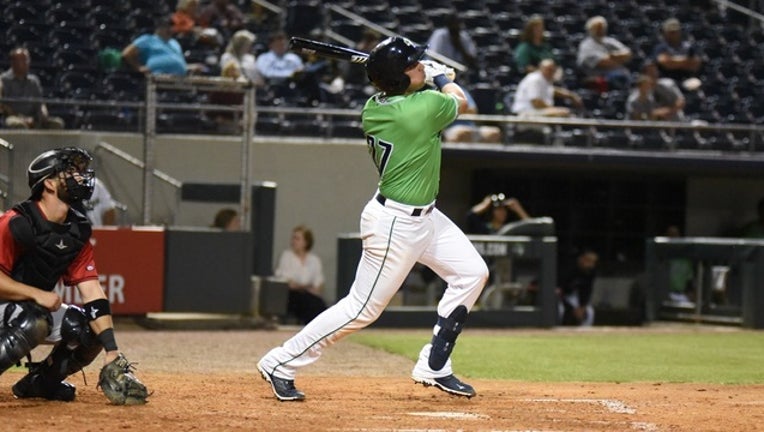 LAWRENCEVILLE, Ga. (FOX 5 Atlanta) - Braves third base prospect Austin Riley went 2-for-4 with two doubles and two RBIs, and pitcher Kyle Wright tossed 5 one-run innings to help the Gwinnett Stripers (9-9) defeat the Indianapolis Indians (10-7) by a 5-2 score on Tuesday night at Coolray Field.
Jake Elmore opened the scoring in the second inning with an RBI double to give the Indians a 1-0 lead. In the fourth, Riley led off with a double and scored on a sacrifice fly by Pedro Florimon to tie the game at 1-1. Gwinnett took the lead in the fifth on a two-run double by Riley scoring Luis Marte and Andres Blanco to make it 3-1 Stripers. Later in the inning, Riley came in to score on a balk by Geoff Hartlieb to make it 4-1. Gwinnett raised the lead to 5-1 on an RBI fielder's choice by Ryan LaMarre that brought in Florimon. Elmore (1) cut the lead to 5-2 on a ninth-inning solo home run off Grant Dayton.
Wright (W, 1-1) who was recently sent back to Gwinnett from Atlanta picked up his first win of the year after he pitched 5.0 innings and allowed one run on four hits. He walked three and struck out four. Ben Rowen (H, 1) and Rafael De Paula combined to throw 3.0 scoreless innings. Dayton gave up one run on the homer in the ninth, but closed out the win. In addition to Riley's two-hit effort, Rafael Ortega also went 2-for-4 with a stolen base.
Wright is the first Gwinnett starting pitcher to win since Kolby Allard on April 8 vs. Durham, snapping a streak of 12 games without a starter win.
"I hit the ball well, still working on a lot of things," Riley said. "I have put some good swings on the ball and just haven't been getting results and tonight I was able to get some results."
Gwinnett hosts Indianapolis on Wednesday night at Coolray Field, with recently demoted pitcher Sean Newcomb (0-1, 3.18 ERA) starting for the Stripers