Vikings trade down to No. 32 pick, take Georgia safety Lewis Cine in NFL Draft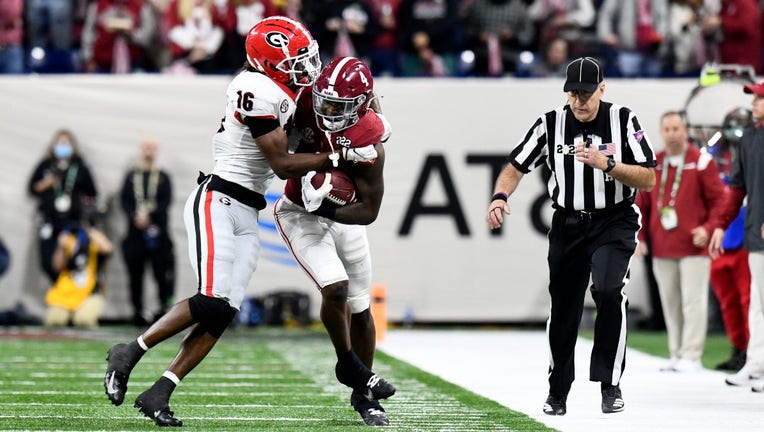 MINNEAPOLIS - It took until the final pick of the night, but Kwesi Adofo-Mensah made his first draft choice as Minnesota Vikings general manager Thursday night in the first round of the NFL Draft.
Adofo-Mensah and the Vikings came in with the No. 12 overall pick, but ended up moving back to the No. 32 pick after a deal with the Detroit Lions. With the last pick of the first round, the Vikings selected Lewis Cine, a 6-1, 200-pound safety out of Georgia. He was one of the top defenders on a Bulldogs' squad that beat Alabama in January for the College Football Playoff national championship.
He was one of five Georgia defensive players to be selected in the first round Thursday night, a history-making night for the Bulldogs.
"A really, really good player that fits exactly what we're looking for on our defense. I think any time you can add a really good football player with the traits of toughness, explosive speed. The guy made a lot of plays on really the best defense in college football. It's not a coincidence that five of those guys got drafted tonight," Vikings coach Kevin O'Connell said.
O'Connell said he spoke with several of Cine's teammates throughout the pre-draft process and asked them all who they would like to bring with them to their next team. Cine was the name that kept coming up.
Cine was with family and friends in Texas when he got the call.
"The fact that I was selected by the Vikings, they have a whole lot of faith in me. I've just got to prove them right, come in with a mindset to soak everything in, to learn, to be coachable. To be an asset in the long run," Cine said.
Cine played in all 14 games as a freshman for the Bulldogs in 2019, making 20 tackles and adding one interception as well as two pass break-ups.
He started 10 games in 2020, making 52 tackles. He was a Third Team All-American in 2021 and earned Second Team All-SEC honors, making 73 tackles with one interception and nine pass break-ups in 15 starts. Cine showed his athleticism at the NFL Combine with a 4.37 40-yard dash and 36.5-inch vertical.
Cine will likely complement Harrison Smith in the secondary, and compete for a starting job with Cam Bynum.
"Incredibly excited about what we just did. We added somebody, we talk about the pillars of our culture – smart, tough, competitive. I think we added somebody who is off the charts in all three," Adofo-Mensah said. "Incredibly dynamic player, adds range all over the field in the pass, in both phases really. Knows the defense inside and out. Just an incredible player, he was one of our targets really in the teens. This was a great outcome for us."
Adofo-Mensah made the call to Cine to let him know he was the final pick of the first round, and was the newest member of the Minnesota Vikings. It took a minute for him to register what was happening.
"It was a cool moment. You get to call somebody, I said, 'Hey, we're a building full of dream chasers. You want to come chase dreams with us?' He just starts yelling," Adofo-Mensah said. "That was a great moment, something I'll never forget for the rest of my life."
Adofo-Mensah was challenged in his first night of the NFL Draft in his first season as a general manager. The Vikings were on the clock with the No. 12 pick. Notre Dame safety Kyle Hamilton, Washington defensive back Trent McDuffie and Florida State edge rusher Jermaine Johnson were all still on the board. The Detroit Lions, who had the No. 32 pick from last year's trade that sent Matthew Stafford to the L.A. Rams, came calling.
The Vikings ended up trading Nos. 12 and 46 to the Lions for Nos. 32, 24 and 66. It was a move that made it feel like Rick Spielman was back at TCO Performance Center. The Vikings moved back 20 spots, and the Lions took Alabama receiver Jameson Williams, a potential Minnesota target, at 12.
"He was one of our favorite players in the draft, but we've got a pretty bad dude on our team," Adofo-Mensah said.
Adofo-Mensah said he also took calls for the No. 32 pick, and despite a last-second trade offer, kept the pick and took Cine.
The Vikings now enter Friday with three picks: No. 34 in the second round, and Nos. 66 and 77 in the third round. With only one quarterback selected Thursday night and Liberty's Malik Willis still available, Adofo-Mensah expects to be busy on Friday.
"My cell phone is always charged," Adofo-Mensah joked.