John Smoltz the 1st HOFer following Tommy John surgery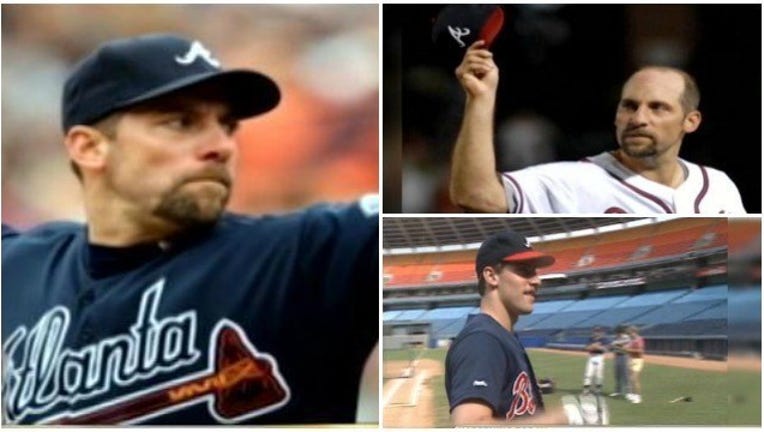 article
By JOHN KEKIS
AP Sports Writer
When John Smoltz is inducted into the Baseball Hall of Fame in three weeks he'll be the first player enshrined following Tommy John surgery.
"That's pretty doubtful that he would be the last," said renowned orthopedic surgeon Dr. James Andrews, who performed Smoltz's surgery. "You can't believe how many are out there now that are pitching very successfully.
"It's quite an accomplishment to go through that and make the Hall of Fame," Andrews said. "It's not going to be the easiest thing to reproduce, but I'm sure somebody will come along and duplicate that."
There will be plenty of candidates. In a four-year span alone (2004-07), Andrews performed the surgery on 588 pitchers, nearly one-fourth of high school age or younger. Matt Harvey of the New York Mets and Kansas City's Luke Hochevar are just two of several major league pitchers with Tommy John surgery on their resumes, and Orioles catcher Matt Wieters is proof that other position players are vulnerable, too.
The ulnar collateral ligament (UCL) reconstruction is a surgical graft procedure in which the damaged ligament in the elbow is replaced by a tendon from elsewhere in the body. Since the late Dr. Frank Jobe pioneered the surgery on Los Angeles Dodgers pitcher Tommy John in 1974, it has become commonplace.
Fear of the surgery lurks in every major league dugout today.
"We're not developing pitchers the right way to learn how to do their craft. We're asking them to go as hard as you can, as short as you can, and that's good enough," said Smoltz, who's working on his golf game in preparation for the American Century Championship in Lake Tahoe in mid-July.
"You can't blame them. It looks sexy, it feels good, and we fall in love with it. But these guys are not given the proper time to figure out what kind of pitcher they are," he said. "We learned how to pitch."
Andrews sees a number of professional pitchers with an increased rate of injury, and most had some type of elbow injury when they were playing youth sports.
"That group of pitchers is just coming through the professional ranks now, and they were the first group that really played one sport (and) specialized in year-round baseball," Andrews said. "The increased incidence right now is probably related to specialization. When they're young baseball players, they have fatigue factors and get hurt, and it shows up early on in their professional careers."
Andrews says arm injuries will likely continue until parents and those who control youth sports manage the system differently.
Smoltz, who went back to start after five years in the bullpen, said he never had a pitch limit.
"Everybody wants a piece of paper to work out the issues and how baseball should be played," he said. "Everything's a number. Everybody's got the answer. I wouldn't say a word if it was getting better. It's getting worse. Ever since we discussed and became focused with the pitch count, it's been worse."
Major League Baseball has conducted a study on the cause of elbow injuries, and five teams have agreed to allow the pitchers they selected in the 2014 amateur draft to be used in a five-year study in affiliation with the American Sports Medicine Institute, which Andrews founded in 1987. The study will include every first-year pitcher in the five organizations, and findings will be shared among all 30 teams.
Smoltz figures an uphill battle lies ahead.
"It doesn't matter what a big leaguer says, and to a degree it almost doesn't matter what the doctors are saying because they're giving the formulas for success and nobody's paying attention," he said. "The business of baseball and youth baseball is so great the people feel like they're being swept up in a wave of 'I've got to catch up.'"
Smoltz says kids pitch too much, but don't throw enough.
"There's a difference. I'd play strikeout, we'd play backyard baseball. We did things that kids don't do (today)," he said. "Everything a kid does today is organized and pressured into a pitch to impress (somebody)."
Copyright 2015 The Associated Press. All rights reserved. This material may not be published, broadcast, rewritten or redistributed.