Georgia QB race could be affected by health of top RBs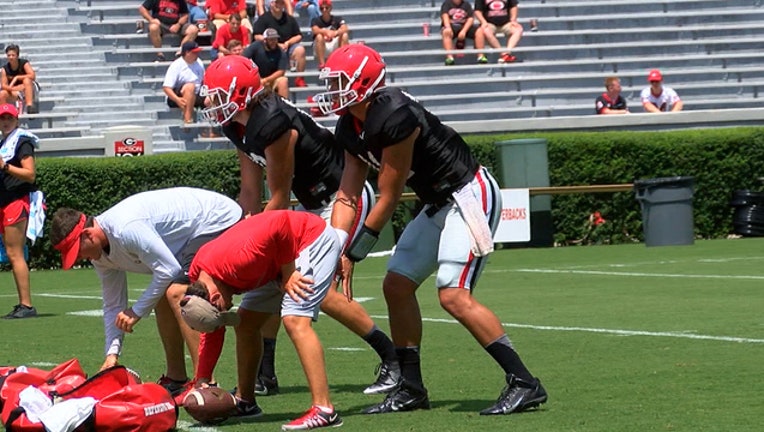 article
ATHENS, Ga. (AP) - Georgia offensive coordinator Jim Chaney says the health of the Bulldogs' top running backs could help decide who opens the season as the starting quarterback.
Star tailback Nick Chubb ran with the first-team offense on Saturday as he continues his recovery from left knee surgery midway through the 2015 season. So far, Chubb has been practicing with no restrictions, but Georgia has not been tackling to the ground.
Sony Michel, who replaced Chubb as the starter, is recovering from a broken left forearm he suffered in an offseason ATV accident. He is wearing a cast on the forearm and has not been cleared for contact.
Among the options at tailback are freshmen Elijah Holyfield, Brian Herrien and Tae Crowder and senior Brendan Douglas.
At quarterback, returning starter Greyson Lambert has been sharing snaps with freshman Jacob Eason and junior Brice Ramsey. Ramsey also is competing at punter.
Georgia coaches might be less inclined to give Eason his first start in Georgia's opener against North Carolina on Sept. 3 in Atlanta's Georgia Dome if Chubb and Michel are not cleared to play.
"I think you'd be a fool if you didn't consider that a little bit early on," Chaney said Saturday.
Chaney said first-year coach Kirby Smart "is very aware of that and sensitive to those issues." Chaney added that ultimately he wants the best quarterback on the field.
"Inevitably it will be decided on which one of those boys can move the team down the field and put up points," Chaney said in his first news conference at Georgia.
Smart said he has given the three quarterbacks equal opportunities to win the starting job. The three have traded days with the first-team offense. Saturday was Eason's turn as Georgia continues to install Chaney's offense.
"I can't tell you anybody stood out more than anybody else right now," Smart said. "It's too early. They're still in the installation process which sometimes can be overwhelming."
Chaney has led offenses for 30 years at such schools as Arkansas, Tennessee, Purdue and Cal State-Fullerton. He said this is the first time he's had three quarterbacks he would have confidence to start.
"It's a big deal for me," Chaney said. "I've not had three guys who can go out and play."
The depth is nice, but Chaney's impatience to find a starter showed on Friday when he said "I got a little upset with them."
"I told them one of them needs to start emerging a little bit here," he said. "Show a little bit more. ... The competition is hot and it's alive ... and it's been fun to watch."
A few hundred fans accepted Smart's invitation to attend an open practice at Sanford Stadium held before the annual fan day schedule.
It was a rare opportunity for fans and media to watch a full practice.
Eason drew a big cheer when he connected with freshman Tyler Simmons on a long touchdown pass.
NOTES: Smart doesn't agree with the decision of his former boss, Alabama coach Nick Saban, to block the attempt of Alabama graduate student Maurice Smith, a defensive back, to transfer to Georgia. Saban blocked his transfer to SEC schools. Because Smith is a potential recruit, Smart wouldn't comment on the player. Asked about the rule, Smart said he would support a Georgia player who had graduated and wanted to transfer to another graduate school. Asked if that included another SEC school, Smart said "Absolutely." ... DT John Atkins was held out with a knee injury. Smart said Atkins' status is day to day.
___
AP college football website: http://collegefootball.ap.org