Evening out: Keselowski wins Atlanta after Harvick miscue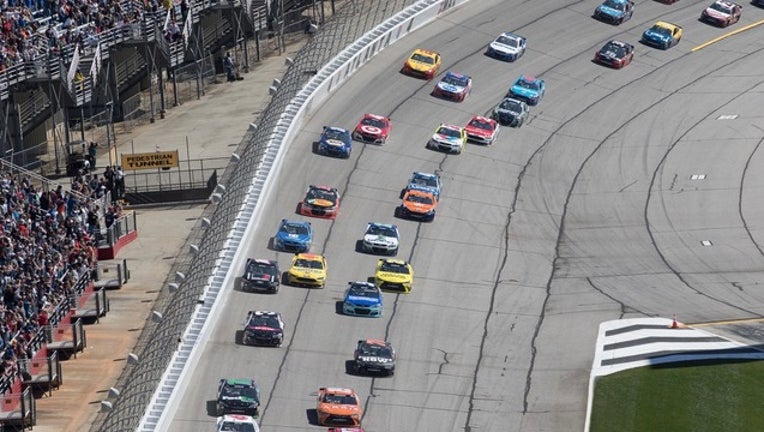 article
HAMPTON, Ga. (AP) - From Brad Keselowski's perspective, it was just a matter of things evening out.
Sure, he slipped away from Atlanta Motor Speedway with a victory that seemed downright improbable most of the day.
Then again, he's been on other side, too.
"We've had races where we've led a bunch of laps and things fall apart at the end," Keselowski said Sunday evening, savoring the 22nd victory of his career with his nearly 2-year-old daughter, Scarlett, crawling around on the floor of the media center. "That's just part of how this sport works."
Keselowski passed Kyle Larson for the lead with six laps to go and pulled away for a victory that, by all rights, should've gone to Kevin Harvick.
He won the pole . He easily led the first two 85-lap stages under NASCAR's new format. He wound up running out front for a staggering 292 of 325 laps, usually ceding the lead only when he came into the pits.
In the end, though, Harvick went a little too fast on his last trip down pit road, leading to a penalty that dropped him to ninth place.
"I hate when I lose that way," Keselowski said. "When you win that way, you just take it and move on."
In fact, Keselowski had to overcome his own misfortune after snatching the lead from Harvick coming off pit road on an earlier stop.
Concerned that some lug nuts had not been attached properly to the tires, Keselowski's team summoned him back to the pits, knocking him from first to 14th. Instead of getting upset about the miscue, the driver rallied his crew and vowed to work his way back toward the top.
When Harvick faltered, Keselowski was ready to pounce.
"You take advantage of the opportunities when they come," he said.
This has become a pattern for Harvick at Atlanta, where he's led the most laps four years in row but has yet to post a victory. In fact, he hasn't won at the 1.54-mile trioval since his first Cup victory in 2001, which came in just his third career race after taking over following the death of Dale Earnhardt.
"I'm just snake-bit here," Harvick said. "But it was my own doing."
Keselowski could understood how it happened, especially on a day when a number of top drivers - including two-time defending race winner Jimmie Johnson - ran afoul of the 45-mph speed limit.
"Anyone who wants to leave a comfort zone, I'm going to push harder and I'm going to beat them," Keselowski said. "You've got to run right to the limit. Sometimes, you're going to go over."
Here are some other things we learned Sunday:
CHASING A VICTORY: Chase Elliott's first career Cup victory could come any week now.
The 21-year-old Georgia native had another close call at his home track, running as high as second one week after leading the Daytona 500 before running out of fuel late in the race.
Elliott might've been the one in position to seize the Atlanta win if not for a slow pit stop that cost him several positions near the end. He wound up fifth.
NO EXCITEMENT YET: The three-stage system has yet to produce the kind of drama NASCAR was hoping for when it made the drastic change.
Harvick was far out front at the end of the first two stages, so the new format largely served as a convenient commercial break for Fox.
SLOW DOWN: NASCAR has become a speed trap.
Thirteen penalties to 11 drivers were doled out Sunday for exceeding the speed limit on pit road, compared to only one in last year's Atlanta race.
With additional timing lines along pit road, Johnson was among those nailed twice for going too fast. His bid to become the first driver to win the Atlanta race three years in a row ended with a disappointing 19th-place finish.
TO PAVE OR NOT TO PAVE: Atlanta Motor Speedway is supposedly heading for its first resurfacing in 20 years, but track officials raised the possibility of delaying the project after a number of drivers - Keselowski among them - pleaded to keep things like they are.
"Don't do it!" the winner pleaded.
Many drivers like the rougher surface because it provides more racing lines, sets up additional chances to pass and improves the quality of the event.
LEARNING CURVE: Even with a tutoring session from Carl Edwards, Mexican rookie Daniel Suarez struggled to get up to speed in his second Cup race. He finished 21st, two laps behind.
In the season opener at Daytona, Suarez was taken out in a crash and finished 29th.
He took over this season at Joe Gibbs Racing when Edwards stunningly announced he was stepping away from racing.
___
Follow Paul Newberry on Twitter at www.twitter.com/pnewberry1963 . His work can be found at http://bigstory.ap.org/content/paul-newberry .