Dwight Howard ready to prove he can be elite player again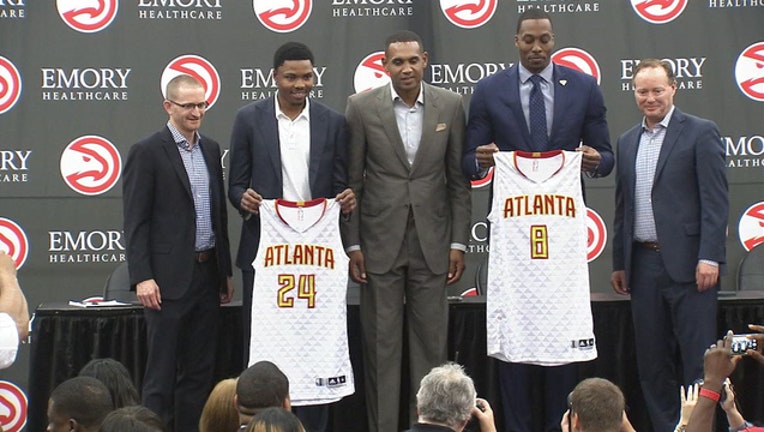 article
ATLANTA (AP) - Dwight Howard watched Kent Bazemore choke up with emotion and soon did the same.
Returning to Atlanta means a lot.
"My prayers are answered," Howard said. "I'm home. I'm with my family, so thank you."
Howard has a new team, a new jersey number and a fresh start in his hometown.
After five mostly disappointing years with Houston and the Los Angeles Lakers after leaving Orlando, Howard says this time will be different. Atlanta is where he belongs.
The Hawks hosted a homecoming Wednesday for Howard, a three-time NBA and welcomed back Bazemore at a youth recreation center in southwest Atlanta where Howard grew up. The gymnasium was packed with children, family members and friends.
This was all about a new beginning for Howard, who has switched his number from No. 12 to No. 8 for biblical inspiration. In the Bible, number eight signifies resurrection and regeneration. Howard says the number will motivate him as he gets in shape and changes his outlook on life this summer.
"One of the things biblically is the purging of the heart and throughout the years there are things that have happened behind closed doors that it really hardened my heart towards different situations," Howard later told reporters. "I really have to purge my heart and come at basketball in a different manner. I was very upset with how things turned out and what people were saying. I hardened my heart towards everybody."
Orlando drafted Howard No. 1 overall out of Southwest Atlanta Christian School in 2004. He became one of the NBA's elite big men over the next few years, leading the Magic to the 2009 NBA finals and ranking first in rebounds for five seasons and ranking second in another.
But Howard's time in central Florida ended bitterly after a falling out with coach Stan Van Gundy. He joined Kobe Bryant for one difficult season with the Lakers and slipped occasionally into mediocrity over his last three years with Houston.
The Hawks, who have signed him to a three-year, $70.5 million contract, believed the time was right to bring Howard aboard.
"He can have a huge, positive impact," coach and team president Mike Budenholzer said. "He can take us to another level if he and everybody are kind of playing and understanding their roles. We feel like it can be special."
Budenholzer doesn't seem concerned that Howard is step back offensively compared Al Horford, a longtime fan favorite who left in free agency for Boston.
Budenholzer compared Howard's inside presence somewhat to retired San Antonio center Tim Duncan. Howard doesn't have Duncan's or Horford's shooting touch, but Budenholzer said Howard's 6-foot-10, 265-pound frame is ideal for what the Hawks want to accomplish on both ends of the court.
"He's more of a traditional center," Budenholzer said. "It's been clear he's been one of the top defenders in our league for a long time. Offensively, he's somebody who's a presence inside, who's putting pressure on the rim whether it be in pick-and-rolls or post-ups. It will probably be something more like what San Antonio had for the majority of time I was there" as an assistant coach.
Bazemore, who's played the last two seasons in Atlanta, returned to the Hawks with a four-year, $70 million contract. He visited Houston, where he said James Harden, Akeem Olajuwon and Clyde Drexler each made a pitch, but staying in Atlanta was his preference.
Wiping back tears, Bazemore called it one of the "highlights of my life" to build relationships in the local community.
"I play for you guys every night wearing Atlanta across my chest," Bazemore told the gym. "It means more than just a jersey. I feel your pain here. I love the grit that this area gives off. Coming here to talk to the kids, I was here a couple of weeks ago for the court unveiling. To see the progress they've made over the years is what I'm all about."
Howard cried when it was his first turn to speak.
"This building is where I spent a lot of time working on my game and wanting it to make it to the NBA," Howard said. "This brings back chills. This area was home for me. My school is two minutes away.
"Every morning at 4 a.m., my dad and my cousin were back there with me on the track, trying to make it to the NBA. It's great. A man told me, 'If you want to get back to the top, you've got to go back to your roots.'"