Claxton too much for Jackets as Georgia beats Georgia Tech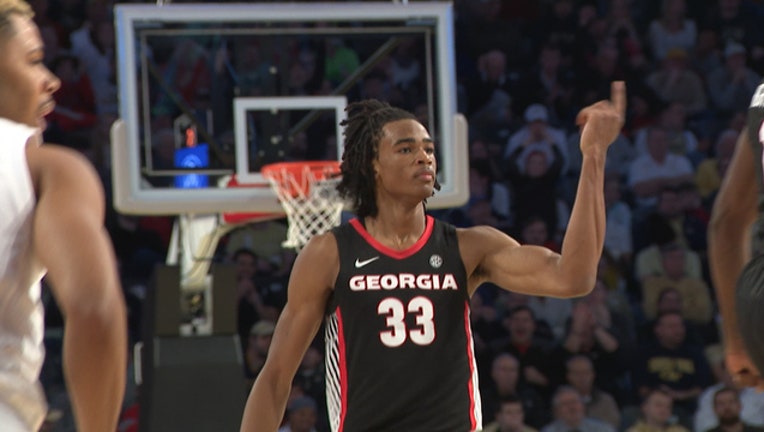 article
ATLANTA (AP) - Nicolas Claxton loved how Georgia started out denying entry points and disrupting Georgia Tech's passing lanes.
The Bulldogs dominated the game with their length.
"It was a huge win," the 6-foot-11 Claxton said. "We came out strong. In the second half they had a little surge but we just kept fighting."
Claxton had 13 points and 13 rebounds, Teshaun Hightower added 12 points, and Georgia beat Georgia Tech 70-59 on Saturday.
The Bulldogs (7-4) never trailed as they won for the fourth time in five games. Rayshaun Hammonds, Georgia's leading scorer, played just a few seconds of final 15 minutes because of foul trouble and a knee injury sustained in the game.
Georgia Tech (6-5) couldn't recover from a poor shooting effort in the first half. Though the Yellow Jackets pulled within three with 6:58 remaining, they were essentially done when Tyree Crump hit a fadeaway 3 as he fell out of bounds to push the lead to seven at the 1:28 mark.
Claxton, one of three Georgia starters 6-9 or taller, finished with career highs of six assists and six blocked shots. He dunked a putback and hit a 3-pointer on consecutive possessions to push the lead to 56-47 with 2:32 remaining.
Michael Devoe scored 14 points, and Jose Alvarado and James Banks each added 11 for Georgia Tech, which has lost four of six.
"I thought we tried to shoot speed layups when speed layups weren't there," Jackets coach Josh Pastner said. "We needed to use our pivot feet more. We've had no issues with our guys and their competitive excellence. They have always played hard. We have just struggled offensively, and you have to give Georgia credit, too."
Georgia continued its tendency to start slowly in the second half. As it did in blowing an 18-point lead last week to lose by two points at home to No. 20 Arizona State, the Bulldogs let the Jackets get back in the game with a four-point possession.
A flagrant foul on Hightower led to two free throws by Devoe and a dunk by Banks as Georgia Tech cut the lead to six. Moses Wright followed with a three-point play that made it 29-26.
But the Jackets had no answers for Claxton.
"He's got tremendous agility," Bulldogs coach Tom Crean said. "We're comfortable with him guarding 1-5 and playing 1-5. He hands the ball a lot for us. He's a shot-maker, and that 3 was just huge."
The 3 was his only attempt beyond the arc, and Claxton is 4 for 12 this season.
"Honestly I was hunting the 3 the whole game," he said. "When I shot it, I knew it was going in."
PLAYING HURT
Hammonds tweaked his knee on an awkward landing. He picked up his third foul with 14:47 remaining and played only seven seconds after that with a protective sleeve. He was whistled for his fourth foul and left the game for good. ... Alvarado injured a knee late in the first half and finished 3 for 20 from the field. ... Banks seemed to be favoring his right shoulder during the game.
BRUTAL START
Georgia Tech looked like a young team playing its third game in six days, missing 20 of its first 23 shots. The Jackets had seven turnovers with five shots blocked to trail 25-9 at the 3:02 mark. Moses Wright stopped a 13-0 run.
TEACHING MOMENT
After Devoe scored an uncontested layup with 4.9 seconds left in the first, Crean was visibly upset and called a timeout. "We're not nearly as active defensively as we need to be," Crean said. "The communication is a challenge to get to."
RIVALRY
Georgia won its fourth straight in the series and leads the annual rivalry 14-10 since the schools switched to campus-only venues in 1995-96. This was Georgia's fourth victory in Atlanta during that stretch. The home team had won 18 of the last 23 games. "We sent the seniors out right - beating Georgia Tech four times."
NEXT TIME AROUND
McCamish Pavilion was the site of Crean's last loss at Indiana, an NIT setback that led to his firing. Crean sat out one season before signing a six-year, $16 million contract with Georgia. ... The game was sold out, marking the 16th capacity crowd at McCamish Pavilion since the building reopened from a major renovation seven years ago.
UP NEXT
Georgia: Hosts Massachusetts on Dec. 30.
Georgia Tech: Hosts Kennesaw State on Friday.
___
More AP college basketball: https://apnews.com/Collegebasketball and https://twitter.com/AP_Top25