Budenholzer says Ilyasova will be good fit for Hawks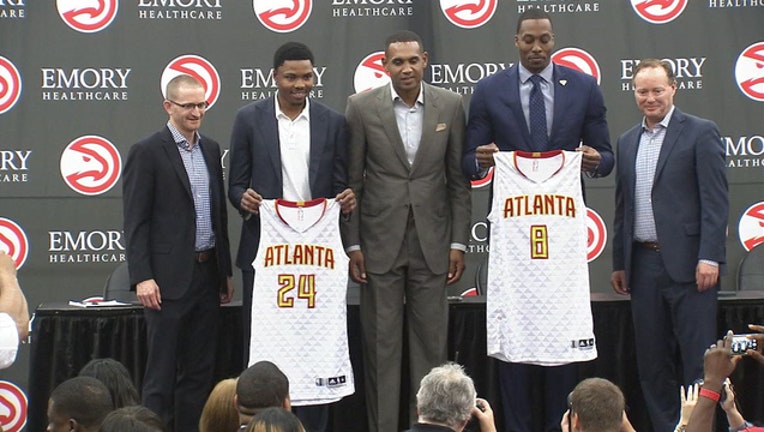 article
ATLANTA (AP) - Hawks coach Mike Budenholzer says newly acquired power forward Ersan Ilyasova was targeted as a player he saw as a good fit on Atlanta's front line.
The 6-foot-10 Ilyasova gives Atlanta a "stretch forward" who can make 3-pointers while playing behind All-Star Paul Millsap.
"To get somebody that we really targeted and wanted, we feel really good about that," Budenholzer said Thursday.
Budenholzer said matching center Dwight Howard's inside game with Ilyasova "who can stretch and hit the 3s, that is a good pairing."
Ilyasova is expected to join the team before the team plays Miami on Friday night.
Ilyasova was acquired from Philadelphia on Wednesday night. The 76ers obtained injured center Tiago Splitter and a protected second-round draft pick from Atlanta, and have the right to swap another 2017 second-round pick with the Hawks.
Ilyasova, from Eskisehir, Turkey, has averaged 14.8 points while starting in 40 of 53 games this season.
"He's somebody that for some time all of us in the front office ... we all kind of watched and wanted him to be a part of the team," Budenholzer said. "I think he's a smart player, a competitive guy. He does a lot of little things. He has an edge to him. Obviously he can shoot."
The Hawks hope Ilyasova, 29, adds scoring punch as they attempt to improve their playoff position. They are fifth in the Eastern Conference, a half-game behind Toronto.
"He can help our team a lot," Millsap said. "We can help ourselves a lot too. With both of those, I think we can move up to 2. I think we've got a chance. We've got enough games to do it."
Hawks guard Kent Bazemore said Ilyasova is "one of the best shooters in the game, I think, as far as playing the stretch 4 position."
"If there's one thing this team needs, I think, is a little more shooting and he can bring just that," Bazemore said.
The Hawks cleared a roster spot before Thursday's trade deadline by sending forward Mike Scott to the Phoenix Suns for cash.
Scott averaged 7.1 points over five seasons with Atlanta but had seen a diminished role this season. He was averaging a career-low 2.5 points in only 18 games this season and was sent to the NBA Development League on three assignments.