Blank's approach made 'Inflategate' a blip on Falcons' radar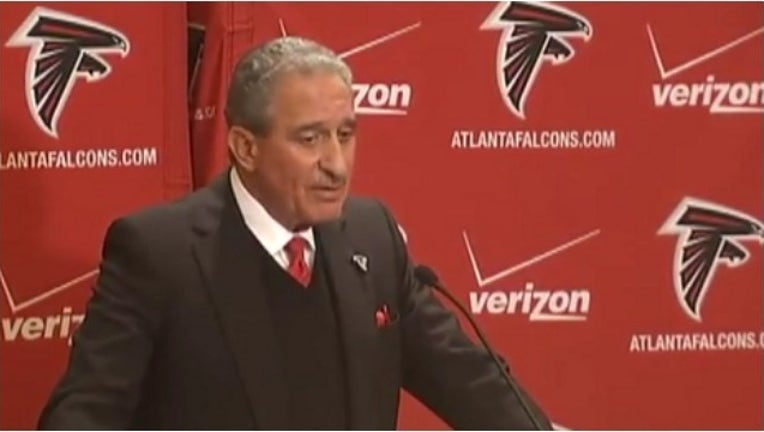 article
ATLANTA (AP) - The "Deflategate" scandal has hovered over the Patriots for parts of three seasons, thanks to appeals of Tom Brady's four-game suspension, finally served at the beginning of this season.
New England's Super Bowl opponents had their own scandal - but it was a blip on the news radar that most fans long forgot.
The Atlanta Falcons were handed a much-less publicized punishment for pumping fake noise into home games during the 2013 and 2014 seasons. The Falcons' "Inflategate" got less attention, in large part because owner Arthur Blank acknowledged the team's rules violation even before the NFL released its official findings in 2015. Blank never fought the punishment.
The Patriots' scandal was a long-running soap opera that grabbed headlines for two years, thanks to a long investigation, appeals and a court fight. The Falcons' scandal was embarrassing to Blank and the team, but the pain - and the punishment from the league - was lessened by the team's cooperation.
The Falcons were fined $350,000 and stripped of a 2016 fifth-round draft pick by the league on March 30, 2015, almost two months after Blank said "I think what we've done in 2013 and 2014 was wrong." Also, team president Rich McKay was suspended from the league's Competition Committee for three months.
In announcing the punishment, the league said Blank and McKay were not aware artificial crowd noise was being used by a marketing executive to create an unfair competitive advantage. The league said McKay, as the executive overseeing game operations, bore some responsibility.
The NFL said the Falcons cooperated fully in the investigation.
Blank said last week that it was his choice in 2015 was to accept responsibility and move on.
"Clearly there was a breakdown in our organization in terms of following what we know is league rules and in terms of competitive balance for all the right reasons," Blank told The Associated Press.
"We were guilty of it. It wasn't a planned activity by the organization. We had a couple of associates involved and in their mind they thought they were doing the right thing. They didn't understand clearly what the parameters were and how to produce noise organically as opposed to pump it in artificially and so you accept your punishment, you learn from it and you move on as an organization. That's what was done."
By contrast, the league's appointed "Deflategate" investigator, Ted Wells, said the Patriots and Brady were not fully cooperative. The lack of cooperation contributed to their stiffer penalties, including a $1 million fine and the loss of the team's 2016 first-round draft pick and a 2017 fourth-rounder.
Blank said he and Patriots owner Robert Kraft have a "special relationship" that began when he sought advice from Kraft as a new owner in 2001.
Blank said in 2015 he was confident Kraft and NFL commissioner Roger Goodell's friendship would survive the scandal. New England fans haven't forgiven Goodell, and that was one of the possible reasons Goodell chose to attend playoff games at the Georgia Dome instead of at New England.
Blank said Kraft's record of putting the league first is clear.
"Putting aside my personal relationship with him, he's one of ... a handful of owners, when they stand up in that room and they talk, everybody else listens, because they have a history of putting the league ahead of their own franchise," Blank said. "Robert has done that, has demonstrated that."
Blank's decision to "move on" from his team's rules infraction served the Falcons especially well in 2016, when they made the most of their final season in the Georgia Dome. Fans packed the dome for the Falcons' home playoff wins over Seattle and Green Bay.
The home-field advantage was maximized by perhaps the highest levels of crowd noise in the dome's 25-year history.
"It was a great credit to our fan base and that makes a difference," Blank said.
"And it was all real, for sure."
___
For more NFL coverage: http://www.pro32.ap.org and http://www.twitter.com/AP_NFL