Big Show recap - Week Two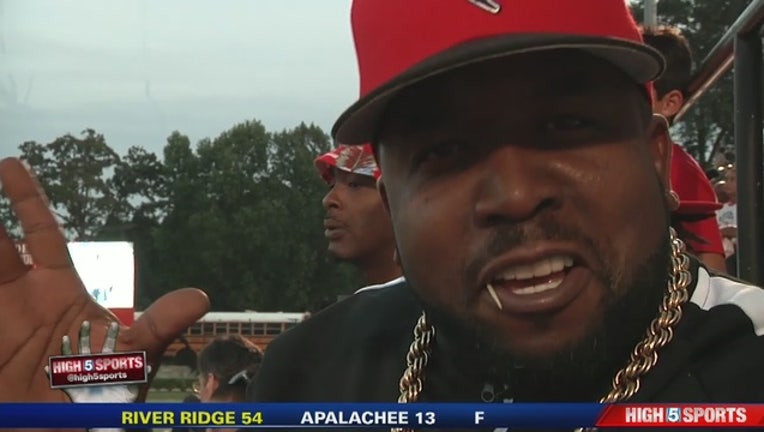 ATLANTA - Only the strong survive and for those reading, this can take comfort in knowing they survived. And the HIGH 5 Sports Team is grateful for those who did because that means they can catch all the best high school football action Friday night has to over in Georgia.
But we get some folks may be out at games or were just too busy to catch the Big Show which airs weekly Friday night at 11 p.m. all football season long. So, we compiled a recap right here. You're welcome!
Here's a recap of the Big Show from Week Two:
%INLINE%
Play of the Night
Before the Big Show, it's the big play… The Play of the Night. It airs weekly during FOX 5 News at 10 and don't worry, if you missed it, we'll always have it here.
This week's Play of the Week is from the Decatur-Chamblee game.
For Decatur Bulldogs, he might be 5'6", but it is not the size of the dog. Yodie Kilgore was all over it for Decatur and the best of all, he wears a number 5 jersey. He's so #INYOURFACE.
%INLINE%
Hoover at Grayson
The Big Show began with the assault on the mind and body at Grayson High School. Many consider this matchup a battle between two top teams in the country. It pits State Champion Rams against the Bucs of Hoover Alabama. And it was a game that did not disappoint.
WATCH FOR:
- Camron Thompson rush to 1
- Ronald Thompkins TD
- Jalen Parker to Shedrick Jackson
%INLINE%
Dacula at Central Gwinnett
The Dacula Falcons were at the Castle in Central Gwinnett taking on the Black Knights.
WATCH FOR:
- Jarren Williams cutaway
- Shayne Buckingham to Sean McDaniel TD
- Bad snap, safety
- Williams to Kaleb Pierce TD
%INLINE%
Tucker at Lakeside
It was the 51st meeting between the Tucker Tigers and the Lakeside Vikings. This is the most played Dekalb County rivalry. And it was on again Friday night.
WATCH FOR:
- Tre Leslie sack
- Toro Taylor punt return TD called back
- Gerry Vaughn TD
%INLINE%
Decatur at Chamblee
This is a personal battle for some of us here HIGH 5 Sports. The Decatur Bulldogs and Chamblee Bulldogs battled it out to win out hearts.
WATCH FOR:
- Roddy Jones
- Yodi Kilgore TD run
- Kilgore again
%INLINE%
Westminster at GAC
We move forward with the Westminster Wildcats playing the Spartans of GAC.
WATCH FOR:
- Kyle McMichael rush
- Robby Fowler TD rush
- Sean Henderson FGs
%INLINE%
George Walton at Social Circle
This is the season opener for the George Walton Academy Bulldogs, visiting the Redskins of Social Circle, who started last week with a win.
WATCH FOR:
- Will Wolf rush 50 yards
- Jackson Will intentional grounding in end zone
- Tay Peters rush, tackle Drew Tossie
%INLINE%
Eastside at Newton
Continuing to head east, where the Newton Rams hosted the Eastside Eagles! Both won their openers last week.
WATCH FOR:
- Craig Kozdi sack
- Myron Middlebrooks to Caden Farley TD
%INLINE%
Mt. Pisgah at Rabun County
At Rabun County, this was the season opener for Coach Lee Shaw and the Wildcats. They're hosting the Patriots of Mt. Pisgah, who started last week with a victory over Holy Innocents.
WATCH FOR:
- Bailey Fisher to Braxton Hicks
- Austin Jones punt return TD
- Jacob Cendoya TD
- Fisher TD
%INLINE%
Big Boi – Mic'D Up
One of the biggest international recording artists from right here in Atlanta is exhibiting some HIGH 5 fever symptoms! And he is featured in our Mic'D Up segment this week.
%INLINE%
Apalachee at River Ridge
Apalachee Wildcats starting the season with a visit to Woodstock, home of the River Ridge Knights. These highlights are courtesy of our partners at Chattahoochee Tech!
WATCH FOR:
- Alex Beltran run
- Gino Portera pass to Chris Long TD
%INLINE%
Arabia Mountain at MLK – Game of the Week
Alright, it's time. The wait is over for our Game of the Week between Arabia Mountain and MLK. Who wants to win the golden hand trophy? Bill Hartman and Super Blaine got that answer to the all-important question!
WATCH FOR:
- Bryson Williams to Joshua Campbell TD
- Campbell to Jordan Barrow
- Jaelon Thomas rush TD
- Campbell to Barrow
- Williams to Matthew Crawford
- Williams rush TD
- Williams rush
- Williams to Tyler Suber TD
%INLINE%
Pope at Lassiter
In East Cobb, it was a Battle of Frenemies! Neighbors: Pope Greyhounds and Lassiter Trojans set everything aside and laid it all out on the gridiron.
WATCH FOR:
- Austin Coyne rush
- Miles Williams catch and run
- Bradley Rioplelle TD
- Paris Cameron run
- Campbell Rickers to Zach Owens
- Rickers to Owens TD
%INLINE%
Brookwood at Walton
Brookwood Broncos started with a loss last week to Archer. Walton beat North Gwinnett in their opener. And the two meet Friday night in Raider Valley.
WATCH FOR:
- Austin Kirksey to Dominic Blaylock
- DJ Soyoye rush TD
- Angelo DiSpigna to Dante Black hit by Malik Adams
- Black rush TD
%INLINE%
Harrison at Rome
This is a matchup that shouldn't be missed.
WATCH FOR:
- Ja'Quon Griffin fumble return TD, Adam Anderson strip
- Justin Fields to Stephen Peterson TD
- Griffin sack
- Fields rush TD
- Knox Kadum to Xavier Roberts TD
%INLINE%
Jackson at Mary Persons
The Jackson Red Devils and Mary Persons Bulldogs game; this one is being played in "The Pitt" in Forsyth. Both were looking for their first win.
WATCH FOR:
- J.T. Hartage to Rashad Hughley TD
- Desmond Williams INT
- Hartage to Hughley TD
%INLINE%
Locust Grove vs. Warner Robins
Warner Robins fans and a fire-breathing demon showed up for this game.
The Demons football team was backed up, Locust Grove's Craven Goodman gets the sack.
Warner Robins then got the offense going, Dylan Fromm finds Tyler Fromm. Those two are twins, the younger brothers of UGA quarterback Jake Fromm.
Locust Grove's offense got stuck in neutral, dropped for a sack.
And you'll just have to see who wins it.
And that's it for Week Two! We'll be back again next Friday.