Atlanta Falcons' brotherhood starts with a little white ball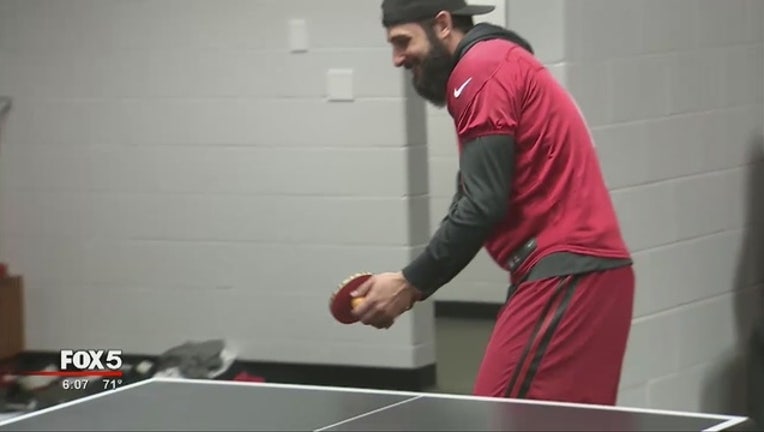 article
FLOWERY BRANCH, Ga. (AP) - For the Atlanta Falcons, brotherhood begins at three pingpong tables in the middle of the locker room.
That's where friendships are forged and friendly wagers settled.
And when that little white ball starts flying, look out!
These guys are just as competitive with a paddle as they are with the pigskin.
"We're always competing," All-Pro receiver Julio Jones. "It gets the blood flowing and the heart pumping."
When the Falcons redesigned the locker room at their suburban training facility during the last offseason, they left room for a single pingpong table. It wasn't long before they were bringing in two more.
"The lines to get on that table were strong, so it grew to two. Then it grew to three," coach Dan Quinn said. "It's just been a fun thing for the guys to connect. It goes on all sides of the ball, all different groups competing against one another. We have a lot of fun with it."
Quinn was eager to build a real kinship among his players, a sense of camaraderie and responsibility that would carry over to the field on Sundays.
He dubbed it "brotherhood," a word that he put on hats, T-shirts and just about any tweet he sends out. It quickly became a mantra for the Falcons on their way to the second Super Bowl appearance in franchise history .
Pingpong played a powerful role, giving the players a reason to put away their headphones and iPhones whenever they had a little down time between meetings, workouts and practices.
On the tables, they really got to know each other.
"We're not as connected as we could be, so that was just one more avenue for our team to see how close we could get," Quinn said. "Is this a collegiate environment? I think it's way deeper than that. This is a brotherhood that's connected not just personally, but they're also connected professionally."
Two of the best players on the team, Jones and quarterback Matt Ryan , also have some serious paddle skills.
"Like our team, I think my pingpong game has been improving throughout the year," Ryan joked.
Jones is far more animated on the tables than he is on the field, strutting around the room and doling out lots of juicy trash talk to anyone who dares challenge him.
In recent days, though, he was more subdued.
"I got humbled a little bit," Jones conceded with a hint of a smile.
When asked for details, he clammed up.
"I can't tell y'all that," Jones said, his eyes darting around the room, no doubt plotting his revenge against the teammate who beat him.
Pingpong has some practical benefits, especially when it comes to honing hand-eye coordination. When you see Jones stretch out for a shot and whip it back across the net, the ball moving so fast you can barely see it, it's a little easier to understand how he makes those amazing catches.
But it's more about the human contact, which is especially important in a high-tech world where it's possible to do just about anything without looking another person in the face.
"Not only do they want to spend time together out of the building, but in the building too," Quinn said. "Having that competition, even something as small as pingpong, just to go battle for it. We've got three minutes until the next meeting, we're going to play a game for three."
From all indications, the brotherhood isn't just a hokey motivational tool. The Falcons truly believe it.
"I don't think pingpong is THE answer to it, but guys really do care about each other," fullback Patrick DiMarco said. "That's why we're playing so well, playing so hard. It's just the culture around here."
When the Falcons take the field against the New England Patriots next Sunday, looking to win the first championship in franchise history, all eyes will be on the football.
Don't forget that little white ball, though.
"Usually when you're really good on the field, it starts in the locker room first," Quinn said. "That's certainly the case here. You can feel how tight these guys are. They have a real connection to one another."
Pingpong, you see, helped transform a team into a brotherhood.
___
Follow Paul Newberry on Twitter at www.twitter.com/pnewberry1963 . His work can be found at http://bigstory.ap.org/content/paul-newberry .
___
For more NFL coverage: www.pro32.ap.org and www.twitter.com/AP_NFL