After facing questions, Braves outfielder Kemp shows up in top shape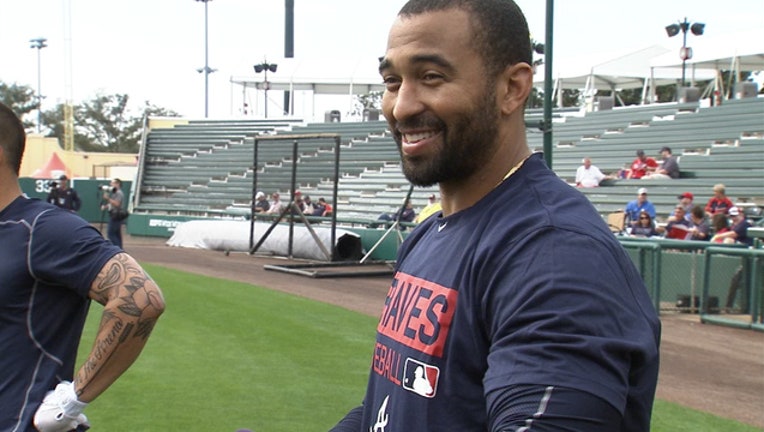 LAKE BUENA VISTA - Last August, Braves general manager John Coppolella went on MLB Network Radio and said Atlanta outfielder Matt Kemp was "not in shape," and said the team had talked to Kemp about it. At Spring Training 2017, things look different.

"It's something," said Braves manager Brian Snitker. "He looks great."

The reviews seem to be unanimous.

"[He looks] fantastic," said first baseman Freddie Freeman.

Freeman joked with Kemp in the clubhouse about his physique, including a couple good-natured jokes that probably fall into the PG-13 category. "I can't say it on air what I've been saying [about how he looks]," Freeman added.

Everyone, it seems, thinks Kemp did something special to come into camp in such good shape. Everyone, that is, except Kemp himself.

"Nah just worked out," said Kemp. "Nothing special."

Asked again if he changed his offseason regimen: "worked out and got ready for the season."

Perhaps something in his diet did the trick? "Just eat right and work out, that's it," said Kemp.

Maybe Kemp is being modest; or maybe he's just not too interested in talking about his weight with a group of reporters. Either way, others in the clubhouse are happy with what they see.

"Matt said when he went home for the offseason he was going to come back in better shape," said Coppolella. "Matt looks great."

While Kemp one say it, one Freeman thinks Kemp was motivated to come into camp looking the part.

"He came in, obviously he heard the rumblings [about being out of shape], he worked hard," said Freeman. "It's only going to pay off for him and for us. I think he was getting defensive replaced a few times at the end, I think he just didn't want that to happen anymore."

Kemp, whose 35 home runs were fourth best in the National League last season, is only concerned with production, not his appearance.

"I feel great, I feel strong. My personal goal is to stay healthy and stay on the field the whole year. If I stay on the field, good things happen."