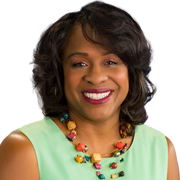 Aungelique Proctor
Reporter
Aungelique Proctor is a reporter for FOX 5 News. Before joining FOX 5 in 1994, this Atlanta native was an investigative reporter for WTLV in Jacksonville, Florida. She also reported and anchored at WKRC in Cincinnati, WMAZ in Macon, Georgia, and WALB in Albany, Georgia. But for Aungelique, her broadcasting career started on a program called "The Lawmakers" on Georgia Public Television.
Before working in front of the camera, Aungelique worked behind the mic at several radio stations in Cincinnati and served as News Director at WCIN.
An award-winning reporter, Aungelique has followed the big story around the world. She has covered stories from the Million Man March to the touching stories of Hurricane Katrina survivors to the devastating earthquakes outside Istanbul, Turkey. Aungelique has won several awards including three Emmys, the Associated Press Best Newscast and a National Association of Black Journalists award for her report "The Rosewood Massacre."
Aungelique is a graduate of the Henry W. Grady College of Journalism and Mass Communication at the University of Georgia. She is a past officer of the Atlanta Association of Black Journalists as well as a member of The Links, Alpha Kappa Alpha sorority and the Chums. When she's not on the air, Aungelique loves to volunteer with The Children's Restoration Network and the Sadie G. Mays Nursing Home. She's also a lifelong member of Central United Methodist Church. She loves to travel and speak to children at schools throughout the community. Aungelique lives in Atlanta with her husband and their three daughters.
The latest from Aungelique Proctor