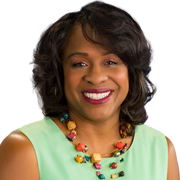 Aungelique Proctor
Reporter
Aungelique Proctor is a reporter for FOX 5 News. Before joining FOX 5 in 1994, this Atlanta native was an investigative reporter for WTLV in Jacksonville, Florida. She also reported and anchored at WKRC in Cincinnati, WMAZ in Macon, Georgia, and WALB in Albany, Georgia. But for Aungelique, her broadcasting career started on a program called "The Lawmakers" on Georgia Public Television.
Before working in front of the camera, Aungelique worked behind the mic at several radio stations in Cincinnati and served as News Director at WCIN.
An award-winning reporter, Aungelique has followed the big story around the world. She has covered stories from the Million Man March to the touching stories of Hurricane Katrina survivors to the devastating earthquakes outside Istanbul, Turkey. Aungelique has won several awards including three Emmys, the Associated Press Best Newscast and a National Association of Black Journalists award for her report "The Rosewood Massacre."
Aungelique is a graduate of the Henry W. Grady College of Journalism and Mass Communication at the University of Georgia. She is a past officer of the Atlanta Association of Black Journalists as well as a member of The Links, Alpha Kappa Alpha sorority and the Chums. When she's not on the air, Aungelique loves to volunteer with The Children's Restoration Network and the Sadie G. Mays Nursing Home. She's also a lifelong member of Central United Methodist Church. She loves to travel and speak to children at schools throughout the community. Aungelique lives in Atlanta with her husband and their three daughters.
The latest from Aungelique Proctor
Roderick Walker said he feared for his life and lost consciousness during his arrest, which was captured in a viral video.
A federal complaint filed Monday alleges a south Georgia detention center performed questionable hysterectomies, refused to test detainees for COVID-19 and shredded medical records.
Police said one of the people injured in a triple shooting early Thursday morning at a Waffle House in DeKalb County is being named a suspect. Police have also identified a juvenile as a second suspect
A 15-year-old boy was killed in a shooting that Gwinnett police say may have involved a drug transaction. 
The Veteran Affairs Secretary said he is pleased with improvements made at the VA hospital in Decatur.
A multi-million dollar deficit is resulting in furloughs for Douglas County employees.
Charges have been dropped against a man accused of killing his own parents and setting their house on fire in 2018.
Police say the suspect hit the woman in the face, forced her in the back of her car with her sleeping child and started to drive off.
A group of protesters gathered in Downtown Atlanta to march to the State Capital in solidarity with the demonstrators in Washington.