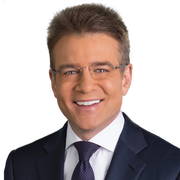 Tom Haynes is the anchor of FOX 5 News at 5 p.m. and News Edge at 11 p.m. Tom joined FOX 5 in December 2007.
Before moving to Atlanta, Tom worked at WSVN, the FOX affiliate in Miami. While at WSVN, Tom was part of the station's primary anchor team and also reported for the station's evening newscasts.
From the anchor desk to live reporting, Tom has covered a wide range of stories. During his time at FOX 5, Tom has been front and center for major elections, field anchoring from storm-ravaged parts of our state, during the fiery collapse of I-85 and anchoring live from Marjory Stoneman Douglas High School in Parkland, Florida, where a gunman carried out the worst school shooting in U.S. history. Tom also has traveled to interview notable television personalities such as Sean Hannity, Bill O'Reilly and Judge Judy.
During his time as an anchor and reporter for CNN, Tom was on the air in the aftermath of the September 11th terrorist attacks. He also covered the U.S.-led invasion in Iraq and Afghanistan. While in Miami, Tom reported on the unprecedented 2004 and 2005 Atlantic hurricane seasons that battered Florida and the Gulf Coast. He also reported from Panama before the handover of the Panama Canal in 1999. Other highlights from Tom's career include his profile of undersea explorer Sylvia Earle during a deep-water dive in Dry Tortugas National Park and reporting live from Boston on Election Night 2004.
Tom got his start in 1994 as a production assistant for CNN's Larry King Live. He then moved to CNN's world headquarters here in Atlanta, where he worked as a producer, reporter and anchor. Tom has received national recognition for his work, including an Emmy Award, a Beacon Award for hosting a live town-hall meeting following the first debate of the 2000 presidential election, and a Prism commendation for his CNN series "Drugs: Perceptions, Realities."
Tom is a native of Miami. He graduated with a degree in politics from the University of Massachusetts. When he's not at work, he enjoys all that the Atlanta community has to offer and working to stay in shape at the gym.
The latest from Tom Haynes
The Atlanta Police Department released a heart-stopping video showing two of their officers putting their lives on the line to save another man's life. That man's car was engulfed in flames when the officers arrived and the pair struggled to pull the man to safety.
Police unsuccessfully attempted to use a PIT maneuver to disable the vehicle but were able to slow down the vehicle a bit.
It has been two months since the brutal stabbing death of Katie Janess and her dog Bowie at Piedmont Park. The murder still remains unsolved and police have released few details about the incident.
Fulton County District Attorney Fani Willis made an impassioned plea before the Fulton County Board of Commissioners for more money and resources to help fight the backlog of homicide cases due to COVID-19.
Voters are saying they are encountering problems with absentee ballots. It's a complaint that is being heard more often as many are using the method to avoid going to the polls to vote due to the coronavirus pandemic.
The coronavirus has sent more and more people to an online dating app to socialize virtually, but the FBI is warning people sophisticated criminals are looking to prey on unsuspecting victims who fall into an all-to-common and oftentimes expensive trap.
Water main breaks continue to happen as the weather continues to change.
It started as a simple wish.
An accident has forced officials to completely close Johnson Ferry Road at Roswell Road on Tuesday afternoon.